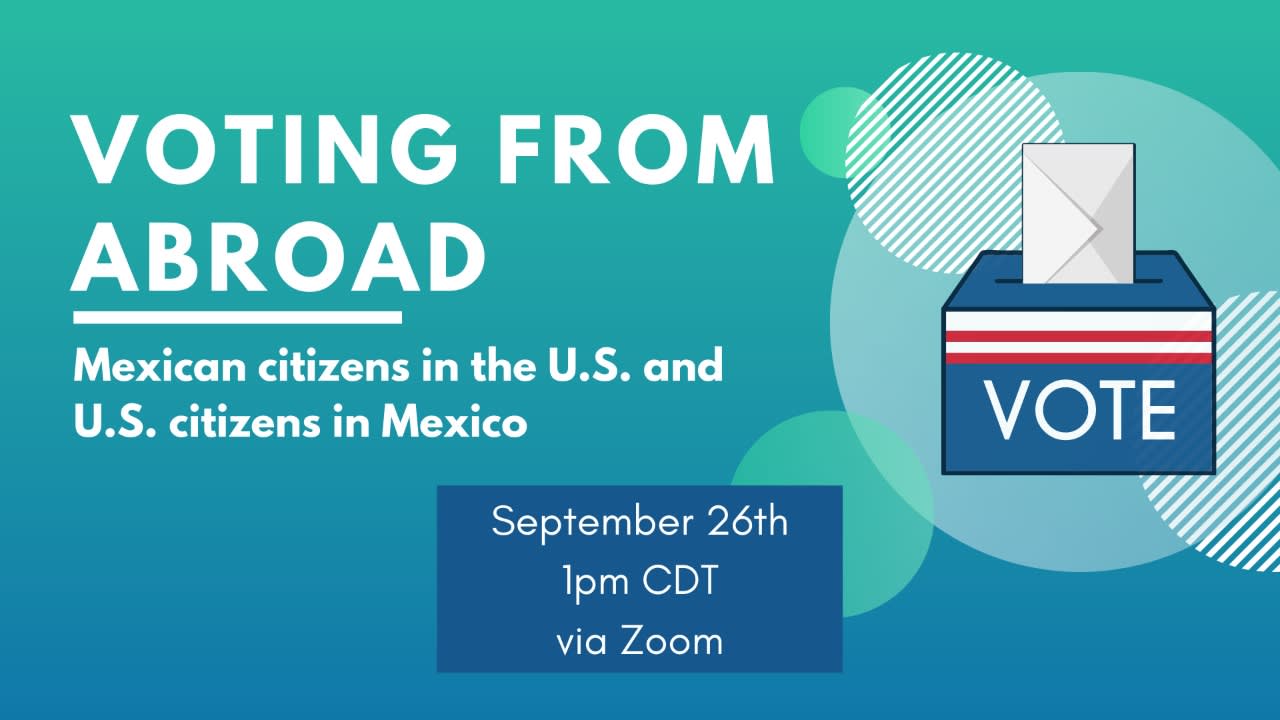 A bilingual discussion of the political rights of both Mexican citizens living in the US and US citizens living in Mexico.
Un diálogo bilingüe sobre los derechos políticos de personas ciudadanas mexicanas viviendo en E.U.A y estadounidenses viviendo en México.
Our speakers are:
Aura Guerrero, who has a master's degree in International Law from Georgetown University and in Human Rights from ITAM and is a graduate of the Escuela Libre de Derecho. She has been an advisor at the Electoral Institute and Tribunal, both from CDMX, and an electoral observer at the OAS. She currently lives and works in Washington D.C.

Tara Buss, who has a Ph.D. in political science from the University of California, Berkeley, where she focused on how violence is perceived in Mexico and how those perceptions control political behavior. She has also worked as a research consultant in Mexican politics. She lives in del Valle Centro CDMX with her husband and two furry children, Mumbai and Pickle.
 Nuestras ponentes son:
Aura Guerrero, quien es maestra en Derecho Internacional, por la Universidad de Georgetown y en Derechos Humanos por el ITAM y es egresada de la Escuela Libre de Derecho. Ha sido asesora en el Instituto y Tribunal Electoral, ambos de la CDMX, y observadora electoral de la OEA. Actualmente vive y trabaja en Washington D.C.

Tara Buss, quien tiene un doctorado en ciencias políticas de la Universidad de California, Berkeley, donde se centró en cómo se percibe la violencia en México y cómo esas percepciones afectan el comportamiento político. También ha trabajado como consultora de investigación en política mexicana. Vive en del Valle Centro CDMX con su esposo y dos niños peludos, Mumbai y Pickle.
If you have family or friends (from any side of the Rio Grande) who want to vote from abroad or who want to know this introduction to the political-electoral rights of this binational community, please share this invitation. Si tienes familiares o amistades (de cualquier lado del Río Bravo) que quieran votar desde el extranjero o que quieran conocer esta introducción a los derechos político-electorales de esta comunidad binacional, por favor comparte esta invitación.
The event will be bilingual, so after it concludes, we will send a transcribed version in English and another in Spanish. El evento será bilingüe, por lo que, después de que concluya, enviaremos una versión transcrita en inglés y otra en español.
WHEN
September 26, 2020 at 1pm - 2:30pm Mexico City Time
CONTACT
Pedro Salvador Guerrero
Who's RSVPing
Do you like this post?