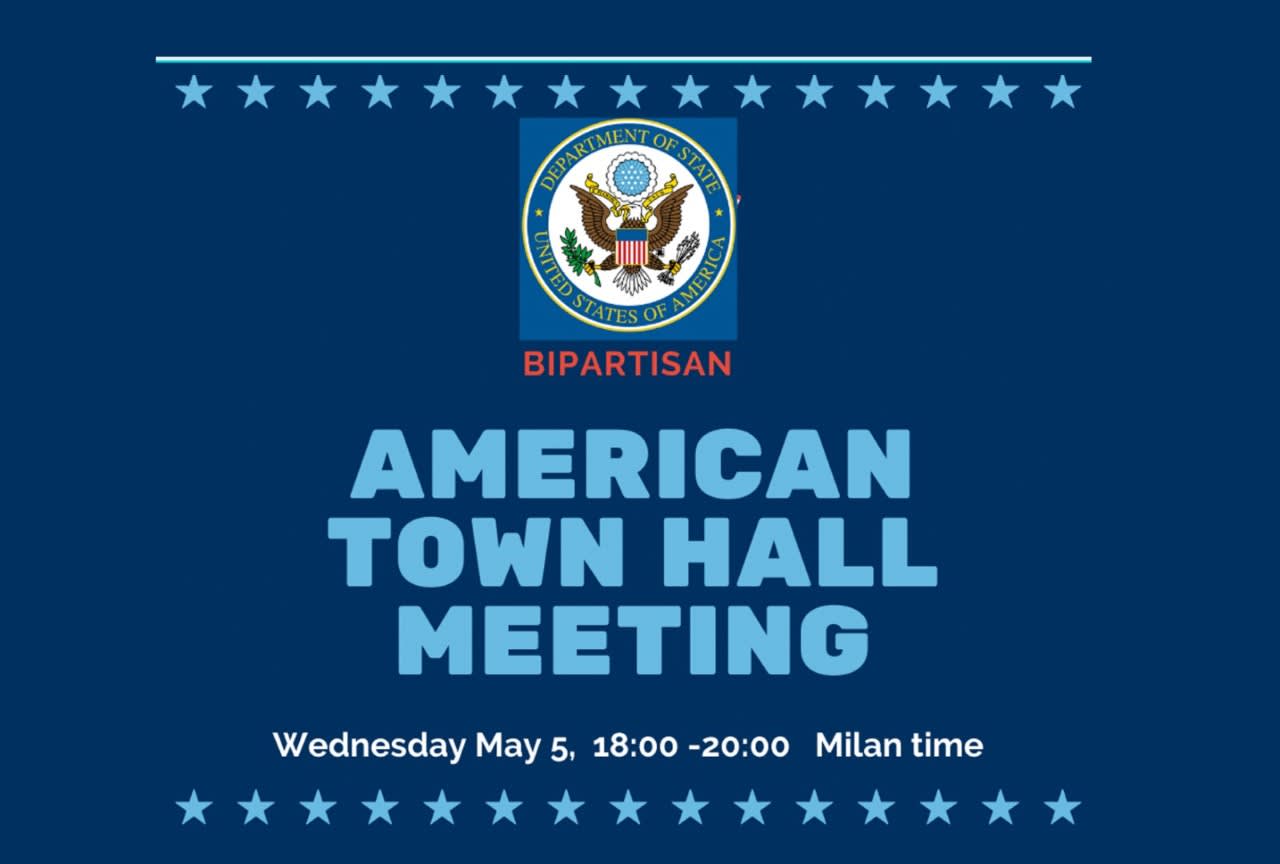 Wednesday, May 5th 2021 18:00 to 20:00 CET - Bipartisan American Town Hall Meeting with the U.S. Consulate Milan
Democrats Abroad Italy, Milan Chapter along with Republicans Overseas, and under the auspices of the United States Consulate General in Milan, are pleased to invite you to a U.S. Consulate Milan "AMERICAN TOWN HALL". The Consul General, Mr. Robert Needham will participate. You can hear about U.S. Consular services and have your questions addressed. Whether they be about legal documentation, studying abroad, voting, security and doing business abroad; our American Diplomats will have the answers.

This event is free and open to all U.S. Citizens.
EVENT:  The U.S. Consulate General in Milan is hosting a virtual "Town Hall" meeting for U.S. citizens in northern Italy.  Consul General Robert Needham will be in attendance to introduce himself to the American community and briefly discuss the Biden Administration's priorities. 
Consular officers will provide information on consular services available to U.S. citizens and answer some frequently asked questions on topics such as:
-CDC testing requirement for travelers to the United States 
-Entry restrictions for non-citizen family members
-Update on passport/citizenship services
-Info about the new Consulate in Milan
Volunteers from groups representing the major U.S. political parties will also participate to talk about their organizations and describe the services they offer, such as voter registration and absentee ballot assistance.
Although this event is geared towards northern Italy, all Americans are welcome to attend (no RSVP necessary).  The U.S. Embassy in Rome and the Consulates General in Florence and Naples will schedule separate virtual Town Hall events for the citizens in their consular districts.
WHEN: May 5, 2021 from 18:00 – 20:00
WHERE:  Zoom
Please click the link below to join the webinar:
Zoom link American Town Hall Meeting U.S. Consulate Milan
Passcode: 340749
Or Telephone: US: +1 346 248 7799  or +1 646 876 9923  or +1 669 900 6833  or +1 253 215 8782  or +1 301 715 8592  or +1 312 626 6799
Italy: +39 020 066 7245  or +39 021 241 28 823  or +39 069 480 6488
Webinar ID: 842 3633 0133   Passcode: 340749
Democratically yours,
DA Italy Milan Chapter Board
Mark Pendell, Chair
Mychelle Vincent, Vice Chair
Stephany Miranda, Treasurer
Christian Slayton, Secretary
DA Italy-North
http://www.democratsabroad.org/
WHEN
May 05, 2021 at 6:00pm - 8pm Rome Time
Who's RSVPing
Do you like this post?