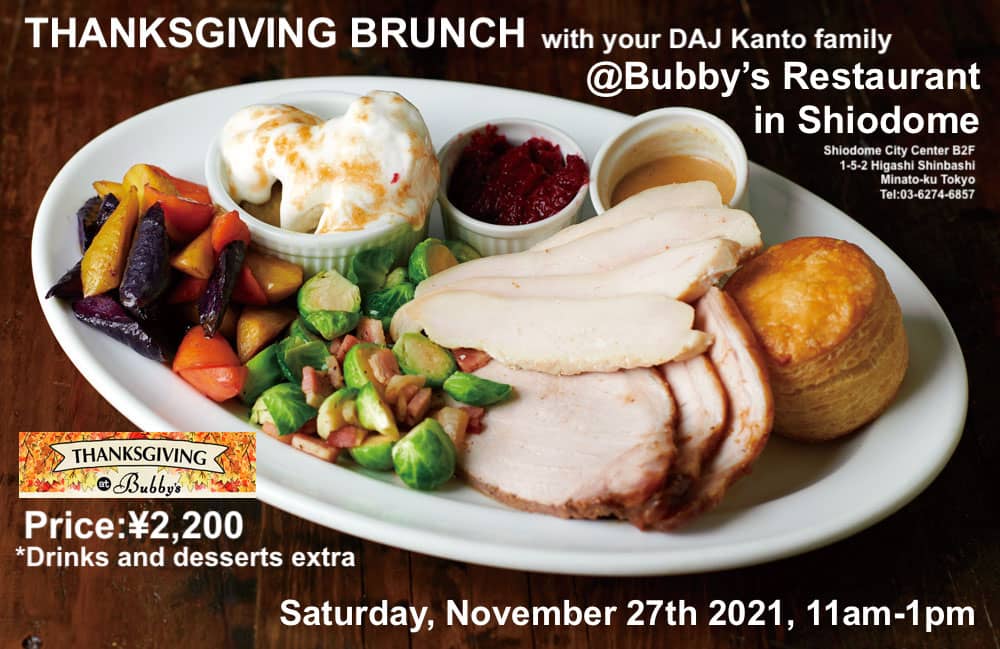 Come join your Democrats Abroad family for a thanksgiving meal. 
DATE/TIME: Saturday, November 27th, 11am-1pm
LOCATION: Bubby's Restaurant in Shiodome 
Tel:03-6274-6857
ADDRESS: Shiodome City Center B2F
1-5-2 Higashi Shinbashi Minato-ku Tokyo
For access details: https://bubbys.jp/locations/shiodome/
*The reservation is for 15 people and will be first come first serve, so please RSVP now to reserve your seat. On the day we can run individual tabs so it makes payment simple. DUE TO A CANCELLATION THERE ARE 3 SEATS AVAILABLE.


THANKSGIVING PLATE includes:
Roast Turkey
Roast Pork
Gravy & cranberry sauce
Candied sweet potatoes
Roasted vegetables and bacon
Homemade biscuit
PRICE: ¥2200 yen (tax included)
*Drinks and desserts can be purchased for an additional charge
(Caramel pumpkin pie is available for an extra ¥790/slice)
DONATION* with such a cheap price tag we hope you will generously donate to the organization, so that we can do more events like this and Get Out the Vote activities. PLUS, all donations raised will be matched by DAJ ExCom.
COVID NOTE: We will do our best to follow covid safety guidelines - including social distancing, ventilation and masking as possible. We request participants be either vaccinated or test negative. It is at parents' discretion as to whether or not to bring non-vaccinated children. 

AFTER BRUNCH: After we are finished eating, we will move to a different cafe or restaurant in Shiodome to continue the party and talk politics. 
Location of After Brunch: Tully's Coffee (on the same floor in the same building)
tel:03-6280-6534
https://goo.gl/maps/Zvgvru9DdpYuA6sc9

For those at the thanksgiving lunch who want to stick around, we will walk together.  Contact Matthew or Elliott if you need help locating us after brunch.
WHEN
November 27, 2021 at 11:00am - 1pm Tokyo Time
WHERE
Bubby's Restaurant - Shiodome
Shiodome City Center B2F 1-5-2 Higashi Shinbashi Minato-ku
Tokyo, Tokyo-to 105-7190
Japan
Google map and directions
Who's RSVPing
Do you like this post?