SOLD OUT!
---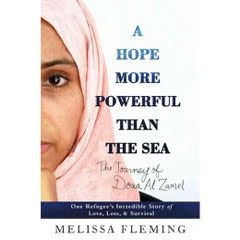 You must RSVP by May 19th for you and your guests to be on the guest list!
Seating is limited and we expect this event to be fully booked. Don't wait to reserve your spot!
Join us beforehand for light refreshments at 18:30. The talk will begin at 19:00.
Donations from U.S. citizens will be accepted.
We are pleased to announce that Melissa Fleming, Head of Communication and Chief Spokesperson at the United Nations High Commission for Refugees (UNHCR), currently working as Senior Advisor to the UN Secretary General, and author of A HOPE MORE POWERFUL THAN THE SEA will address DAA members and friends.
At the UNHCR, Melissa has led a media team to bring the news and stories of the world's sixty million refugees and displaced people to the public. Her discussion will highlight the stories of human suffering and resilience she has witnessed on a daily basis and bring to life the story of Doaa al Zamel, a young Syrian woman who was one of the few survivors, together with the baby she saved, of a boating disaster that killed over five hundred men, women and children who were attempting to reach the safety and promise of Europe.
Melissa has recently written a book, A HOPE MORE POWERFUL THAN THE SEA, published by Flatiron, which details Doaa's journey from her war-ravaged country of Syria to her exile in Egypt to her nightmare on the Mediterranean Sea and finally to her new home in Sweden. The refugee crisis is one of the most pertinent topics for discussion right now. We thank Melissa for agreeing to speak with us.
Here is a recent review of Melissa's book from The New Yorker: Written by an official in the U.N.'s refugee agency, this deeply affecting book recounts the story of a young Syrian, Doaa al Zamel. In 2011, as a shy, stubborn fifteen-year-old, she demonstrated against the regime; after fleeing to Egypt, she stitched bags in a burlap factory, hoping to get to Europe. In September, 2014, she was pulled from the Mediterranean, parched and delirious, with two small children clasped to her chest. She'd been afloat for four days, after a boat smuggling her to Europe sank, killing five hundred other passengers, including her fiancé. Fleming brings a moral urgency to the narrative. Doaa is now safe in Sweden, but Fleming pointedly asks, "Why is there no massive resettlement program for Syrians—the victims of the worst war of our times?"
Please join us for an evening that focuses on one of the human tragedies of our day…when we become better and more personally informed, we are also perhaps better prepared to help! Go to Melissa Fleming's Linked in page for further biographical information on Melissa Fleming. 
WHEN
June 08, 2017 at 6:30pm - 8:30pm Vienna Time
CONTACT
Jennifer Rakow-Stepper ·
Who's RSVPing