By Adrea Mach, Member-at-Large
"Who's a 'DREAMer'?" you may ask. Maybe you know one; maybe you even were/are one. Time to find out. Even if not, what does this have to do with you, DAA and Trump's anti-immigration America?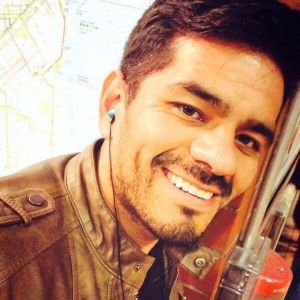 "I'm one of those 'bad hombres'—those Mexican guys Trump loves to bash," says Juan David Cerda, an American of Mexican descent. "But I had the fantastic good luck to be born in the US—in a small agricultural town in the Central Valley of California. So I actually started out life as an American citizen, NOT as a DREAMer. I'm even more fortunate to come from a family that encouraged me to follow my dreams and to take risks.  

My mother, Rosalina, was a risk taker. Born in Mexico, at age 16 she illegally waded across the Rio Grande River to Texas with only one sandal— the other one got lost on the way. So happy to have arrived, she made her way to California, slaved away as migrant field worker in the unrelenting heat during the summers and met David, her husband, my dad, who had been born in Texas and thus was legal. They fell in love, got married and the rest—including my two younger siblings—is current history.

My mother enrolled herself in a night school program to learn English, received her GED, went on to college, and now works at a pre-school. She also earned her American citizenship. I still remember, when I was about ten, helping her study for the civics exam with questions like: 'How many members does the House of Representatives have?' I'll bet not even everybody born in the States knows the answer to that one. [435 is the answer.]

My father David, a mechanic, taught me the meaning of hard work and never to give up. I'm the first in my family to earn a master's degree; my sister is a teacher; and my younger brother is studying for a PhD. My parents did right by us.

 Back then in the 1980s, they were both members of United Farm Workers Union under Cesar Chavez [Latino American civil rights activist in the California of the 1970/80s]. I grew up with that stuff in my backyard. Fighting for common decency. And passing on the benefits, both economic and emotional, to others, trying to realize their own dreams."   
What a great personal story to bring "DREAMers" issues to life!
Juan now works at an international organization in Vienna. 
The DREAM Act"—short for "Development, Relief and Education for Alien Minors Act—is focused on documented immigrant children. This US congressional bill was first introduced in 2001 with the goal of granting legal status to young people brought to the United States as children, stayed and attended school there. Although several versions of the bill have been introduced in Congress since 2001, it has yet to pass both houses and be enacted into law.
Although the term "DREAMer" originally took its name from the above congressional bill, it clearly has a double meaning: do America's undocumented youth dare to dream of a better future? For recent details, check out http://www.pewresearch.org/fact-tank/2017/01/05/unauthorized-immigrants-covered-by-daca-face-uncertain-future/
Meanwhile, in 2012, Obama enacted the Deferred Action for Childhood Arrivals (DACA), allowing illegal immigrants who have been in the U.S. since 2007 and arrived under the age of 16 to receive work permits, access to welfare, and protection from deportation. More than 750,000 illegal immigrants are covered by the policy and 1.1 million would be eligible. Trump's campaign trail promise to "immediately terminate Obama's illegal executive amnesties" has NOT been put into action yet ... but it could at any moment. Ending DACA would be as simple as signing a new Executive Order. And we all know how much Trump enjoys doing that. 
That's why we're writing to the "movers and shakers"—from congressional representatives to local sheriffs to editors of local newspapers. Every letter carries its clout! See the post about Solidarity Sunday Vienna #2 for more. 
Do you like this post?