Wednesday, June 07
Paris, France
Speaker Series: Criminalizing Queer Lives: Republican Backlash and Growing Authoritarianism
RSVP
Speaker Series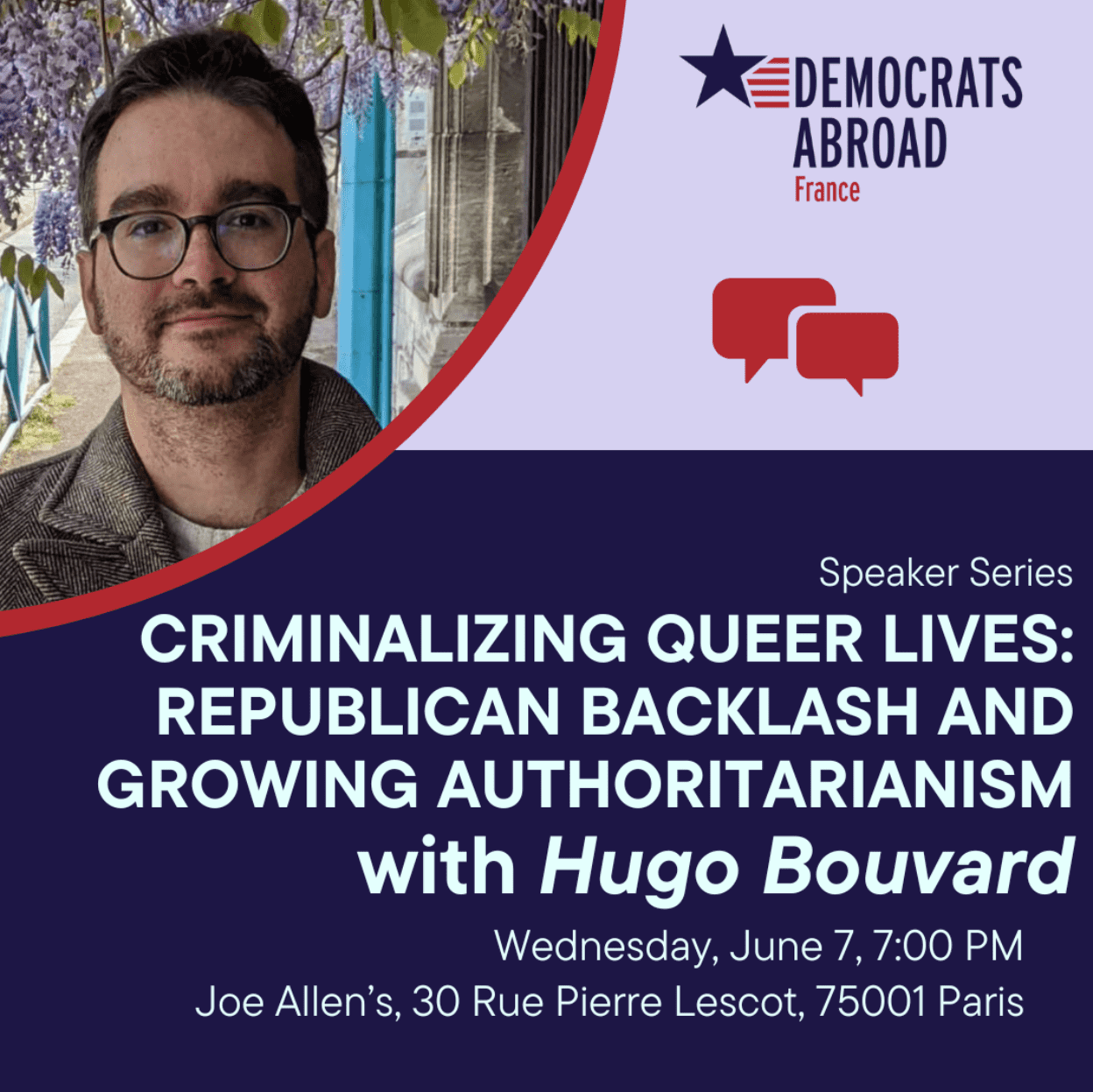 Criminalizing Queer Lives: Republican Backlash and Growing Authoritarianism
Please join us for a discussion with an expert on LGBTQ+ politics, in honor of Pride Month. A few weeks after the White House recognized the 70 th anniversary of the Lavender Scare, Hugo Bouvard will discuss the current attacks waged against LGBTQ+ people by Republican-controlled legislatures. In particular, he will discuss so-called "Don't Say Gay" bills, the attempted criminalization of drag shows and drag performers, as well as the numerous bills targeting and restricting the rights of trans people to access healthcare and education – in other words, to exist.
About our speaker:
Hugo Bouvard is Associate Professor of U.S. History and Politics at Université Paris Cité, and a member of LARCA, an interdisciplinary research unit. An alumnus of the Ecole Normale Supérieure, he previously taught at Duke University and New York University, where he conducted his doctoral research on LGBT activism within the Democratic Party and gay and lesbian elected officials. He received his PhD in political science from Université Paris-Dauphine in 2020 and is currently turning his dissertation into a book tentatively entitled Gays and Lesbians in Politics. Representing Sexual Minorities in France and in the United States.
FIRST TUESDAY WEDNESDAY SPEAKER SERIES:
In June, due to the strikes on Tuesday, June 6, we will hold our "First Tuesday" Speaker Series on Wednesday, June 7. Every month, we will host a speaker's event with one or two experts on issues that concern us as Democrats. We will hear from the invited speaker briefly and then have the opportunity to exchange with them. The events will take place in a Paris restaurant over an apéro: we'll have drinks during the session, and then after the event anyone who likes may stay for dinner as well, to continue the convivial evening. All drinks and food will be paid directly to the restaurant by each participant. 
Where: Joe Allen's, 30 Rue Pierre Lescot, 75001 Paris
When: Wednesday, June 7, 7:00 PM
WHEN
Wednesday, June 07, 2023 at 07:00 PM Paris Time
WHERE
Joe Allen's
30 rue Pierre Lescot
Paris 75001
France
Google map and directions
CONTACT
Max Dunitz
[email protected]
19 RSVPs