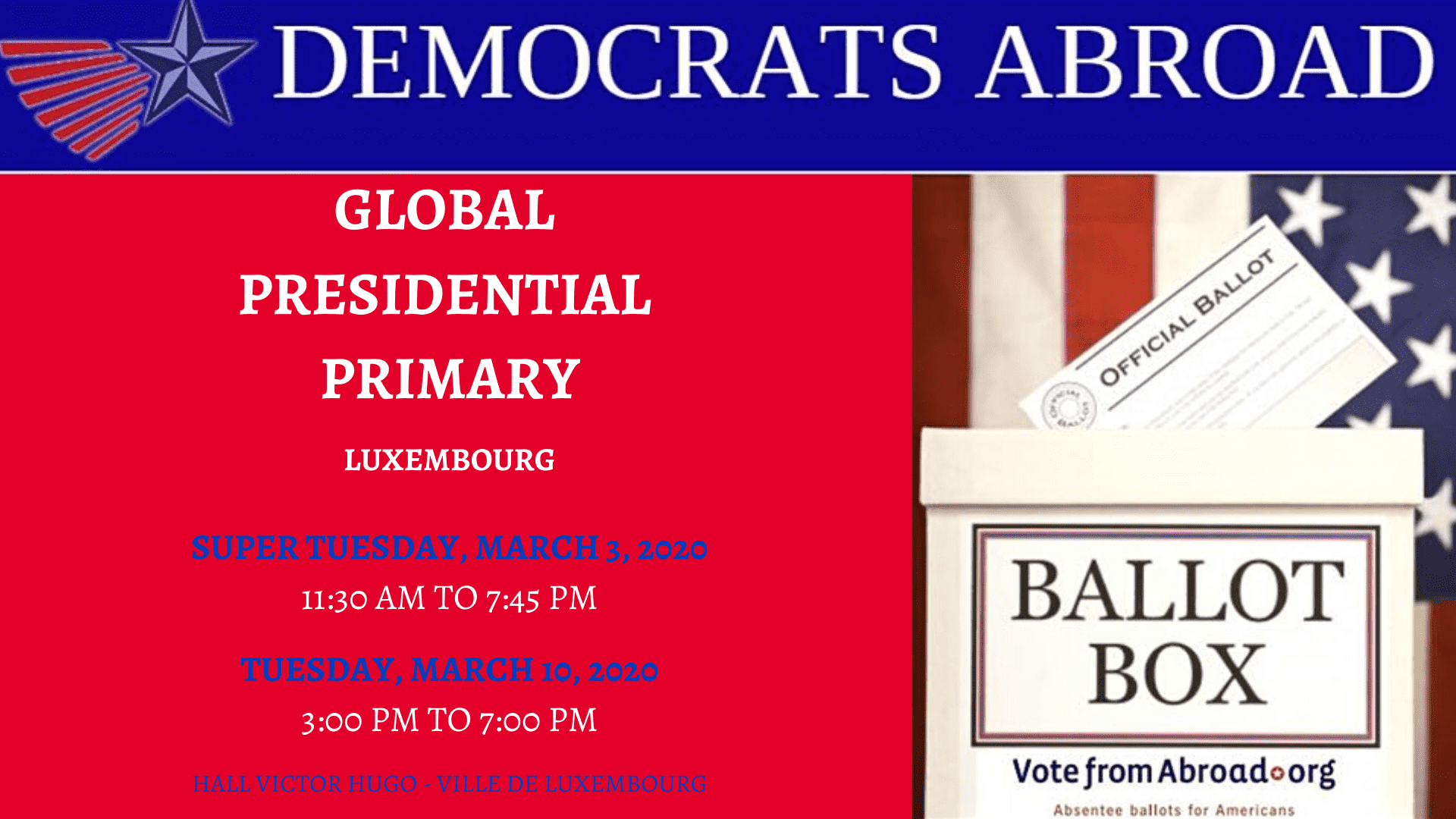 Tuesday, March 3
Hall Victor Hugo
60, avenue Victor Hugo, Luxembourg
11:30 am to 7:45 pm
Tuesday, March 10
Hall Victor Hugo
60, avenue Victor Hugo, Luxembourg
3:00 pm to 7:00 pm
In just two weeks, Democrats Abroad will kick off our Global Presidential Primary, giving you the chance to help select the Democratic Presidential candidates our delegates will vote for in Milwaukee this summer. Starting February 18th, you'll be able to download your Primary ballot from the Democrats Abroad, vote it, and email or post it back in. You can also wait until our Primary week and vote in-person in Luxembourg March 3rd and 10th.
Am I eligible?
If you're a Democrat Abroad member and you haven't voted (or plan to vote) in any other 2020 state presidential primary/caucus, you're eligible to vote in the Global Presidential Primary. You can also bring a friend or family member (or sign up online) and they can become a Democrats Abroad member and vote in the primary in Luxembourg.

What if I can't join a voting event in person?
If you can't join us at our events in Luxembourg, you can vote remotely. Look for your primary ballot in your inbox on February 18, or download it from our site.

Do votes in the Global Presidential Primary count? Why should I participate in the GPP instead of voting in my state's presidential primary?
Yes your vote counts! In fact, you could even say that votes in the GPP count even more. Tens of thousands of people will participate in the global primary, but millions will vote in your home state. That means that your vote in the Global Presidential Primary is more powerful than voting in your state primary. In fact, it's 4 times more powerful!
I vote in my state. Can I vote in the GPP and my state primary?
You can only vote in a presidential primary once. If you vote in the global primary and want to vote in your state for the down-ballot primary races (like for your congressperson), you can! Just skip the presidential section on your state ballot.
Would you like to volunteer for the GPP on March 3 and 10?
If you would like to participate in the GPP as a volunteer on March 3 and 10 we would love to have volunteers be a part of this special day. It is a great way to feel a part of Democrats Abroad and meet other members and experience the excitement of our voice. If you are interested in volunteering please contact Natalie Bachiri at [email protected]

Interested in more details? Here are our top Primary Questions answered.
We appreciate your activism, interest and efforts to vote, and hope you take this opportunity to weigh in on who Democrats Abroad will cast our votes for at the National Democratic Convention in July!