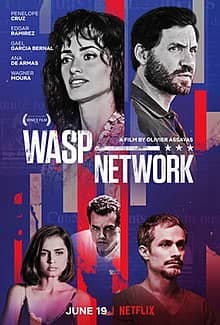 This Hispanic Heritage month DA Belgium and the Hispanic Caucus come together to host a discussion on the movie "The Wasp Network/La red avispa." Based on a true story, the movie presents the lives of five Cuban spies in the 1990s who infiltrate exile groups to stop terrorism against the island.
Watch the movie and join us to share your views, observations and to celebrate and reflect on the Hispanic Heritage, in particular Cuban heritage. It will also be an occasion for the FL State Team to join us and remind all of our FL 20th district (Fort Lauderdale and West Palm Beach) voters that there is a special election taking place on Nov 2 (primary) and Jan 11th (general election).
Date & time: October 5, 2021 at 1:00pm EST (7:00 pm CET, 12:00 Mexico City)
RSVP to receive the link
Here's the link to the movie on Netflix: https://www.netflix.com/search?q=wasp%20network&jbv=81000201
WHEN
October 05, 2021 at 1:00pm - 2pm Eastern Time (US & Canada)
CONTACT
Hispanic Caucus & DA Belgium ·
Who's RSVPing
Do you like this post?