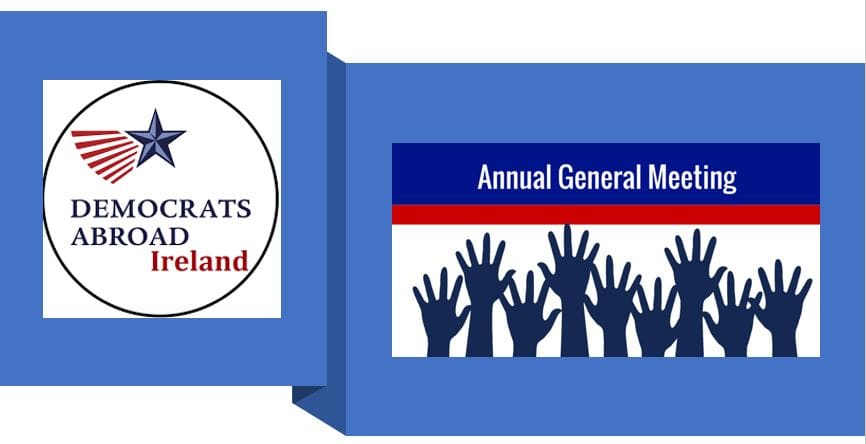 Join us for DA-Ireland's Annual General Meeting and Election of Officers!
We will be holding our Annual General Meeting (AGM) and Election of Officers virtually and in-person (COVID permitting) at our regular venue the Arlington Hotel in Sinatra's Bar on February 19th!  Join us as we elect the new Executive Committee and also talk about our volunteer ramp up and strategies across Ireland to get the vote out in 2022! Note, this is one meeting with the Elections beginning at 2 pm, followed immediately by the AGM.
We look forward to seeing you there!  For those interested in a position on the ExCom at DA Ireland - please note the election information below! We will also discuss Volunteer opportunities at the AGM for those who are interested in volunteering but not able to commit to an office. There is a lot of work do — and we look forward to having you join us!
To receive more information regarding the Annual General Meeting send an email to: [email protected] 
Best,
DA Ireland
Election Information:
The Call for Nominations was posted and e-mailed to DA Ireland members on January 4, 2022. You can find the information about how to nominate yourself or someone else here:
Call for Nominations
On the same day, Election Meeting information was posted and emailed. If you want to read it again, use this link: 
Election Meeting Information.
 Voting will be all electronic. RSVP for
BOTH
the Elections and the AGM by using the link at the bottom of this page.
To contact the DA Ireland Nominations and Elections Committee send an email to: 
[email protected]
Best,
DA Ireland Nominations and Elections Committee
RSVP information:
Each member should RSVP individually to verify membership. We encourage you to bring non-member guests, but they will not be allowed to vote.
WHEN
February 19, 2022 at 2:00pm - 4pm Dublin Time
Who's RSVPing
Do you like this post?