Candidate Statements Page: Democrats Abroad Ireland's 2023-2025 Excom
Democrats Abroad Ireland Executive Committee Elections 2023
The 2023-25 Executive Committee will be elected at this year's Annual General Meeting (AGM) on May 20, 2023. Voting will be conducted electronically or in person at the AGM.  To RSVP to attend the meeting either live or virtually, click HERE.
The the following positions will be elected:
Chair
Vice-Chair
Treasurer
Secretary
Counsel
Up to four Members-at-Large 
A description of these offices' responsibilities can be found in the DA-Ireland's Bylaws on the Executive Committee here.
Cast your ballot here:  http://forms.gle/XjJ2PjDALp6PdbJ4A
Request your proxy here:  http://forms.gle/WSNNB67Zrdwa6bx79
If you have any questions, please contact  mailto:[email protected]
-----------
*** 2023-25 Executive Committee ***
Candidate for Chair: 
Patti Shields
 I am pleased to have the privilege of being nominated for Chair of Democrats Abroad Ireland.   I currently live in county Wicklow with my husband and daughter, and I vote in New Jersey.  We have seen first hand how important elections are at every level - and the stakes for every citizen both abroad and at home could not be higher.  Mass shootings at home are regular headlines.  And for those groups who have seen their rights impacted and stripped away -especially women, marginalised communities, minorities, transgender communities, the list goes on - the importance of supporting the best candidates starts now.  On the heels of a fabulous Biden visit here I hope as an organisation we can leverage our voices to encourage all Americans at home and abroad to vote!  I am currently chair of DA Ireland and have served DA Ireland previously as Vice Chair and Treasurer as well as Global GOTV for Democrats Abroad. I worked for the Obama campaign in 2008 and 2012, and served as a past President of the American Womens Club of Dublin, and have enjoyed a long career in the retail/fashion industry. 
Candidate for Vice Chair: 
 Richard Hartheimer (no statement provided)
Candidates for Secretary: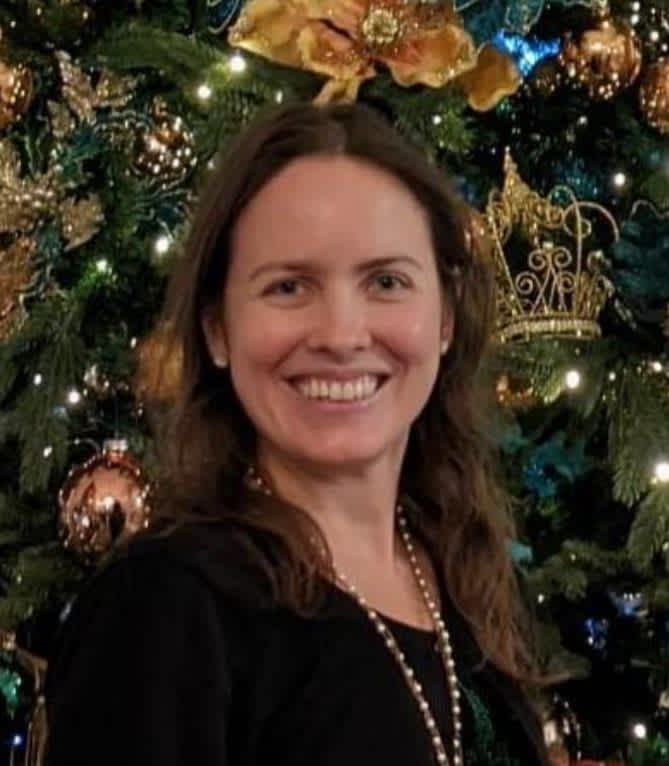 Amy McGovern
Amy McGovern has been a member of the Democrats Abroad-Ireland for 10 years and
currently holds the position of Secretary. She is also a member of the Ashbourne Softball Club, an American Women's Book Club, and loves cooking, baking & fitness.
Amy holds a Master of Science in Homeland Security from St. Joseph University,
Philadelphia, PA, where she is an alumni member of Alpha Phi Sigma. Amy also holds a Bachelor of Arts degrees in Political Science and International Studies from Lock Haven University of Pennsylvania. Amy was an active member of campus' campaigns for Hillary Clinton and Barack Obama, a member of various instrumental bands, and an alumni member of Tau Beta Sigma. While at college, she held positions as secretary, treasurer, and social coordinator of her sorority. She is seeking re-election for the position of secretary for Democrats Abroad. She would greatly appreciate your support for her re-election, as we continue the mission of the Democratic Party in Ireland.
Yusuf Toropov 
Yusuf Toropov is founder and managing director of Cara-Wordsmith.com. Cara Wordsmith is an Irish content creation firm headquartered in County Offaly that takes spoken big ideas and turns them into written intellectual property that clients own outright.

Yusuf, a native Californian and a lifelong Democrat, is the author of the book SHAKESPEARE FOR BEGINNERS, the novel JIHADI: A LOVE STORY, and the play AN UNDIVIDED HEART, among many other works. He is passionate about  Democrats Abroad, climate action, racial justice, the rights of the Ukrainian people, the sovereignty of the Ukrainian nation, neurodiversity awareness, Shakespeare, the Grateful Dead, the Beatles, and the Oakland Athletics. He worked as a volunteer on George McGovern's California campaign in 1972; he was then eleven years old. His favorite president is Harry Truman: a pragmatic centrist who told the truth on moneyed interests and reclaimed the Democratic coalition when it looked doomed.
He is well schooled in the Sandler Selling System (where he was a full-time employee for nearly a decade) and in public relations. He knows how to stay on message. He believes Mastodon (where he has over 1000 followers at http://toot.community/@YusufToropov ) is a vast under-messaged space with many, many progressive expats who are unaware of their legal right to vote from abroad.
Yusuf holds a degree in politics from Brandeis University. He was diagnosed two years ago with ADHD, which explains a lot. Whether he is elected Secretary or not, he is fully committed to the goals of:
* making the Irish chapter of Democrats Abroad the most visible and dynamic European chapter, both online and off,
* re-electing Joe Biden and Kamala Harris, 
* and securing viable Congressional majorities in both houses in 2024. 
Candidate for Treasurer: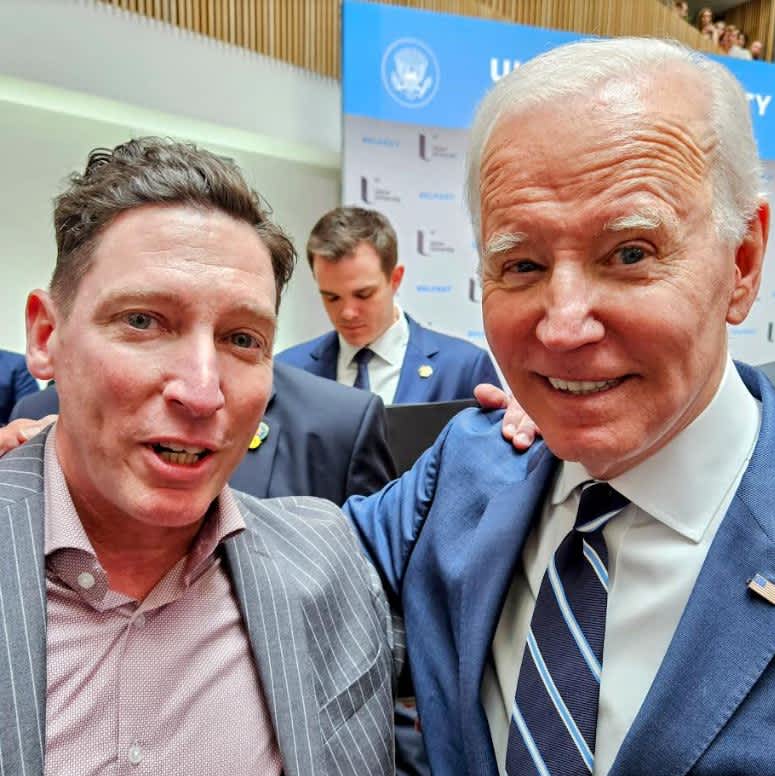 TJ Mulloy
Fellow Democrats of Ireland,
I joined this organization within a few days of coming to Ireland in March 2011. In a matter of minutes it was apparent to me that this organisation was the place for me to continue my engagement with all things political back in the US and engage with my fellow Americans living here in Ireland, all while keeping up my lifelong support of the Democratic Party.
It has been a great privilege for me to work side by side with many of you in nearly every subsequent event and fundraiser (other than when spending extended periods working on elections back in the States). Through relationships built by myself and other members of our leadership across the island of Ireland, the Democratic Party, and indeed the White House itself, we are in a unique position going into next year's elections. 
It's imperative that we continue the outreach getting the message out to every American in Ireland that they are eligible to vote from abroad. It is only through our current leadership we are able to leverage our collective talent and effort into a greater force for the furtherment of those Democratic ideals we hold dear.
I hope I have proved my commitment to the Democratic Party and yourselves through the terrible pandemic, endless lockdowns, and the many years prior. I ask for your vote for Treasurer on May 20th that will enable me to continue this commitment in the coming two years through the 2024 General Election. Thank you.
Candidate for Counsel: 
Anne Brady (no statement provided)
Candidates for Member-At-Large (Up to Four)
Richie Cunningham (no statement provided)
Jason Fitz-Patrick
I really enjoyed my first year involved at an executive level. 
I became a naturalised American Citizen in 1999. I emigrated to Virginia on the Morrison visa programme. 
I was twelve years in America and returned to Ireland when my beloved Father died suddenly.
In America I worked in Washington DC within Banking for Bank of America. My final role(s) was as a Stockbroker  (BOA) and then as  a Stockbroking Principal Series 26 with Citi.
I was very proud to be on the committee over the last year and I enjoyed accompanying Patti to Trinity College, chairing the Debate and using the platform for DA Ire possible recruitment.
I was a member of Irish American Democrats whilst living in VA and had the pleasure to meet many noted dignitaries of our party.
I would be honoured to serve another year if I was fortunate to be elected again.
I live in Wexford and would continue to press ahead attempting to increase our membership all-over and especially at  my base in the South East.
Francis Stephens (no statement provided)
If you have any questions about the election process, please reach out to the Nominations and Elections Committee at [email protected]