Wednesday, April 12 through April 15, 2023
PRESIDENT BIDEN'S OFFICIAL AND HISTORIC VISIT TO IRELAND - RSVP to GET UPDATES
RSVP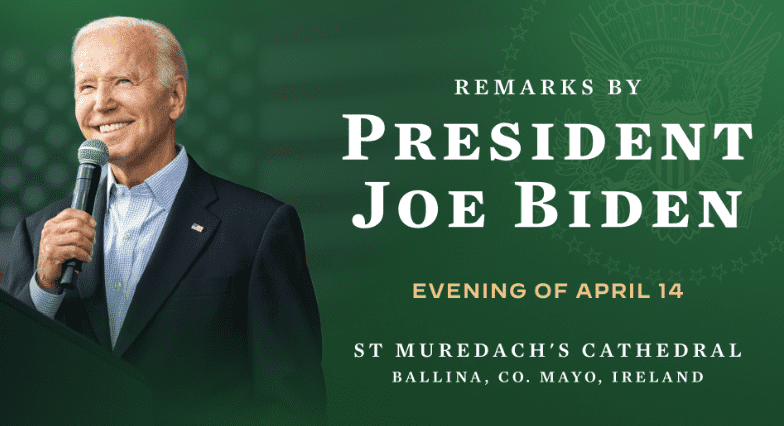 As a reminder we encourage ALL members to attend the public speech in Mayo on Friday and register using the following link:  CLICK HERE
Please also follow us on social media and/or RSVP below so that we can keep you informed on Joe's travels during this historic visit!  Also keep checking your email inbox!  Please note that we will NOT show who is coming (RSVP) just to protect privacy/security of those attending.  You may bring guests, help us to estimate crowd size by just adding number of people who may be with you.  
We have some signs, posters, flags but feel free to bring your own!  We will look to engage the motorcades/diplomatic corps en route to the venues in Belfast, Louth, and Dublin where there are no scheduled true 'public' events.  Louth may be the best opportunty as there are scheduled 'walkabouts' in those areas.
Any questions, please email [email protected]
Thank You!
DA Ireland ExCom
WHEN
Wednesday, April 12, 2023 at 11:00 AM Dublin Time through April 15, 2023
WHERE
Belfast, Dublin, Louth, Mayo
Google map and directions
CONTACT
patricia shields
[email protected]