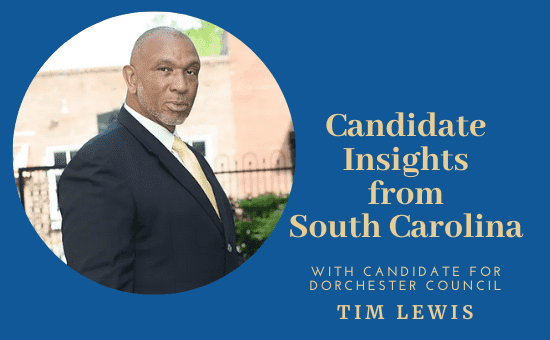 In the upcoming 2020 elections, the votes in EVERY STATE COUNT. This includes South Carolina, a state in which no Democrat has won a statewide election since 2006. But exciting things are happening in South Carolina.
Join us on Wednesday, 15 July, when Tim Lewis, the Democratic Party chair of Dorchester County, SC, introduces us to Democratic candidates and races to watch this year in his state. Heading this list of candidates are:
Jim Clyburn, the incumbent House Majority Whip since 2019. Currently in his 14th term as a congressman, Clyburn has served as US Representative for South Carolina's 6th congressional district since 1993. Since 2007, he has been the third-ranking Democrat in the House behind Nancy Pelosi and Steny Hoyer. He played a pivotal role in this year's Democratic Party presidential primaries by endorsing Joe Biden three days before the state's primary, which Biden won. 
Jaime Harrison is the 44-year-old politician and former lobbyist who is now running for the US Senate seat held by Republican Senator Lindsey Graham. In May 2013, Harrison became first African American to serve as chair of the South Carolina Democratic Party and held this post until 2017. He is also an associate chairman of the Democratic National Committee.
Joe Cunningham serves as the US Representative for South Carolina's 1st congressional district. Cunningham defeated the Republican candidate Katie Arrington with 50.7% of the vote on 2018, marking the first time since 1986 that South Carolina Democrats have flipped a US House seat. His victory was widely considered a major upset. Now he is up for re-election.
Tim Lewis is himself running for office, namely for the Dorchester County Council District 3 seat. Lewis spent most of his youth in Harleyville, South Carolina. He is a former officer in the US Marine Corps, a businessman and developer involved in education, training, and housing programs.
Zoom link:
https://us02web.zoom.us/j/83495775833?pwd=WDdzRDQxcURsYk9hcXJlSTV4MUJhQT09
password:
dems
WHEN
July 15, 2020 at 7pm - 9pm Berlin Time
CONTACT
Patrick Oberlaender ·
Who's RSVPing