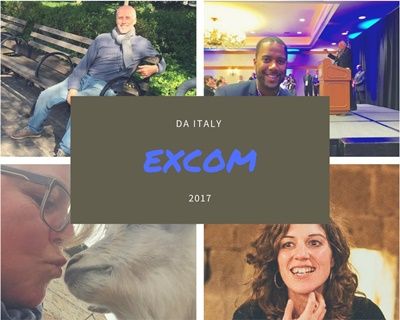 This Saturday, Democrats Abroad Italy held elections for the Executive Committee. The officers elected were:
Ryan Turner: Chair
Ginger DiGaetano: Vice Chair
Cristina Fassio: Secretary
Michael Stiefel: Counsel
We are honored  to have been elected as the new Executive Committee,and to be counted among the  fresh, bold, and progressive leaders in the DPCA leading GOTV efforts and Country Committees around the globe. We  will promote growth and work towards creating sustainable chapters and Country Committees that will grow organically and continuously. We will actively work to increase our membership in preparation for the crucial 2018 GOTV efforts and we will increase the amount of events and activities to connect and engage members in person, across Italy.
We are in a pivotal moment in our history, and we must continue to build on the momentum of the incredible resistance that has begun to form into a true movement. We cannot stand idly by as waves of activism sweep the globe but we must instead be part of the action and bring our considerable resources to the fore. The movement is just beginning, and our work of recruiting Americans to support the Democratic platform and vote in elections is our great contribution.   
We will need everyone to pitch in as part of DA Italy, in any way that we can. If you are interested in running for a post in your local chapter, volunteering to hold an event, or help to organize meetups, we need your helping hands. Contact us directly via email, Facebook or Twitter to find out how you can volunteer, and know that every little bit helps, and is appreciated.
We need to harness the spirit of service and our collective action not only to defeat the current administration but to preserve the robust democratic process that makes our organization, and the institutions it represents, so vital. As members of the Executive Committee, we offer our time, our energy, and our belief that progress comes through action, and that together we will continue to protect these values and build a sustainable path forward.  
In solidarity,
Ryan Turner (Chair)
Ginger DiGaetano (Vice Chair)
Cristina Fassio (Secretary)
Michael Stiefel (Counsel)
Do you like this post?