Hillary Clinton was in fine form Monday night (despite a fractured foot) as she addressed over 3500 admirers at Palais des Congres. She was feisty at times and used self-deprecating humor at strategic points to deliver four lessons describing the 2016 campaign and election from her new book: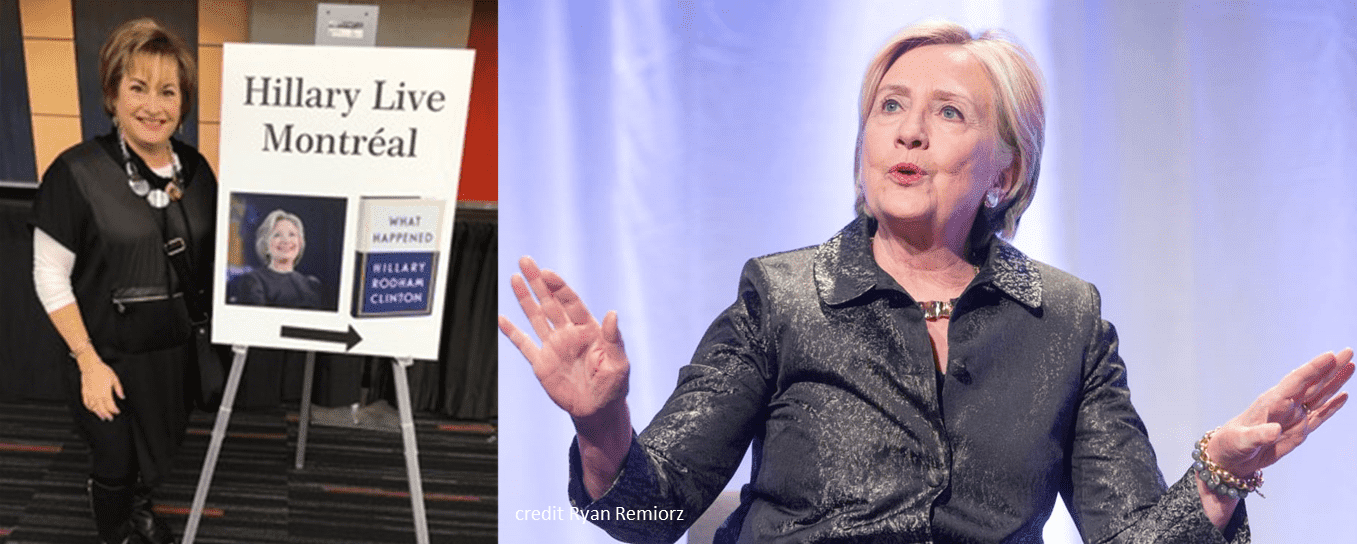 1. It is vital to get back up after being knocked down.
Hillary believed that it was important that she serve as an example of this by not allowing herself to wallow in self-pity. One of the ways she has accomplished this has been to establish the "Onward Together" organization which supports grassroots efforts around the country.
       2. Get more women involved in politics.
Secretary Clinton expressed her concern about the double standard that still exists towards women in this area. She believes that women are liked and respected when serving others but not respected when advocating for themselves. The presence of more female voices would go a long way towards shattering this double standard.
      3. There is no such thing as an alternative fact.
Hillary is worried about the powerful interests that are working to make it harder to distinguish facts and falsehoods. She believes that we can not underestimate the Russian interference in our political system and stressed that this is a clear and present danger unless steps are taken to protect ourselves from this threat. She acknowledged that this is a new kind of cold war.
      4. Refuse to be silent.
Along the lines of "silence gives consent", Secretary Clinton believes that the most effective way of striking down intimidation is by speaking up and speaking loudly.
Clinton remains optimistic and is encouraged by the positive, proactive energy that has come out of the disappointment over the election result. "People like us [that are] willing to stand up for timeless principles and values fill me with hope. We are on the right side of history."