Sunday, October 30
Nice, France
Navigating through the American Taxation Labyrinthe
RSVP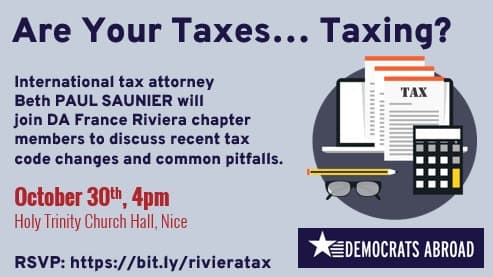 The tax code revisions of the previous presidential administration have impacted all Americans - including us who live abroad. DAF-Riviera is proud to present another guest speaker, Beth PAUL SAUNIER, to help us keep up with recent tax code changes and avoid common pitfalls.
Beth is a U.S. qualified lawyer who has worked in international tax law since 2004 and owner of BPS Tax Services. Prior to opening BPS Tax Services in 2011, Beth practiced U.S.-French tax law at a Paris law firm after having worked for over five years as an international tax advisor with the Internal Revenue Service at the United States Embassy in Paris.
 To better accommodate our members, this event will be held on Sunday instead of mid-week. This event is free admission but we ask you to make a donation directly on our website to support DAF-Riviera. Your support allows us to provide these types of events to Americans living abroad.
Even though the government has lifted restrictions, we are still going to encourage wearing a mask. In addition, we will limit seating and ensure the room is open to fresh air. We want everyone to feel secure in attending and mindful everyone has different comfort levels. We look forward to seeing you all again in person!
WHEN
Sunday, October 30, 2022 at 04:00 PM Paris Time
WHERE
Holy Trinity Church Hall
11bis rue de la Buffa
Nice 06000
France
Google map and directions
CONTACT
Scott Baker
21 RSVPs