Wednesday, November 09
Nice, France
Post-Elections Apéritif
RSVP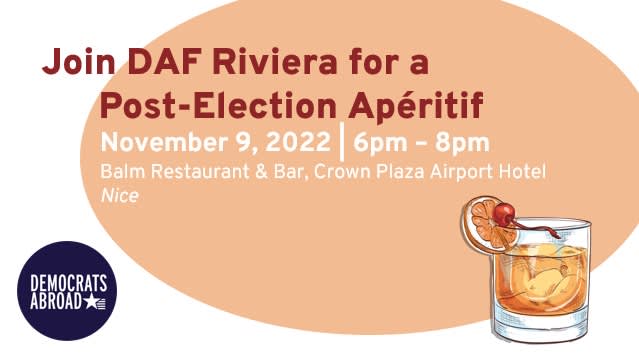 It will be the day after our midterm elections and there will be so much news to absorb (and fingers crossed for good news)! Why not join us for an apéritif and socialise together for our last event of the year? You can come and go as you please as there won't be any presentation - just sit back with fellow Americans and forecast the political scene of 2023. We will be meeting at a new location that is easy to access from several modes of transportation. The Balm Restaurant & Bar, is the lobby of the Crown Plaza hotel by the airport.
Tram - take either the lines #2 or #3 to Grand Arénas, and a short walk around the corner.
Train - get off at the new Nice - St. Augustin train station, and walk under the tracks to the other side.
Car - we recommend either Parking Indigo Nice Arénas and a short walk to the hotel, or, Parking Linge d'Azur Parc des Sports Charles Ehrmann and take the tram to Grand Arénas.
We will gather in a space near the bar. Everyone will be responsible for their own drinks at the bar, and if the conversations continue to the evening, you are welcome to stay and have dinner among friends. Please RSVP - even as a maybe - so that we can give a headcount to the restaurant in advance. Come one, come all!
WHEN
Wednesday, November 09, 2022 at 06:00 PM Paris Time
WHERE
Balm Nice | Bar & Restaurant
2 Rue Costes et Bellonte
Nice 06200
France
Google map and directions
CONTACT
Scott Baker
27 RSVPs