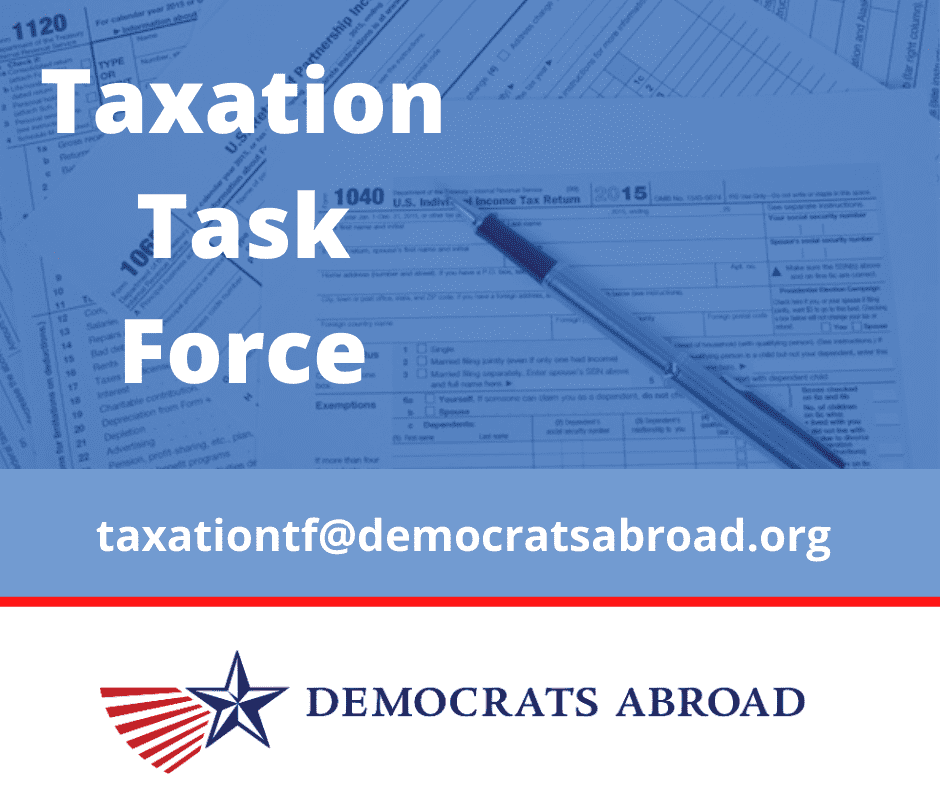 US Taxation is a problem for every single American living abroad, no matter the party affiliation.  Democrats Abroad has been working, in collaboration with the other organizations representing Americans abroad, for many years to persuade Congress to provide our community with tax relief.  
Join Democrats Abroad Toulouse as we host Carmelan Polce, Chair of the Democrats Abroad Taxation Task Force, on Saturday October 16 at 11 am Paris time.  Carmelan has worked on the task force for many long years, and she will share with us the work they have been doing in tax reform for Americans living abroad.
Her presentation will cover the following points:
DA Tax Advocacy Goals
eliminating double taxation, removing barriers to banking, saving and investing and simplifying filing
promoting Residency Based Taxation as the long term solution to addressing the broad range of problems US taxation causes for Americans abroad
working in 2021 in support of a filing simplification for those who owe no US tax, a GILTI Tax exemption for American small business owners abroad and updates to FBAR
see the What Are We Fighting For post for more information
DA Tax Reform Strategy – a 5 prong approach
Research
Expat Tax Thought Leadership
Congressional Outreach
Grassroots Activism
Expat taxpayer education and support
Updates on 2021 Legislation
Q & A
WHEN
October 16, 2021 at 11:00am - 1pm Paris Time
Who's RSVPing
Do you like this post?