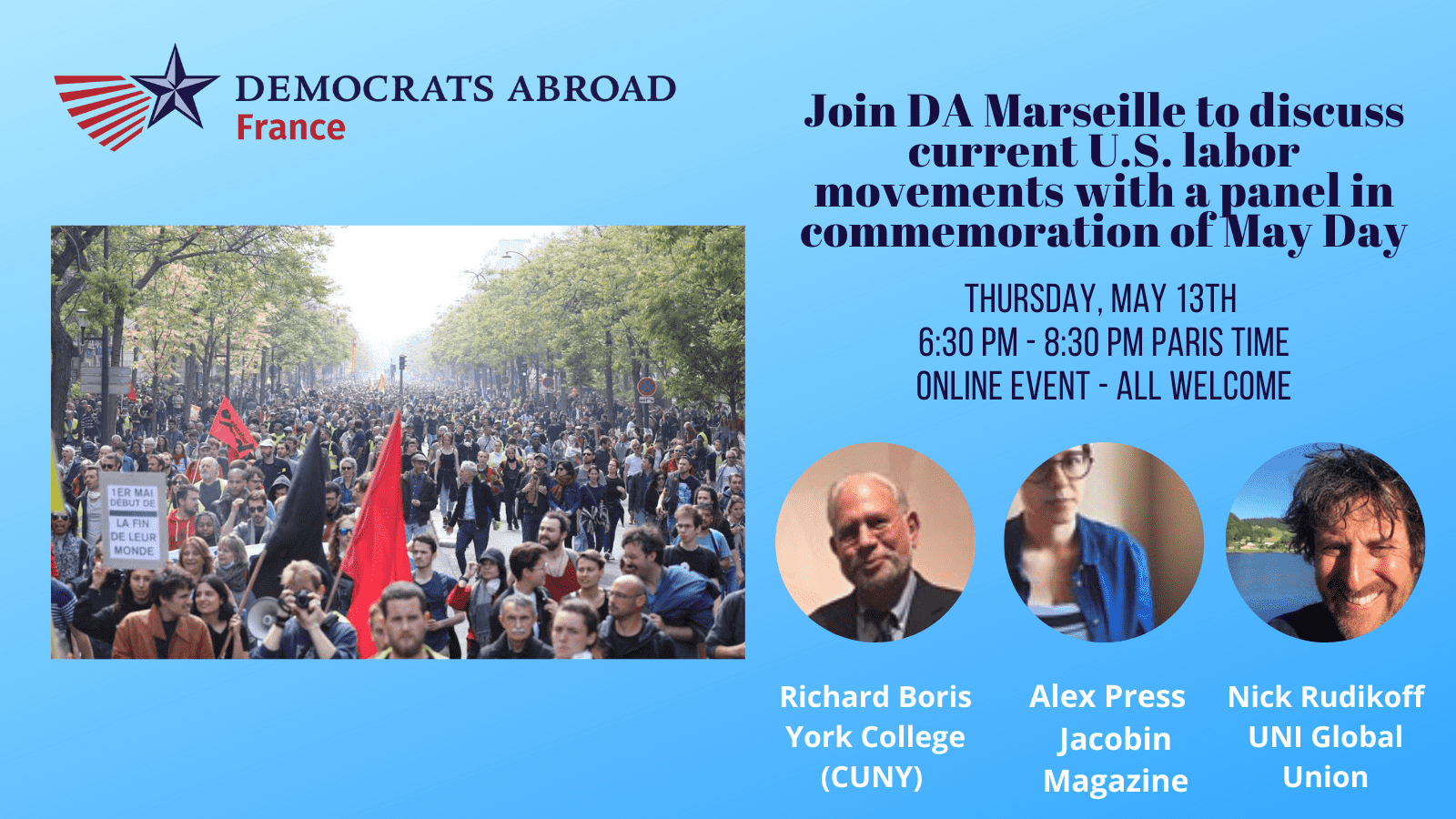 Join Democrats Abroad Marseille and Democrats Abroad France for a May Day panel to discuss current U.S. labor movements on May 13th at 6:30 pm Central European Summer Time. In 1889, May Day was chosen as International Worker's Day by socialists and communists of the Second International to memorialize the Haymarket affair in Chicago, a peaceful demonstration in which workers, trade unionists, and leftists marched for the eight-hour workday and that was met with violent confrontation by the police and the political establishment. In the U.S., however, Labor Day is celebrated not in May but in September, a move by the political establishment to discourage U.S. workers from engaging in labor organizing at the international level. 
As Democrats, progressives, leftists, and Democratic Socialists living abroad, we recognize the importance of commemorating the history of May Day, especially during a time of immense economic and social upheaval, rising inequality and political instability, intensifying global worker exploitation, turmoil in the health sector, rising financial and capitalist power, and increasing police violence. As we look forward to closing the Coronavirus pandemic chapter of our history and its ensuing devastation on our socio-political fabric, we echo the words of President Biden when he called on Congress to pass the PROAct, which would strengthen the rights of workers: "We need to summon a new wave of worker power to create an economy that works for everyone."
Today, we can look to May Day, and the conflicts that have followed in its footsteps, as inspiration as workers stand up to large corporations, big business, and the billionaire class and collectivize to demand better working conditions. One of the most recent and publicized struggles has been the effort to unionize Amazon workers in Bessemer, Alabama. Another ongoing labor organizing movement has been unionization efforts across university campuses. We will cover these movements with a panel of experts.
We will be joined by Nick Rudikoff, Campaigns Director at UNI Global Union, Alex Press, labor journalist and staff writer at Jacobin Magazine, and Richard Boris, Professor Emeritus of political science at York College, City University of New York and the former executive director of the National Center for the Study of Collective Bargaining in Higher Education and the Professions. We will link the importance of May Day to contemporary struggles to build worker power and resist entrenched capitalist logics of exploitation. By learning about current struggles, which have far-reaching global implications, we hope to create solidarity and build understanding regarding how, in an interconnected planet, no society can thrive so long as workers are kept silent. 

Biographies 
Nick Rudikoff is Campaigns Director at UNI Global Union, a union federation representing 20 million workers around the world in the service sector. Born and raised in Poughkeepsie, NY, Nick has more than 20 years of experience in the US labor movement as a researcher and campaigner, mostly with SEIU.

Alex Press is a staff writer at Jacobin magazine. Her writing has appeared in The Washington Post, The New Republic, and The Nation, among other places.
Richard J. Boris is emeritus professor of political science at York College, City University of New York (CUNY) and former executive director (2001-2014) of the National Center for the Study of Collective Bargaining in Higher Education and the Professions at Hunter College, CUNY. 
WHEN
May 13, 2021 at 6:30pm - 9:30pm Paris Time
CONTACT
Esteban Rodriguez ·
Who's RSVPing
Do you like this post?