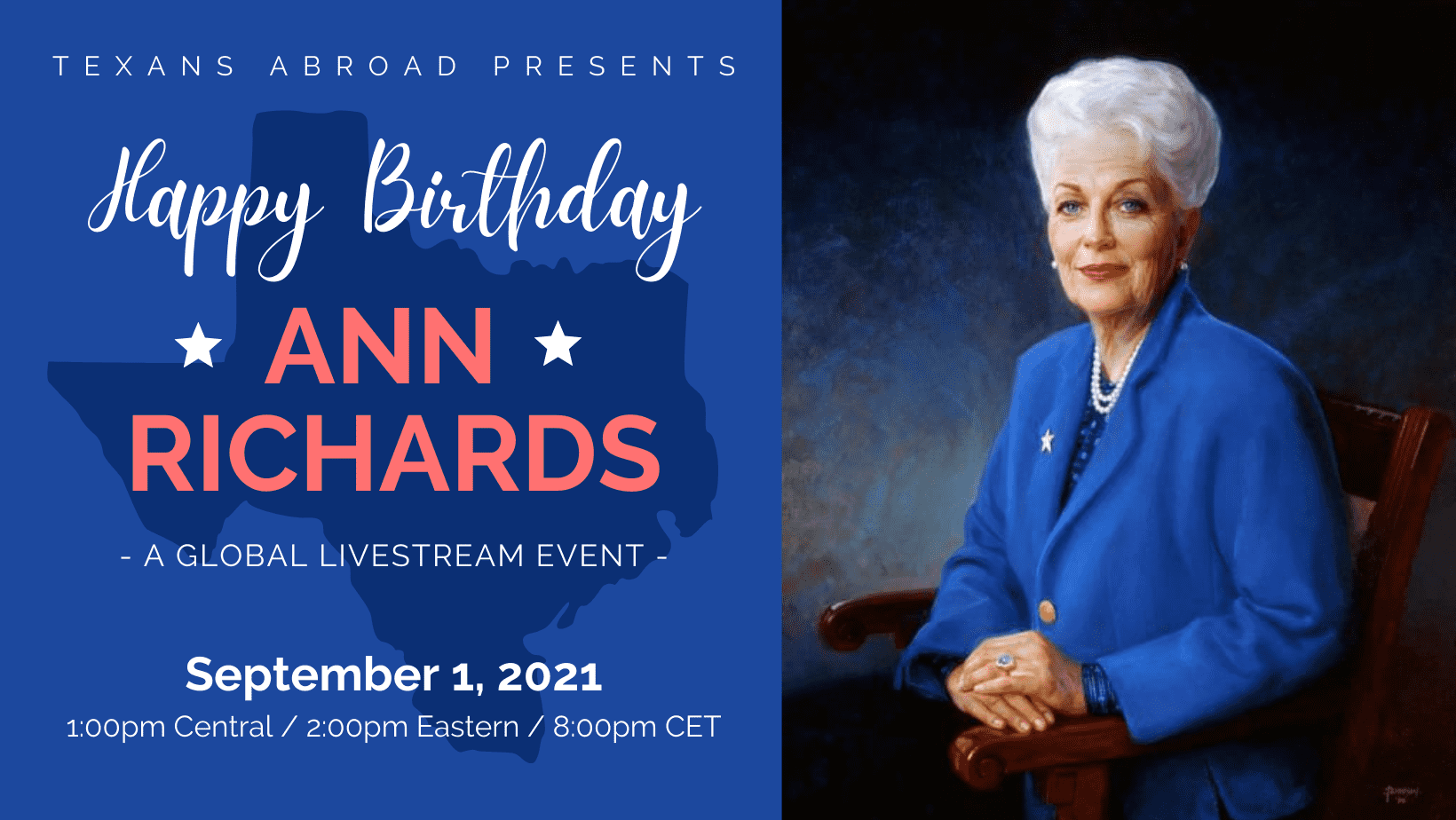 Ann Richards' Global Birthday Celebration
Texas has its own "45" – and she was a force of nature! Governor Ann Richards was the last Democratic governor of the Lone Star State, larger-than-life and down-to-earth. She was a champion of women, children, people of color and working-class people. Her sharp wit was legendary.
Join Texans Abroad as we celebrate her life and legacy with a global live stream featuring Official Musician of Texas Sara Hickman, Texas Poet Laureate Emmy Pérez, Dr. Eliz Markowitz, Jana Lynne Sanchez and many more. 
We will get caught up on the good, the bad, and the ugly at the 87th Texas Legislature and preview the upcoming special session on redistricting. Most importantly, you will find out how you can help prepare for the 2022 midterm elections – many hands make light work and there's work a-plenty to break the GOP stranglehold on Texas and in D.C.
As part of the global celebration, we are asking you to show your love for Ann by submitting a photo of yourself at a local landmark – wherever in the world you are, whether it's a far-flung village or a booming metropolis. We've created a birthday sign for you to download and print. All you need to do is fill in your location, snap a photo  for our photo collage and submit it using this FORM or to the email address below. It's that easy! ***Deadline: August 15.
All democracy-loving folks are welcome to attend! You don't need to be a Texan to enjoy the show. Donations are optional, but we recommend a contribution of $20.22 to help us reach voters across the globe in the coming Midterms!
Please let us know if you have any questions or would like to be involved. You can reach us at [email protected] and be sure to follow us on Twitter @TXAbroad
"I was tested by fire, and the fire lost." – Ann Richards (1933-2006)
WHEN
September 01, 2021 at 7:30pm
rsvp
---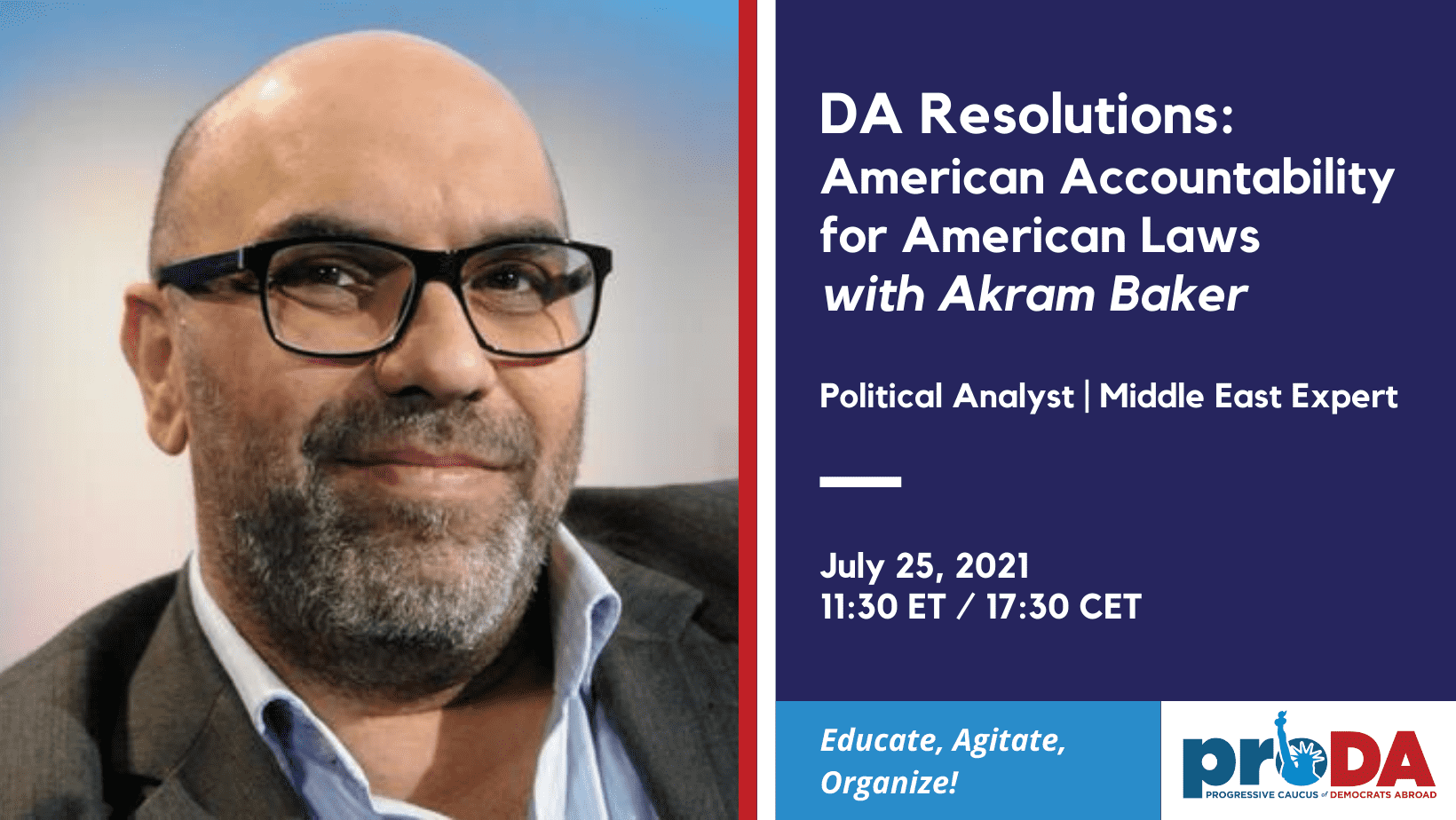 Join the Germany Progressive Caucus on July 25 at 11:30 a.m. ET/5:30 p.m. CET for the second edition of our DA resolutions update. We will be one month out from an important DPCA vote on Resolution 19 "Prohibiting the Use of U.S. Military Foreign Aid for the Detention of Children" and Resolution 20 "To Condition Military Aid to Israel" and are pleased to announce that several resolution authors will be joining us at our meeting.
We will also be joined by our keynote speaker for the event, Akram Baker. 
Akram

Baker is a long-time political analyst and management consultant. He has worked with numerous corporations, governments, and NGO's throughout the world, including Daimler AG, Bahn AG, The World Bank, and the GIZ in addition to his senior advisory roles to the Governors of the Central Bank of Egypt and the Palestine Monetary Authority. In the 1990's, 

Akram

was spokesman to Faisal Husseini, Head of the Palestinian Negotiating Team. A fourth-generation American of Palestinian descent, he was an active supporter of the Obama '08 and '12 campaigns and Joe Biden in 2020. His rants and opinions can by found on DW, BBC, etc, and in many newspapers and magazines.
Currently residing in Berlin,

Akram

has lived extensively in the Unites States, Palestine, Egypt, and Germany. 
Whether you are a DPCA voting representative looking to gain deeper insight into the issues before the vote, or you are a DA member wanting to join organizing efforts behind the proposals, you are most welcome to attend. Together, we can make a difference!
RSVP to receive the link.
Do you already support Resolutions #19 and #20? Then please consider signing and sharing our petition.
WHEN
July 25, 2021 at 5:30pm
rsvp
---
This Tuesday, join us for our May meeting: Organized Labor's Role in U.S. Elections, with guest speaker Thomas J. Adams, whose research focuses on the history of American labor, political economy, and social movements as well as New Orleans.
Our U.S. tax info session will be on Wednesday, May 8th, 2019. If you haven't RSVPed yet, the venue is currently at capacity. You're welcome to come, in case there are no-shows ►Details
May political pub nightwill be at Zosch in Mitte on Wednesday May 15th, 2019. Get a beer with Americans and friends, and maybe even catch some New Orleans jazz later in the evening. ►Details & RSVP here
We're also really excited to announce the Democrats Abroad Book Clubin Berlin. The first meeting will take place on Thursday, May 30th, 2019 at Coffee Fellows in Prenzlauer Berg. We'll be discussing the novella "The House on Mango Street" and choosing books for the next few months. ►More Book Club info
Want to get involved? Drop us a line by emailing [email protected].
---
Updates
We need your help this summer: 4th of July & LGBT Stadtfest
Do you throw a great party? We're looking for help for our summer events, when we reach out to the greater American community in Berlin. If you'd like to help us coordinate these events (or another one), please get in touch! [email protected]
Host a Democrats Abroad Berlin meetup!
We're asking for your help to make more events happen in more parts of Berlin. If you'd like to put together a playground gathering, a letter-writing group, discussions over dinner, or anything else that helps bring Americans living in Berlin together, please get in touch. We'd love to see more diverse get-togethers in all the Berlin neighborhoods -- from Friedenau to Weissensee and everywhere in-between.
Write in with your idea or proposal: [email protected]
Democrats Abroad Germany's Volunteer Survey
Democrats Abroad's Germany-level leadership is conducting a survey of potential volunteers, to figure out what your interests, unique talents, and special skills are. If you'd like to respond, take the survey
2019 Elections in KY, LA, MS, NC, NJ, PA, & VA
There are local, state and federal elections in 2019. If you vote in Kentucky, Louisiana, Mississippi, New Jersey, or Virginia, there are elections in 2019. Pennsylvania's 12th District and North Carolina's 3rd and 9th districts will have special elections for seats in the US House of Representatives. It may not be a presidential election year, but please remember to request your ballot and vote!
►Go to VoteFromAbroad.org and request your overseas ballot today!
---
Upcoming Events
Organized Labor's Role in U.S. Elections - May Meeting
Tue. May 7, 2019, 7:30-9pm
Begegnungsstätte Falckensteinstraße, Falckensteinstr. 6, 10997 Berlin (U1 Schlesisches Tor)
RSVP | Facebook
Taco Tuesday in Dresden
Tue. May 7, 2019, 7:30-9pm
The Evil Burrito Dresden, Bischofsweg 10 Dresden-Neustadt 01097
RSVP | Facebook
Info Session: U.S. Taxes While Living Abroad
Wed. May 8, 2019, 7:30-9pm
Cookies and Cream, Kremmener Straße 8, 10435 Berlin-Mitte (U8 Bernauer, U2 Eberswalder, M10 Wolliner)
RSVP(required) | Facebook
May Political Pub Night – Zosch
Wed. May 15, 2019, from 7pm
Zosch, Tucholskystr. 30, 10117 Berlin-Mitte (S Oranienburger Strasse, U6 Oranienburger Tor)
RSVP | Facebook
Book Club Kickoff: The House on Mango Street
Thu. May 30, 2019, 7-8:30pm
Coffee Fellows 2nd Floor, Danziger Str. 1, Berlin-Prenzlauer Berg (U2 Eberswalder Strasse)
RSVP | Facebook
🌈LGBT Streetfest🌈- Save the date!
Sat. & Sun. July 20-21, 2019
Nollendorfplatz, Berlin-Schöneberg
Volunteer
We are excited to be part of the Lesbisch-Schwules Stadtfest(Motzstrassenfest) on July 20 & 21 in Schöneberg. The street festival is an annual highlight for Democrats Abroad Berlin. We will have a booth on both days where we'll mingle with attendees, sell DA swag, and register Americans abroad to vote. We're looking for volunteers to help out for shifts of a few hours (or more) over the weekend. It's a fun festival with a great atmosphere, so grab a friend and sign up for a shift or two together: https://volunteersignup.org/48B78
---