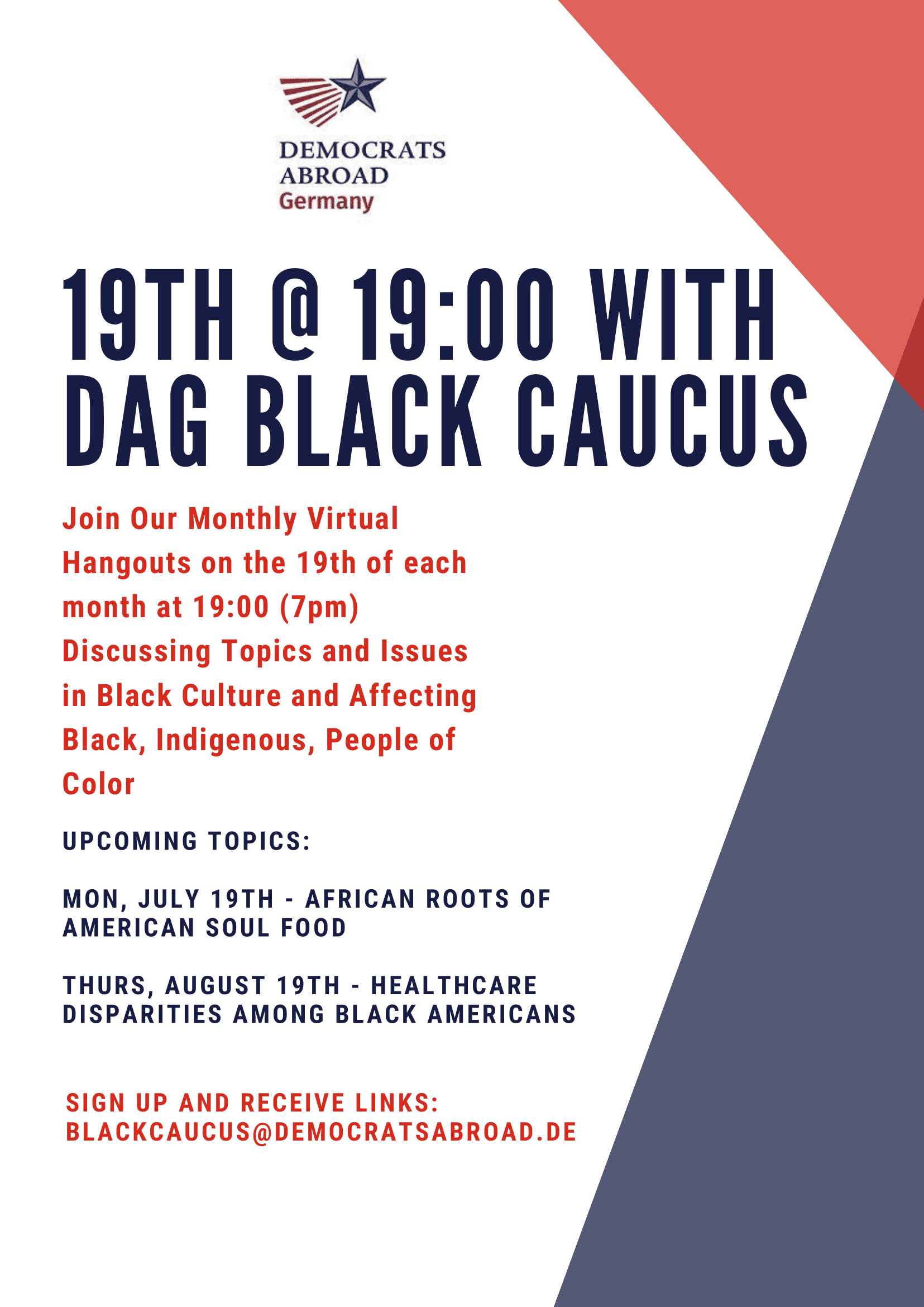 The members of the Black Caucus invite you to join us on a kaleidoscopic journey of Black life and culture. This event series, "[email protected]" will be held on the 19th day of each month at 7 pm. Each month we will travel to a new destination in Black life to promote our caucus and educate the DA membership on issues affecting the Black American community. In July, our first stop will be a food port in Africa, where we will explore the influences of African vegetables and spices on "soul food" and the American taste palette. 
Monday, July 19th @ 19:00-21:00
Food Ports in Africa with a special screening and chat with Ericka
(online screen link to follow)
Thursday, August 19th @ 19:00 
Healthcare Disparities among Black People with Ben
Sunday, September 19th @19:00 
(tba)
The 19th of the month is a symbolic acknowledgment of Juneteenth and the birthday of Malcolm X.
Please join us as we celebrate our rich past, dynamic present, and bright future. For questions reach us at: [email protected]  
RSVP for zoom details 
WHEN
July 19, 2021 at 7pm
rsvp
---
Meet and Greet, Podcast and More!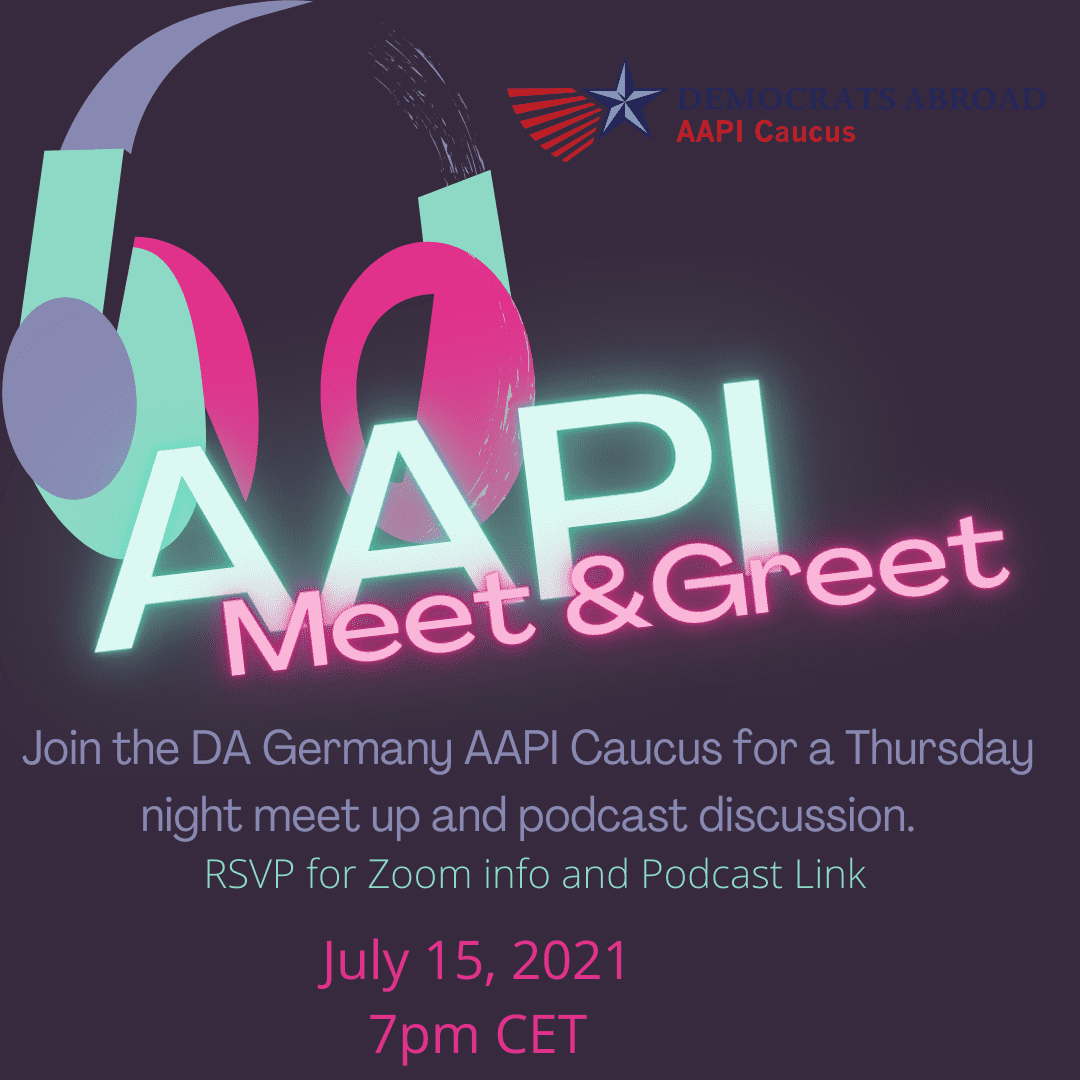 Democrats Abroad Germany AAPI Caucus invite you to a meet and greet followed by a podcast discussion on July 15, 2021, 7:00 pm Berlin Time. We would also like to discuss how our experiences as AAPI compare with our counterparts here in Europe, and what our experiences have been like here. 
Saehee and Wy Ming, the team leaders, would like to meet you virtually and also ask members to bring your questions on how to get involved with the AAPI caucus.
What is it like to be Asian or Asian American in Germany and Europe? How is it different from the States? How is your experience here? How do we engage in AAPI issues globally? 
The podcast we chose
will highlight
Lisa Wool Rim Sjöblom
, a Korean adoptee from Sweden who is an activist for adoptee rights and an illustrator. Her work has also gained international recognition with her powerful art and messages against AAPI hate and racism. You can learn more about her by following her on instagram
@chung.woolrim
RSVP for zoom link. We are excited to meet you all! 
WHEN
July 15, 2021 at 12pm
rsvp
---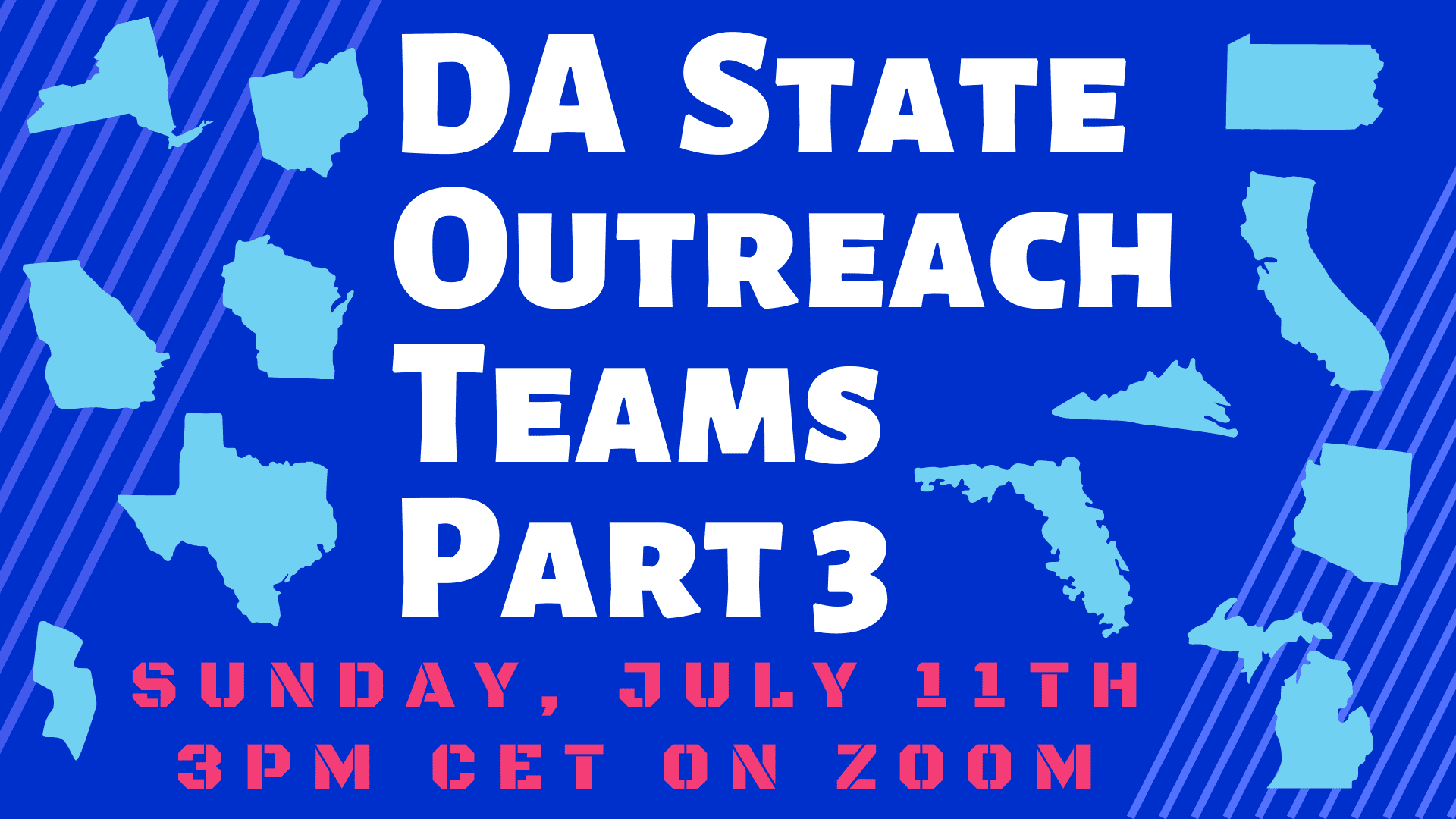 Join us for the third session of State Outreach Teams to find out how you can be a part of these Global Teams. Key State Outreach is a new addition to the Democrats Abroad network. Following the success of Texans Abroad, we now have groups forming around ten states:
With New York and California soon to follow!
On Sunday, July 11 at 3pm CEST/9am Eastern, we will sharing tips, strategies and information on all three of our State Outreach pillars:
-Voter Mobilization: educate and mobilize overseas voters; hold informational and community-building events; build coalitions with affinity groups on the ground.
-Ballot Protection: develop and deepen overseas voting expertise in conjunction with Vote From Abroad; build relationships with election officials and state legislatures.
-Legislation: coordinate with Global efforts to track bills being introduced to state legislatures; mobilize voters at home and abroad around relevant issues.
Each group chooses which of these pillars is most urgent and relative to their state. Come join the conversation!
This is the third of three State Outreach meetings. Missed the first two? You're still welcome to attend! A recording of the previous events and supporting materials can be made available.
Please RSVP for the Zoom link below.  Bring your friends, spread the word, and don't hesitate to get in touch with any questions.
Join us and help build a global community of activists working to get out, protect and defend the vote!
Democratically yours,
Teresa Ritterhoff, DAG GOTV Coordinator  [email protected]
Jennifer von Estorff, Texans Abroad EMEA Captain /DAG Secretary/ Vice-Chair Göttingen-Hannover [email protected]
WHEN
July 11, 2021 at 3pm
rsvp
---