Join Kenton Barnes, DA Germany Chair, and Emily Lines, DA Germany Vice Chair, for an online "Meet and Greet" on Sunday, August 29th from 3:00pm to 4:30pm. We'll discuss our organization's structure and goals, introduce ourselves as the leaders of DA Germany, and discuss ways you can get involved as a volunteer with DA Germany and with your local chapter.
Whether you're a long-time member or completely new to DA Germany, we warmly welcome all members to join us for this afternoon event. We hope to answer any questions you may have about DA Germany, as well as foster a lively, productive discussion with each other. 
To actively participate in the event, you will need a computer with an internet connection as well as a working microphone. 
Please RSVP to the event if you'd like to attend. Once you have RSVP'd, you will receive the login link. We hope many of you can join us! 
WHEN
August 29, 2021 at 3pm
rsvp
---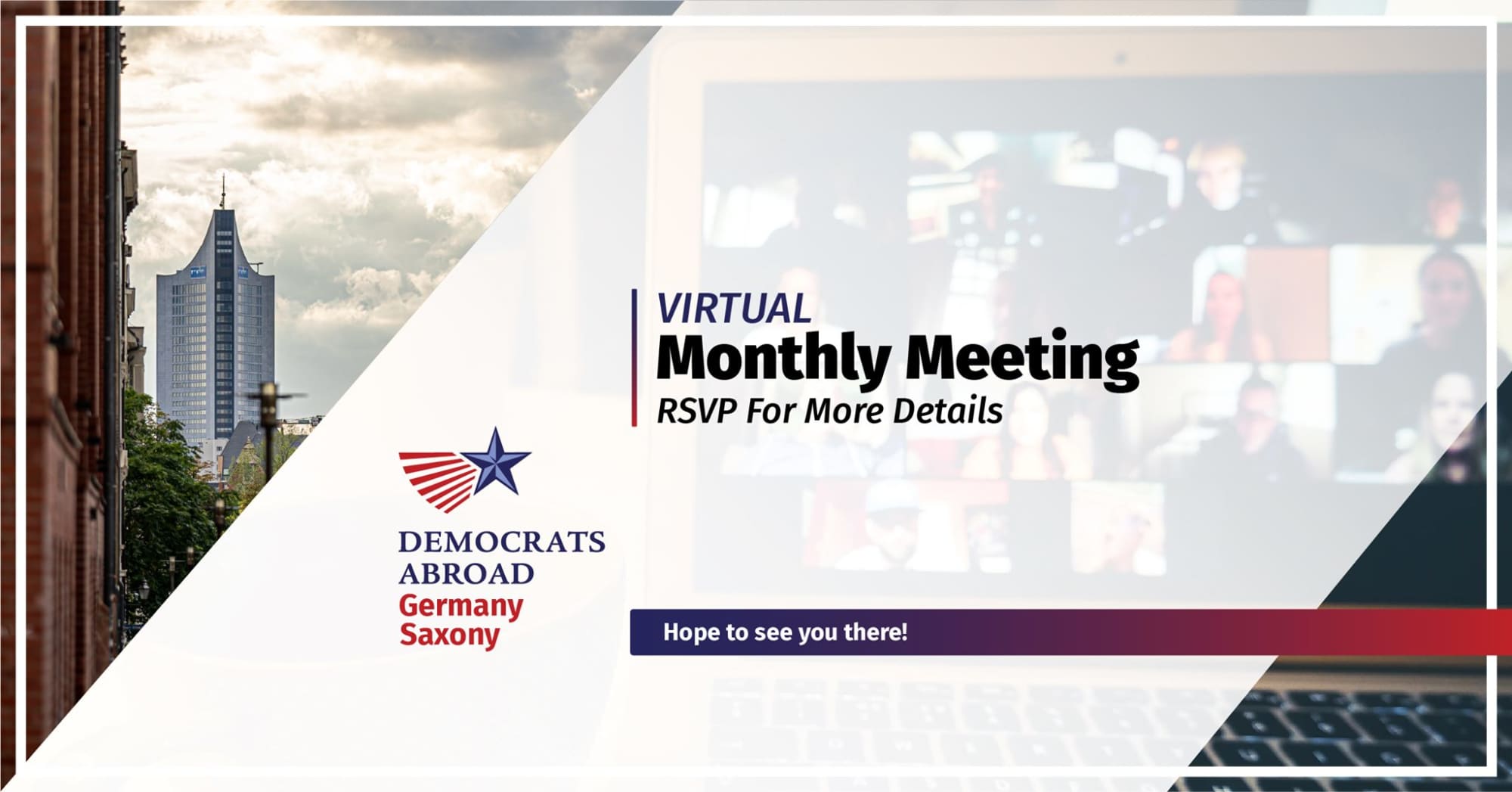 On August 1, start the month off right by having your Sunday morning coffee or tea with DA Saxony! We will be discussing some of the big upcoming decisions at the DA global level, and you will have the opportunity to share your ideas and views with the two DPCA voting representatives from our chapter who will be voting on our behalf. Never been to a meeting before? No problem! It's a great chance to get to know our lovely chapter members and organization. RSVP to receive the log-in link. 
WHEN
August 01, 2021 at 9:30am
rsvp
---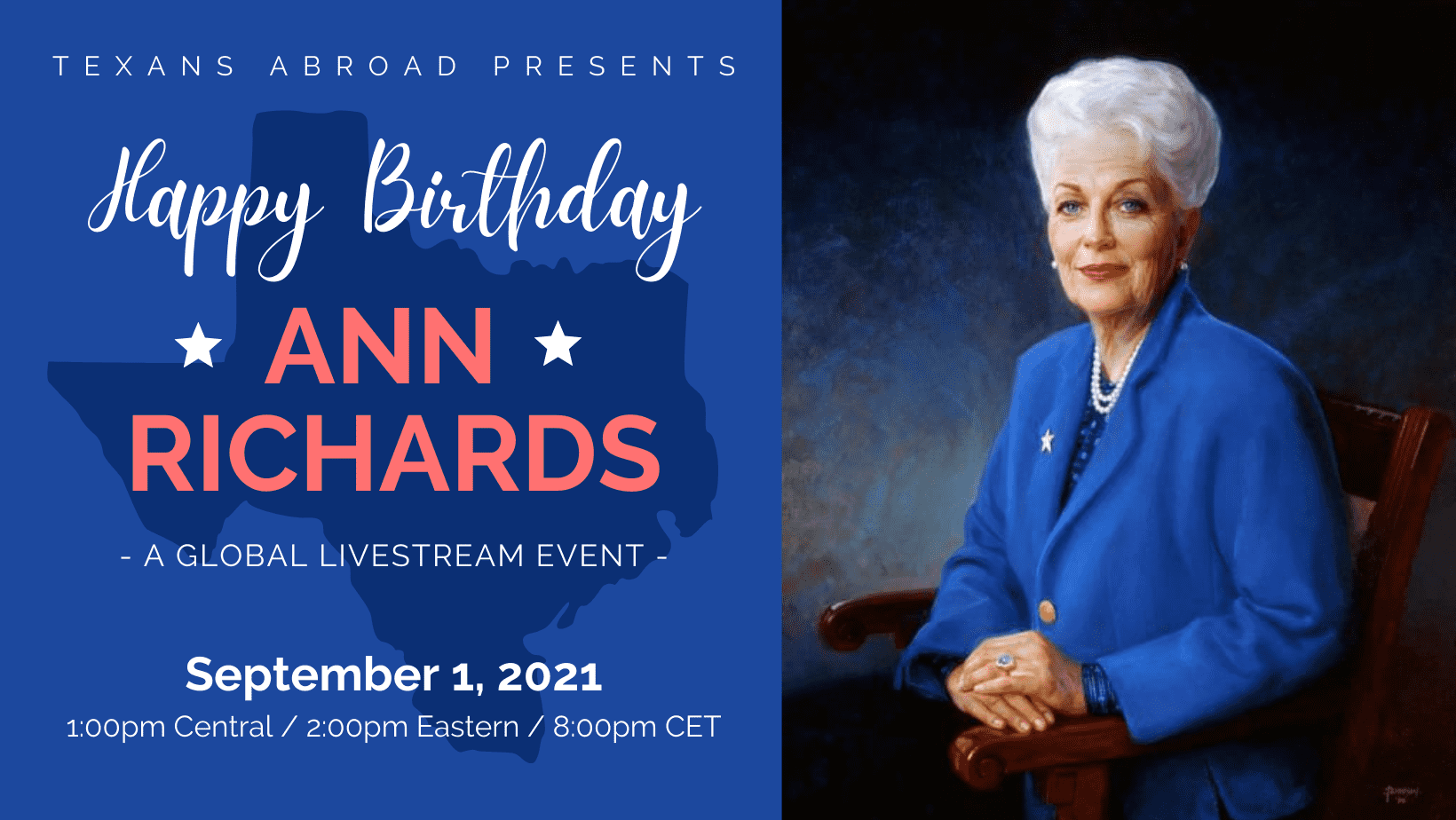 Ann Richards' Global Birthday Celebration
Texas has its own "45" – and she was a force of nature! Governor Ann Richards was the last Democratic governor of the Lone Star State, larger-than-life and down-to-earth. She was a champion of women, children, people of color and working-class people. Her sharp wit was legendary.
Join Texans Abroad as we celebrate her life and legacy with a global live stream featuring Official Musician of Texas Sara Hickman, Texas Poet Laureate Emmy Pérez, Dr. Eliz Markowitz, Jana Lynne Sanchez and many more. 
We will get caught up on the good, the bad, and the ugly at the 87th Texas Legislature and preview the upcoming special session on redistricting. Most importantly, you will find out how you can help prepare for the 2022 midterm elections – many hands make light work and there's work a-plenty to break the GOP stranglehold on Texas and in D.C.
As part of the global celebration, we are asking you to show your love for Ann by submitting a photo of yourself at a local landmark – wherever in the world you are, whether it's a far-flung village or a booming metropolis. We've created a birthday sign for you to download and print. All you need to do is fill in your location, snap a photo  for our photo collage and submit it using this FORM or to the email address below. It's that easy! ***Deadline: August 15.
All democracy-loving folks are welcome to attend! You don't need to be a Texan to enjoy the show. Donations are optional, but we recommend a contribution of $20.22 to help us reach voters across the globe in the coming Midterms!
Please let us know if you have any questions or would like to be involved. You can reach us at [email protected] and be sure to follow us on Twitter @TXAbroad
"I was tested by fire, and the fire lost." – Ann Richards (1933-2006)
WHEN
September 01, 2021 at 7:30pm
rsvp
---