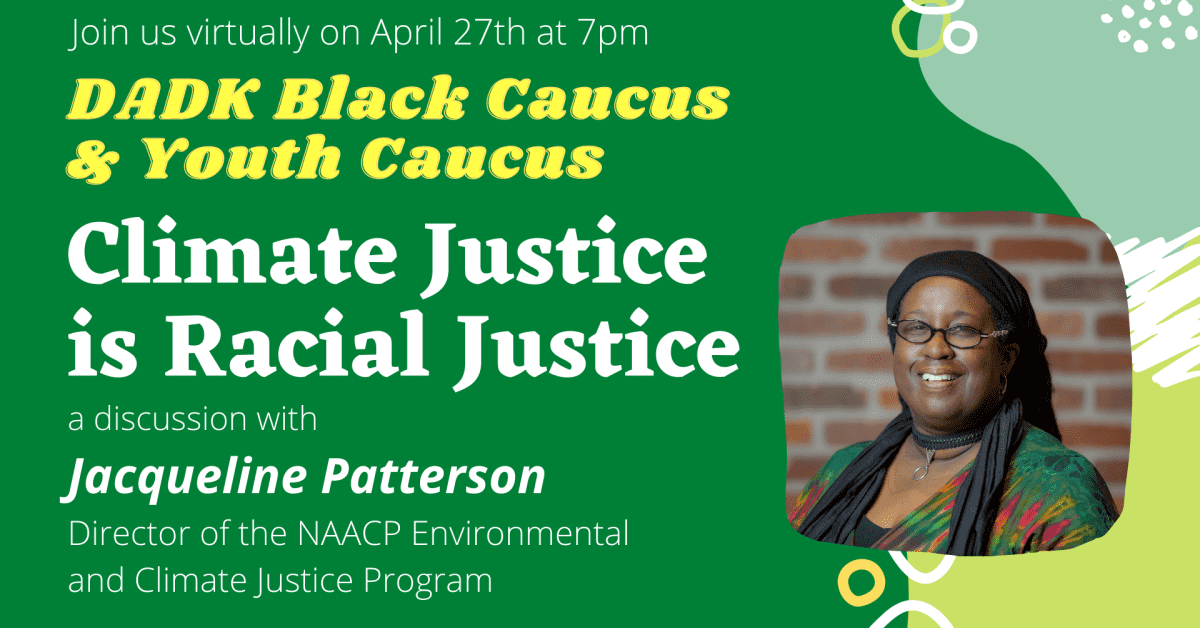 Join the DA-Denmark Black Caucus and Youth Caucus, on April 27th from 7-8:30pm for our virtual event, Climate Justice is Racial Justice, a Discussion with Jacqueline Patterson. The event will begin with a short presentation and lead into a discussion with Jacqueline Patterson about the intersection of race, climate change, and electoral politics. Jacqueline Patterson is the Director of the NAACP Environmental and Climate Justice Program.



WHEN
April 27, 2021 at 7pm
rsvp
---
This month our book club will meet online on April 20th at 6:30 pm to discuss How the Irish Became White by Noel Ignatiev. In this book, Ignatiev "... traces the tattered history of Irish and African-American relations, revealing how the Irish used labor unions, the Catholic Church and the Democratic party to help gain and secure their newly found place in the White Republic. He uncovers the roots of conflict between Irish-Americans & African-Americans & draws a powerful connection between the embracing of white supremacy & Irish "success" in 19th century American society."
Next month we will read and discuss Our Time Is Now by Stacey Abrams. 

You can order your copy of How the Irish Became White or Our Time Is Now from Books and Company (Sofievej 1, 2900 Hellerup)  They do not have any copies of "Our Time is Now." They ordered one for me, but can order others, which typically take 2-3 days for delivery.  Pick up at the store. 
WHEN
April 20, 2021 at 6:30pm
rsvp
---
Scroll down and click on the dates below to RSVP and get connection details and reminders.
Did you know every eligible American living abroad can vote in U.S. elections? 
Was the last place you or your parent lived in the US the state of Georgia?
If you are 18 on or before January 5th you are allowed to vote in the runoff election. 
Do you have questions about how to vote? Click the chat bubble at the bottom of this screen and we can help you find the answers. 
But we get it. Sometimes you just want to speak to live person. 
Join us Tuesday & Thursday (noon-4pm January 5th & 7th. All time are listed as U.S. Eastern time. Our volunteers and standing by LIVE on Zoom to help answers questions you have about voting from abroad and curing your ballot.

How is it done on Zoom? You'll come into the main room and be paired 1:1 with a volunteer into a breakout room to ensure privacy and that you can get all your questions answered. It couldn't be easier. 
More information: The easiest way to request your ballot is at VoteFromAbroad.org. It takes just a few minutes to complete and send in your form to the US state where you last lived. The website will guide you step by step. In most cases it's pretty simple. But if you're new to voting abroad, or if you haven't done it in a while, you may have additional questions. That's why we'll be here every Sunday until election day to help.
If you can't make the 'office hours', you can always email us at [email protected] or send in your question through our online help bubble, and a volunteer will get back to you.
Here is a handy website to convert the time zone to yours wherever you are in the world.
Zoom Connection Details:

Zoom Link: https://zoom.us/j/91090344003
Meeting number: 910 9034 4003
PassWord: Vote2020
Tuesday & Thursday: Noon-4pm (U.S. Eastern)
January 5th and 7th


---