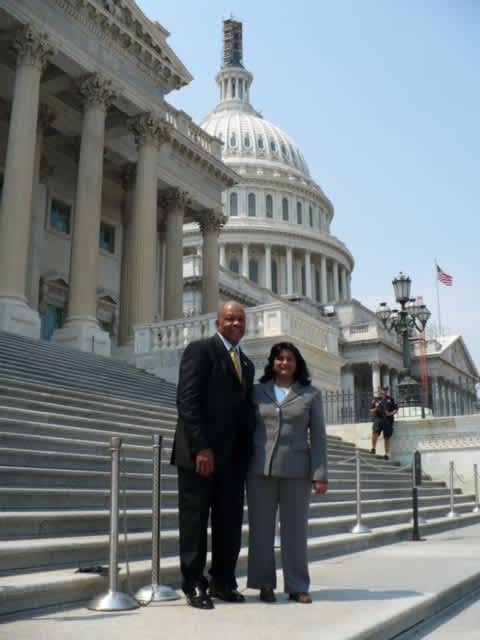 To escape construction noise typical of high-rise living in China, I left my apartment on Thursday evening, October 17, when my WeChat lit up. A fellow DA-China member had written, "(U.S. Congressman) Elijah Cummings has died."
Wait, what? DIED?
I had once worked as his speechwriter and kept in touch with him regularly. I knew he had been ill, but had the end really come? I believed it after reading a news article. Still, I needed more confirmation. So, I called his longtime legal counsel and to my surprise, I was the one who informed him of the tragic news. "How did you find out (before staff)?" he asked. "DA-China," I replied.
Because the Congressman had taken his last breath overnight, Americans in China had been privy to the (awful) news even before his best friend of 50 years heard it.
I begin my tribute this way because I want to highlight the critical link that DA provides to Americans in China. We don't necessarily get news before our fellow Americans, as I did. But through DA-China, we can stay informed of various political happenings as if were on U.S. soil.
Currently, I'm still grieving the loss of my former boss, mentor, hero and role model, who died at the age of 68. Months before his death, he had reached a pinnacle in Congress: Committee Chair of the House Oversight & Government Reform Committee (a key player in the impeachment inquiry).
Mr. Cummings (D-Maryland) had risen from humble beginnings. A son of sharecroppers, he was mistakenly marked as a "special ed" student in school and told that he'd never graduate. He not only defied this prediction, but went on to college, law school and spent more than 35 years in politics. Yet, he never forgot where he came from and gave a voice to the voiceless, whether it was to advocate for better schools, quality healthcare, voting rights or increased economic opportunities for all. My most vivid memories of him involve how he would spring into action the minute he heard about an injustice.
After learning of his passing, I broke down at the realization that he would never be able to see through the crusades he had undertaken. Then, suddenly, his poignant words echoed in my mind.
"A 100 years ago, none of us were here; 100 years from now, none of us will be here. So, we must ask ourselves, what do we do while we are here?" he often said.
Mr. Cummings is no longer with us. He won't be able to vote in the primaries or the general election. He won't be able to speak up for patients who struggle to afford lifesaving prescription drugs or children locked in cages. There is however, someone who can: us.
We won't be here 100 years from now. But right here, right now, we can seize this moment by voting, participating in our democracy and advocating for the issues that concern us.
Devika Koppikar is an At-Large Board Member of DA-China. She works as an AP teacher in Wuxi, Jiangsu province. Previously, she worked as a speechwriter to U.S. Congressman Elijah E. Cummings from 2002 to 2007. She left that job to seek more of a work-life balance, but is still active in politics.


---
DNC Chair Tom Perez provided a rallying and soulful talk to Democrats in London on April 26th, highlighting the party's successes in candidate recruitment and victories in recent congressional, state and local elections.  Summarising the DNC's actions since the 2016 presidential elections, Perez addressed some hard truths and sketched out a battle plan to re-establish a government that reflected Democratic values. 
"Our democracy is on fire!" Perez said. Basic principles, like the independence of the Justice Department and the right to vote, are being attacked by our own government. Free and fair elections are under threat from foreign manipulation. "Even the way the DNC itself operated has been flawed," he said, referring to candidate favouritism in 2016.
"One way that we as Democrats have failed is that we only had a 4 year innovation plan. We worked on coming up with new ideas, new solutions every 4 years to get a president elected. If you're a business and you're not innovating every 8 months, you're in big trouble. The new Democratic Party is addressing that," he said. "We have a 57 state strategy to organise, recruit and communicate in all states, not just in traditionally blue states. We're going into red districts, listening to voters, and winning!"
"We didn't get the support we needed in 2016 in some key places because voters lost trust in the Democratic party. The DNC is working to rebuild that trust and to deliver the change that millennials and all of us want to see," Perez said. "We're all millennials. We care about healthcare  and employment and pensions. We're concerned about and addressing income inequality and the needs of our most vulnerable citizens."
"We're all millennials, no matter what age you are, because you're all building a bridge to a better Democratic party and a better country.  We're all part of the transformation of the Democratic Party."
Story by John Scardino, DAUK
---