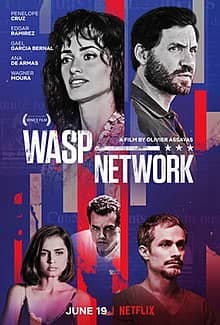 This Hispanic Heritage month DA Belgium and the Hispanic Caucus come together to host a discussion on the movie "The Wasp Network/La red avispa." Based on a true story, the movie presents the lives of five Cuban spies in the 1990s who infiltrate exile groups to stop terrorism against the island.
Watch the movie and join us to share your views, observations and to celebrate and reflect on the Hispanic Heritage, in particular Cuban heritage. It will also be an occasion for the FL State Team to join us and remind all of our FL 20th district (Fort Lauderdale and West Palm Beach) voters that there is a special election taking place on Nov 2 (primary) and Jan 11th (general election).
Date & time: October 5, 2021 at 1:00pm EST (7:00 pm CET, 12:00 Mexico City)
RSVP to receive the link
Here's the link to the movie on Netflix: https://www.netflix.com/search?q=wasp%20network&jbv=81000201
WHEN
October 05, 2021 at 1:00pm
rsvp
---
Hello! 

It's José Miguel Madrigal, a Democrats Abroad Global Youth Caucus member from Costa Rica.  
Read more
---
Join
Marie Newman

and Ben Hardin

on June 14, 2020 at 11:00am Eastern Daylight Time, 5:00pm Paris Time, 11:00pm HKT
We CAN make the difference, but we need YOUR help. Donations large or small will help us win in 2020. [Mobile device users, please scroll down to donate!]

Following Marie Newman's big win in the Democratic primary of Illinois's 3rd congressional district, the Youth Caucus's Quyen Nguyen, Kaitlyn Min, Alex Rehbinder, and the Women's Caucus's Ann Hesse will speak to both her and her campaign manager, Ben Hardin! 
And while you are doing that, consider joining Marie in supporting our voter mobilization efforts with a $10 donation (or more!).
Donations are made to Democrats Abroad (Democratic Party Committee Abroad) and not to any candidate for Federal Office.
Donations to Democrats Abroad are not tax-deductible.
Donate
---