Tuesday, July 04
del Valle Centro, Mexico
4th of July Pizza Party! Festejemos el dia de la independencia de EEUU con pizza!
RSVP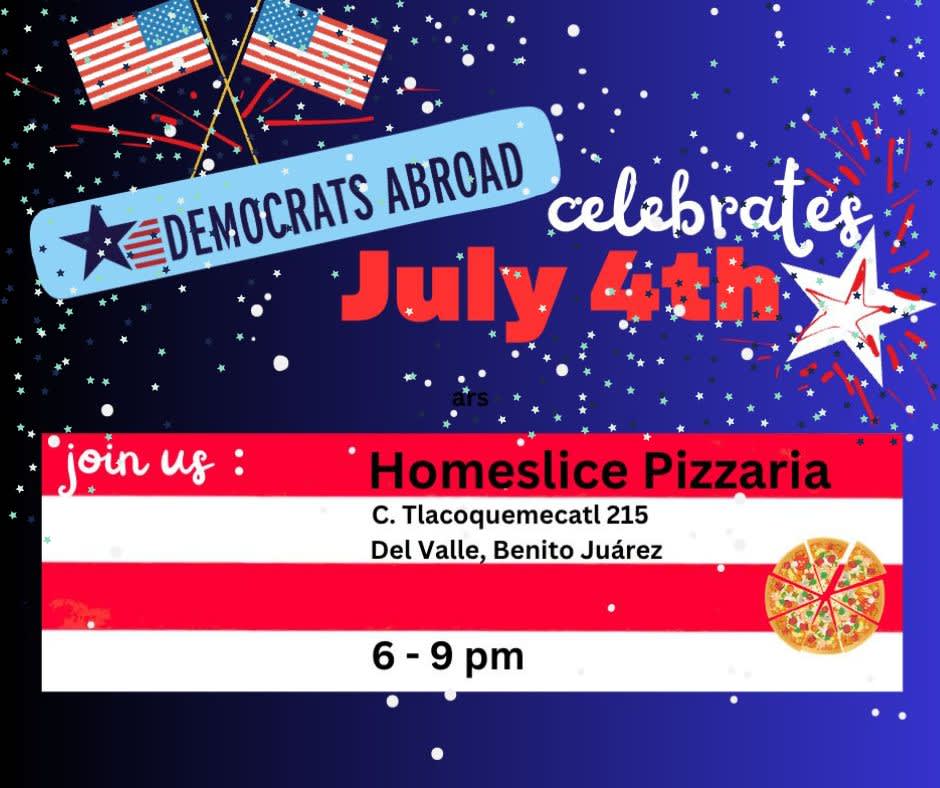 Come join us for a slice of Americana and celebrate US Independence Day with Democrats Abroad at Homeslice Pizzeria from 6-9 PM. There's great pizza and refreshing beverages available for purchase from Homeslice.  

Come and meet fellow Democrats including family and friends who live in and around CDMX, and be part of our vibrant and politically involved community and share your thoughts, views, and vision as we prepare for the election next year. This "off-year" is the perfect time to get involved as we get ready for a busy primary and election year in 2024.  

Looking forward to seeing you on the 4th!

Únete a nosotros para disfrutar de un trozo de pizza clásica estadounidense y celebra el Día de la Independencia de EE. UU. con las Demócratas en el Extranjero en Homeslice Pizzeria, el 4 de julio de 6 a 9 pm. Hay excelentes pizzas y bebidas refrescantes disponibles para comprar en Homeslice.

Ven y conoce a otros demócratas, familias y amigos que viven en la CDMX y sus alrededores, y sé parte de nuestra comunidad vibrante y políticamente involucrada;  comparte tus pensamientos, puntos de vista y tu visión mientras nos preparamos para las elecciones del próximo año en los EEUU. Este 2023, año sin elecciones, es el momento perfecto para involucrarte mientras nos preparamos para un año de elecciones en 2024.

¡Te esperamos el día 4!
WHEN
Tuesday, July 04, 2023 at 06:00 PM Mexico City Time
WHERE
Homeslice Pizza
Tlacoquemécatl 215
del Valle Centro, CDMX 03100
Mexico
Google map and directions
CONTACT
Chase Imhof
[email protected]
15 RSVPs