The Democrats Abroad Taxation Task Force (TTF) consists of volunteers researching U.S. tax policy as it affects Americans living outside the U.S. and considering, developing, and executing initiatives aimed at enacting reforms that resolve adverse impacts.
We undertake research-based advocacy to describe the problems that U.S. taxation causes Americans abroad and to garner large-scale support for our reform recommendations.
We call on the United States to tax based upon residency and source, exempting Americans abroad from FATCA reporting, and fixing the tax code to eliminate tax discrimination for Americans abroad.
Our latest research on the tax filing and financial account reporting experience of Americans abroad was published in November 2022. Click here to download the report.
Democrats Abroad has published a "laundry list" of tax code provisions that discriminate against Americans abroad - with accompanying reform recommendations on how to fix them. The list is here.
We are committed to Residency Based Taxation as a remedy, requiring little effort by Congress, that addresses the vast majority of the tax problems faced by Americans abroad.
Further, we will continue to promote:
the

 

elimination of FATCA reporting

 

for the accounts of Americans abroad,
the

 

repeal of the Windfall Elimination Provision,
an

 

exemption for American business owners abroad from the transition taxes

 

in the 2017 Tax Cuts and Jobs Act, and
a

 

citizenship remedy for "accidental Americans".
We support tax reforms that help reduce inequality, boost opportunity for all Americans and raise enough revenue, predominantly from those with the greatest ability to pay, to meet public needs.
Democrats Abroad Taxation Task Force
[email protected]
---
Have you been impacted by Americans abroad tax and financial access issues and you'd like help?
Tell us about it by emailing [email protected] We especially want to hear from you if you've experienced any of the following problems:
Were unfairly double taxed on your income
Had a bank account closed on you for being a U.S. citizen in your country of residence
Refused to open or had a bank account closed in the U.S. due to not having a U.S. address
Asked to return the 2021 Child Tax Credit
Have been hit by the GILTI tax and/or Transition tax as a business owner
---
Want to get involved?
---
Looking for more information?
---
News
Your help is needed this week! Contact your Members of Congress and ask them to read the 2022 Update on Tax and Financial Access Issues of Americans Abroad. This report is based on the 7,000 Americans abroad who filled in the tax survey in April this year, so this is helping your voice be heard in Congress! Now that the report is available, your help is needed to make sure that all Members of Congress are made aware of it and receive a copy.
This action will only take *20 minutes* and will greatly help us advance our advocacy goals!
1. Find your 2 Senators and 1 House Representative's Washington D.C. office phone numbers
Click here

 

and search for the last address you lived at in the U.S. or your U.S. voting address (if you've never lived in the U.S., use the last address your American parent(s) lived).

The page should list the Washington D.C. phone numbers for all three of your Members of Congress (they will start with area code 202).
2. **
CALL**

their offices

We want you to call, not email, because calling is generally more effective than emailing.
When the receptionist answers the phone read the following script:
Hi, my name is [insert your name here], I am a constituent and I would like to send a copy of a recently released report on tax problems for Americans abroad to the person in charge of tax on the Congress[wo/man]'s legislative team. This is an issue that matters to me since I live abroad in [country]. Do you know who would be the best person to send a copy of the report to?
Tips:
If you don't have a usual method of calling the US, we recommend adding the minimum credit (usually about $5) to a Skype account so you can call through any device connected to the Internet. This will greatly reduce your costs to make an international call.
You'll need to call during Washington D.C. office hours to increase the chances of you getting a person to answer the phone, between 9am to 5pm ET on weekdays.
The person on the phone should then give you the email address for the correct person of staff in charge of tax legislation.
If when you call, the phone goes to voicemail or no one answers, try again another time, don't leave a voicemail. If you call up to 3 different times and you don't have any luck email us on

 

[email protected]

 

and we'll see if we can help.
If you don't have time to call all 3 and you only want to make 1 call, then call your House representative.
3.
Send 3 separate emails
Copy, paste, and customize the following email (send the same email to each Member of Congress, do not just send one email to all 3).

And attach to each email the one page summary and report here.
To: Tax staff email
Cc: [email protected] (this is very important, don't forget to cc us so that we know that you contacted your reps! This helps us track who contacted whom.)

Dear [Tax staff's first and last name],
My name is [your name], I am a proud constituent living in [city and country you live in].
Please find attached a one pager and copy of a recently released report on Americans abroad tax and financial access issues. Can you please add this report to your records?
[Optional: Add your own personal story about how you've been impacted by tax and financial access issues. The more personal, the better.]
Americans abroad issues are non-controversial and bi-partisan, with the 118th Congress just around the corner, this is an issue that can easily garner bi-partisan wins.
Please contact [email protected] to arrange a meeting with the authors who can walk you through the report and currently introduced legislation available to co-sponsor.
Thanks,
[Your name]
If you do not receive a reply in 24 hours, send a follow-up email asking if they received your email or if there's another email address you should contact (which will only take 1-2 minutes of your time):
If the Congressional staff requests additional information or wants to do a call with you about the report but you're not confident in doing this, reply and cc in 

[email protected]

 and say that someone in Democrats Abroad will be happy to speak with them.
If you receive any reply, please forward it to 

[email protected]

so Democrats Abroad knows how the member's office responds to your request.
Don't be afraid to message them on all their social media platforms to ask if they saw your email too - offices are very busy and get hundreds of emails a day so this helps bump your email up to the top of their inbox.
Click here to watch a quick video on how to participate in this campaign to help you save time!
That's it! Thank you so much for helping us with this very important work. If you have any questions on this action, please email us at [email protected].
Feel free to share this website page with anyone you think is interested in helping fix the tax problems for Americans abroad!
read more
Please RSVP here for a quick webinar to assist you in contacting your House Democratic candidates to ask that they fill in the Americans abroad issue questionnaire. This webinar is optional, if you are confident enough in contacting your Democratic House candidate please proceed with the instructions here.
WHEN: Friday, September 23, 2022 View in your time zone
Time Zones
4:00am New York
9:00am London
10:00am Paris
5:00pm Japan
6:00pm Sydney
WHERE: Zoom call
RSVP below, and we will send you an email with access details.
Add event to calendar
read more
See all posts
---
Upcoming Events
Did you know that you're still eligible to receive Social Security and Medicare benefits as an American living in the UK? Many people are unaware they're eligible to receive payments, and this year is no exception.
Jennifer Hersey from the Federal Benefits Unit, based in the American Embassy in London, will join us to speak about Social Security and Medicare eligibility for people living abroad. This event is free and will take place online using Zoom.
Topics discussed will include:
Social Security Number policy
Medicare
other federal benefits
This webinar is for you if you are:
retired
disabled
a child of a retired or disabled US parent
a widow
are curious what kind of benefits are available for Americans living abroad
or just want to be aware of what benefits you could be eligible for in the future
Add event to calendar
Please join us for this very useful and informative webinar that may help you during these trying times.
For those unable to attend the event, the webinar will be recorded and posted to YouTube after. Please RSVP for the event anyway to get an email with the link to the recording afterwards. Please email [email protected] to be added to the mailing list to keep up to date with the actions and upcoming events from the DAUK Tax Committee.
Attendees are asked to please pre-submit any questions you have by emailing [email protected] by Saturday, October 22nd. Pre-submitted questions will be used to prepare the panel discussion. The more questions we get in advance, the better we can prepare and shape the program around the things you want to learn about the most!
The fine print:
We can't guarantee we will be able to answer all questions submitted before, during, or after the event, but we will try to answer as many questions as possible.
This event is closed to the press.
Disclaimer: DAUK cannot provide individual tax advice. We are not tax lawyers, accountants or advisers. Please consult a professional tax adviser/accountant/return preparer when addressing your personal tax matters.
We recommend the ACA Tax Return Preparer Directory to find a service provider who meets your needs and budget, though buyers need always beware. Democrats Abroad suggests Americans abroad in need of tax advice consult the ACA Tax Return Preparer Directory to find an advisor or tax return preparer near you or providing online services: http://acareturnpreparerdirectory.com
Tuesday, December 13, 2022 at 11:00 AM Paris Time · 2 rsvps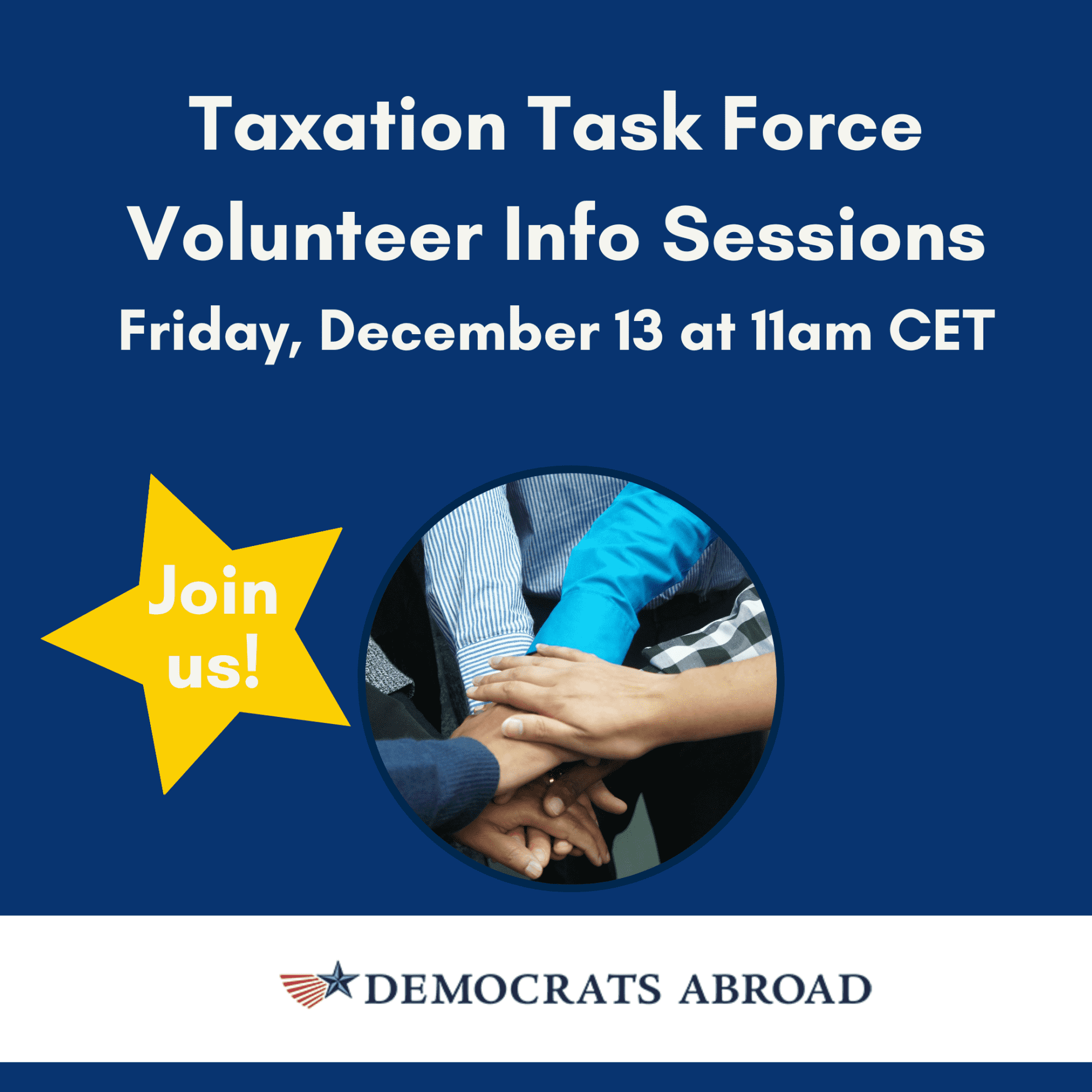 Are you passionate about American abroad tax issues and have the skills or time to help?
The DA Taxation Task Force is hosting this volunteer information session to explain what's involved in being a volunteer and to answer any questions you might have about volunteering. Click here for an outline of volunteering opportunities for the TTF.
The DA TTF is a group of dedicated volunteers working towards fixing the tax code for Americans living abroad. We are under new leadership for 2022 and in preparation, we are currently looking to restructure the team as well as inviting new volunteers to join us.
We have a number of volunteer positions available, from people with no experience who want to help out with social media, to subject matter experts that can help us lobby Congress - everyone and anyone is welcome to contribute!
Once you attend the info session, we encourage you to complete this application to the best of your ability. You will then be invited to a follow-up one-to-one 30 minute Zoom call to figure out which teams you fit into and to get you started.
Note: Attending an info session is optional, you do not need to attend to express interest in volunteering. Feel free to go ahead and fill in the application form here.
You can also express interest in volunteering by emailing [email protected] and including as much information as possible about your background and how you think you can help.
Please feel free to forward this event page to friends or family that you think might be interested in getting involved!
Add event to calendar