Tuesday, November 08 through November 09, 2022
Amsterdam, Netherlands
Election Night Show & Watch Party
RSVP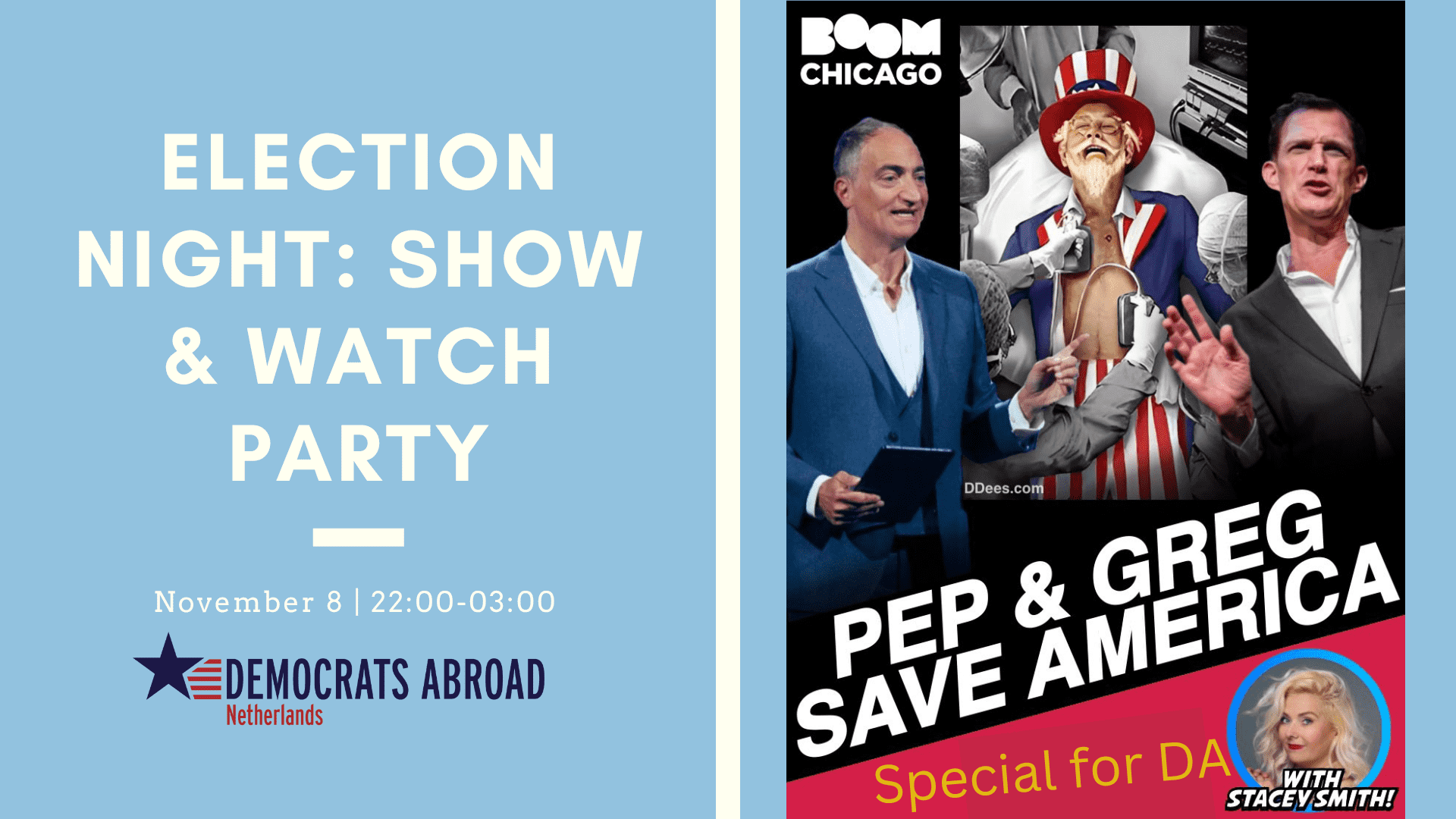 The Event for Democrats Abroad on Election Night! Stay and watch the results come in on the screen in the Upstairs Theater, mingle with friends, drinks, and snacks. The front bar opens at 19:00 and the event in the theater starts at 20:00. All tickets need to be purchased online in advance.
About the show:
Pep Rosenfeld (SNL) & Greg Shapiro ('Netherlands Second') are back at Boom Chicago – to save America! The diagnosis is not good: MAGA Republicans and Q-Anon conspiracy theorists are lining up to take over in the upcoming elections… and Joe Biden looks like he's already on life support. Pep and Greg say "look on the bright side!" The Republicans can't even decide if they want to recreate 1984 or The Handmaid's Tale.
Pep & Greg Save America is a new Boom Chicago show, with a patented mix of standup comedy and improvisation perfected in their previous hit shows Lock Him Up: Make America Democracy Again and Trump Up the Volume. In fact, Pep & Greg have been writing comedy about current events for twenty years. But this time is different! Pep & Greg Save America features music and improvisation by the critically-acclaimed Stacey Smith and Sacha Hoedemaker.
Pep Rosenfeld: in addition to his work at Boom Chicago, Pep was also nominated for an Emmy for his work at Saturday Night Live. Greg Shapiro: Greg is known as the host of Boom Chicago's Comedy Central News, as well as the voice of Donald Trump in Arjen Lubach's viral video 'The Netherlands Second.'
WHEN
Tuesday, November 08, 2022 at 10:00 PM Amsterdam Time through November 09, 2022
WHERE
Boom Chicago
Rozengracht 117
Amsterdam 1016 LV
Netherlands
Google map and directions
CONTACT
Tre'Shawn Griffin-Noordermeer
8 RSVPs