Sunday, October 01
Nairobi, Kenya
"Meet the Press" DA-KE Sunday Conversation Series: Unshakeable Democratic Values in the Era of Trumped-Up Politics
RSVP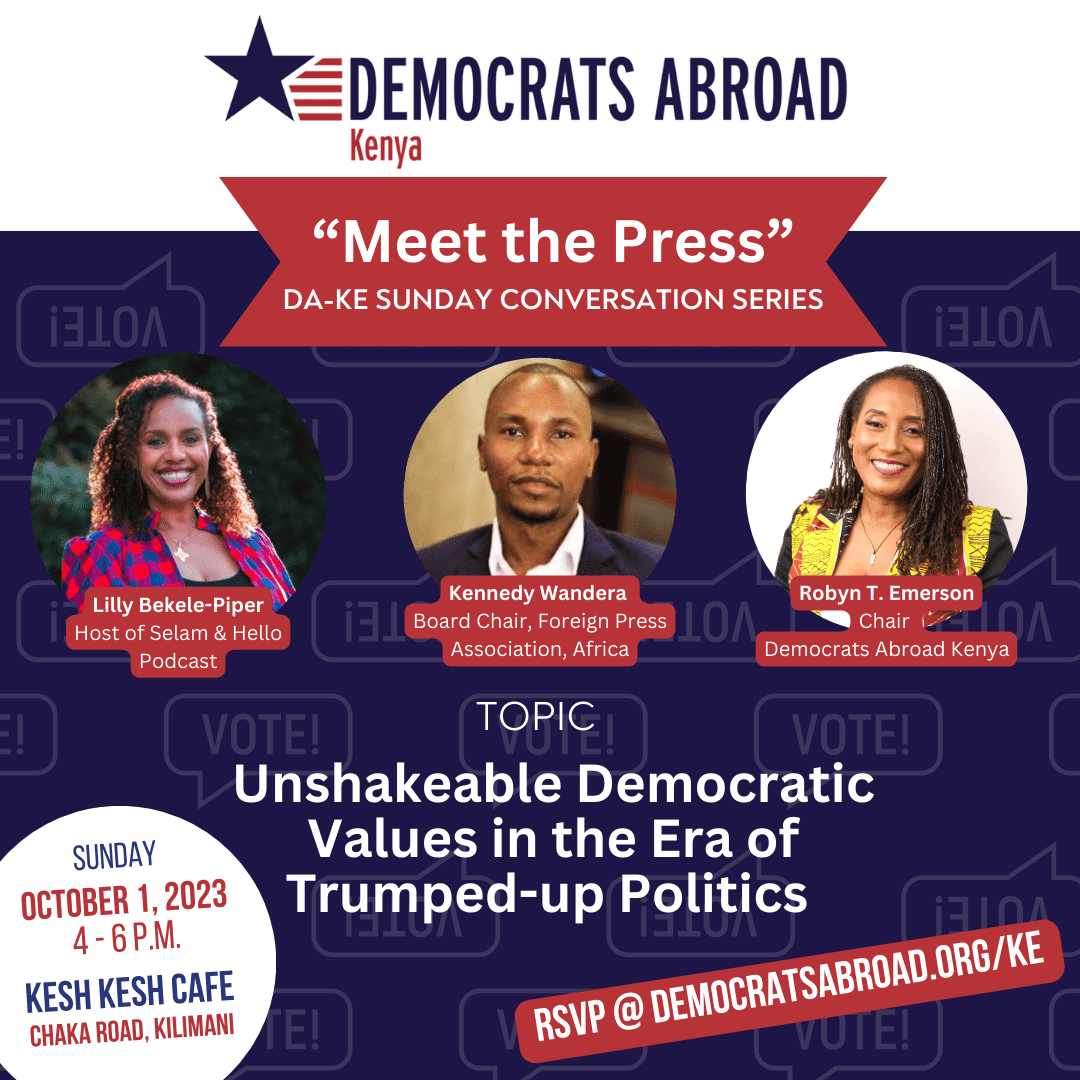 Join us for a conversation about safeguarding democracy in the era of "Trumped-up" politics
Democrats Abroad Kenya is taking a page from the famous Sunday political TV show "Meet the Press" and holding our own unique community conversation, just days after the next Republican debate in late September. The gathering and conversation will bring together fellow American voters in a forum with leading international journalists to engage in a thoughtful conversation about the current state of play in the 2024 US Presidential election and to hear from Democrats Abroad Kenya about opportunities to safeguard democracy in the era of "Trumped-up" politics. 
A panel consisting of the international media and voting rights advocates will lead the discussion in a "Meet the Press" roundtable format including, Kennedy Wandera (Chair of the Foreign Press Association, Africa), Lily Bekele-Piper (host of the the Selam & Hello Podcast), and Robyn T. Emerson, Chair of Democrats Abroad Kenya. 
With less than 14 months to go until the 2024 Presidential Election, DA Kenya will provide information during the event on how to get involved in various Get-out-the-Vote activities to mobilize the largest turnout of American voters in Kenya in our history. Additionally, volunteers will be on hand to provide information on how to register in upcoming state and federal elections.
Event Venue
We're excited to host our first Sunday conversation at one of Kilimani's best coffee shops, Kesh Kesh Coffee Roastery Cafe on Chaka Road. See map details for location. 
WHEN
Sunday, October 01, 2023 at 04:00 PM Nairobi Time
WHERE
Kesh Kesh Cafe (Kilimani)
Kesh Kesh Cafe Chaka Apartments Chaka Road
No. 1/375 Kilimani
Nairobi, Kenya
Kenya
Google map and directions
CONTACT
DA Kenya, Executive Committee
23 RSVPs