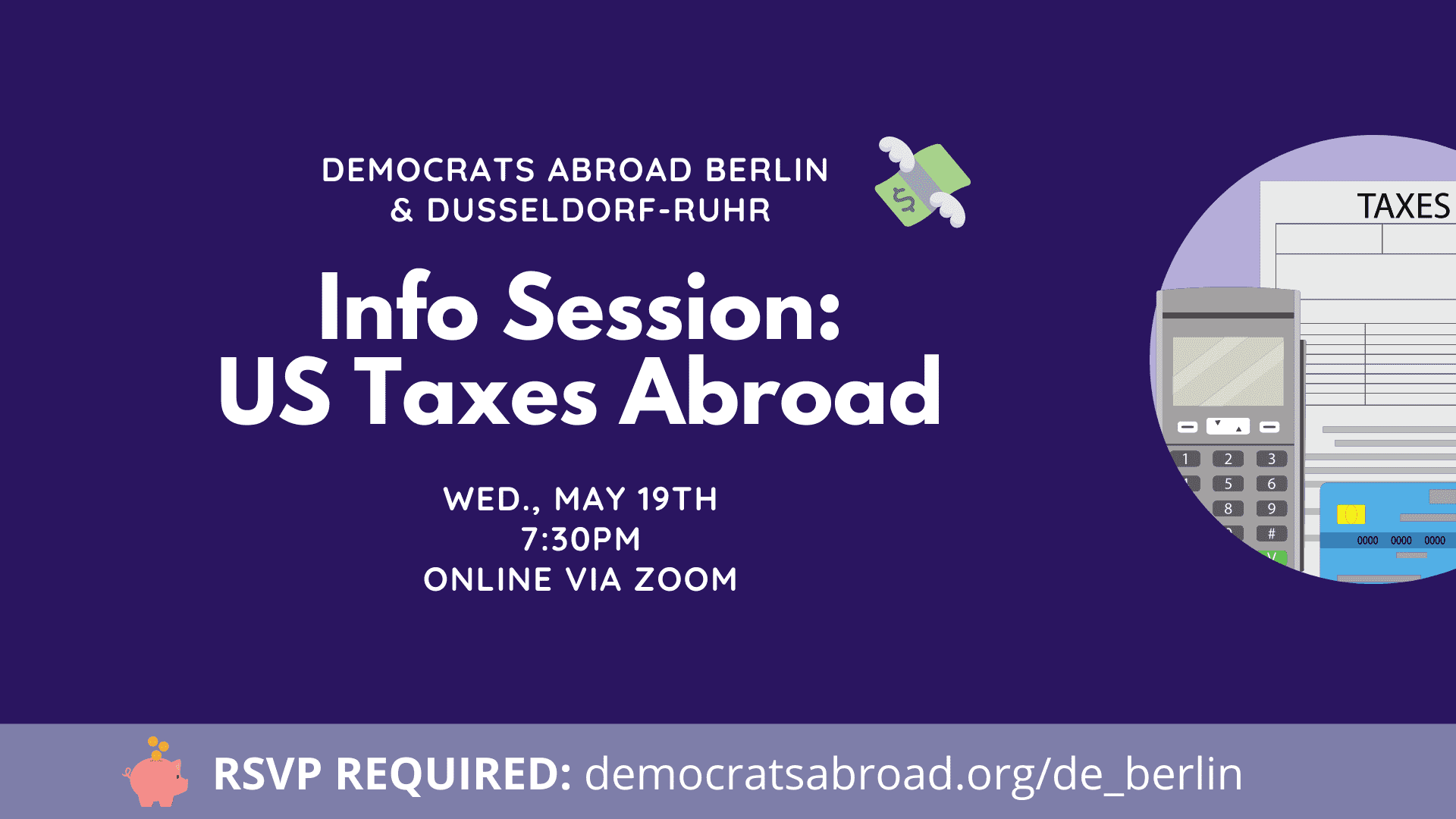 Worried or confused about what you need to do about your U.S. taxes? Wondering how the 2021 American Rescue Plan applies to you?
While tax support isn't part of Democrats Abroad's mission, it's a common concern for our members that we want to help address. All U.S. citizens and permanent residents are subject to file US taxes for their worldwide income, even if they never lived in the USA and even if they hold dual citizenship.
Come to an online tax information session on Wednesday, May 19, 2021 at 7:30pm, to learn more about what you need to do as an American citizen or permanent resident living abroad. This event is co-hosted by the Berlin and Dusseldorf-Ruhr chapters of Democrats Abroad Germany.
(You MUST RSVP in advance. See details below)
Monique Luegger, EA from Americans' Income Tax Service, will be presenting and fielding your questions.
Topics will include
legal tax requirements
German-American tax treaties (income, gift & estate, Totalization/Social Security)
Foreign Earned Income Exclusion Form 2555 / Foreign Tax Credit Form 1116
Overseas self-employment and US Social Security Tax
FATCA & FBAR
 July 15, 2021 is the deadline for all filers for the tax year 2020, and everyone must file! 
**We ask that if you have questions or topics that you would like addressed, please submit using this form by Friday, May 14th. We will share your questions with our tax expert so she can include them in her presentation.
How to get into the U.S. Tax Info Session
To attend Democrats Abroad's U.S. Tax Info Session, you'll need to
1) RSVP below
AND
2) Donate 10€ to Democrats Abroad Germany
How to Donate to Democrats Abroad Germany
U.S. citizens and permanent residents must make a donation of 10€ to participate in this event.
Please note, as an official part of the Democratic party, the U.S. Federal Election Commission prohibits us from accepting any funds from foreign nationals. This also means that the bank account where the donation is being transferred from has to include the name of a U.S. citizen.
Acct Name: Democrats Abroad Germany
IBAN: DE04 5405 0220 0140 2702 99
SWIFT-BIC: MALADE51KLK
Note (Verwendungszweck): Berlin Tax Event
Become a sustaining donor!
Pledge 5€ per month or more towards for a year to become a sustaining donor. That's just 60€ over the course of the year. This donation will help us…
Print flyers and materials 
Advertise to U.S. citizens online and offline
Fund postcard writing campaigns to the United States
Set aside money for larger 2022 election expenses
Provide travel for students and low-income members to attend Democrats Abroad Germany annual meetings and retreats (once in-person meetings are allowed again)
WHEN
May 19, 2021 at 7:30pm - 9pm Berlin Time
Who's RSVPing
Do you like this post?