---
News
If we want meaningful climate action, we must demand it from our representatives.  The best way to do that is to contact them.  Here is a pre-wrtten letter you can send to your representatives.  Be sure to add in a personal example, too!  
Click on the image here to download the pdf!
read more
Hello! 

It's José Miguel Madrigal, a Democrats Abroad Global Youth Caucus member from Costa Rica.  
read more
See all posts
---
Upcoming Events
Sunday, April 18, 2021 at 08:00 AM Eastern Time (US & Canada) · 13 rsvps
Zoom
Join us for a conversation with Amy Friedman, former National Field Director of the Democratic Legislative Campaign Committee, as part of our Conversations from the Campaign Trail.

Amy previously worked on the DLCC's effort to help flip the VA House and Senate in 2019 as Virginia State Advisor and as Senator Warren's VA State Director in the 2020 primary. Before joining the DLCC, Amy worked in states all across the country as an organizer and campaign manager.

At this event, Amy will share her experiences on the campaign trail, and what it's like to work on so many different parts of a campaign. She'll also give a brief rundown of one of the most important elections of 2021: the House of Delegates election in the state of Virginia.
Tuesday, April 27, 2021 at 07:00 PM Copenhagen Time · 26 rsvps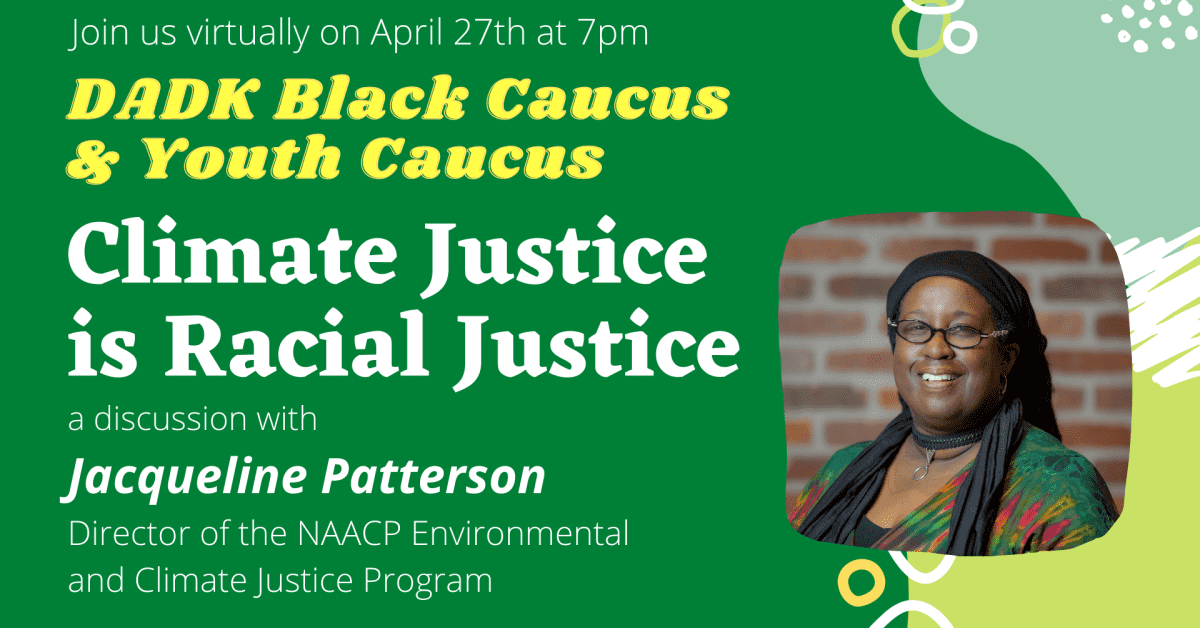 Join the DA-Denmark Black Caucus and Youth Caucus, on April 27th from 7-8:30pm for our virtual event, Climate Justice is Racial Justice, a Discussion with Jacqueline Patterson. The event will begin with a short presentation and lead into a discussion with Jacqueline Patterson about the intersection of race, climate change, and electoral politics. Jacqueline Patterson is the Director of the NAACP Environmental and Climate Justice Program.