"Even incremental change can have an impact on countless individuals, on their families, on their communities.  Having that perspective fuels my approach as a relentless problem solver -- working hard every day to make things better -- even in the face of overwhelming bureaucracy and political agendas." 
- Kate Schroder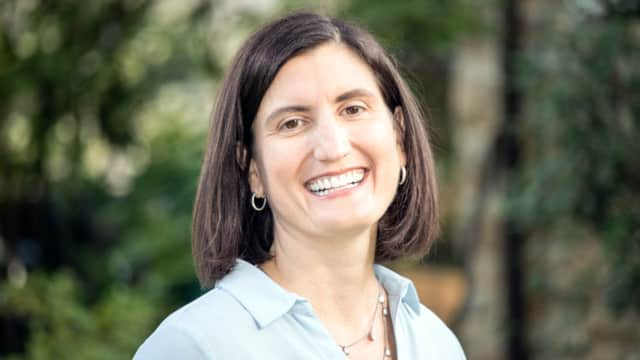 WHO IS SHE?
Kate Schroder is a 5th generation Cincinnatian who is committed to serving the community of Ohio's 1st Congressional District. She has worked for more than 15 years as a professional health care advocate and her career has led her to earn an MBA from the Wharton School of Business, to serve for two years as Country Director for the Clinton Health Access Initiative in Zambia, and most recently to serve on the Cincinnati Board of Health in 2016 as Finance Chair. Kate is also a mother and cancer survivor and has received several high-profile endorsements, including from Emily's List and former President Barack Obama. 
WHAT IS SHE RUNNING FOR?
Kate is running because she believes that healthcare should be accessible to everyone, regardless of financial resources or preexisting condition(s). She is running to champion sensible, thorough legislation that results in tangible benefits and reduced costs for her constituents and all Americans. In addition to her healthcare platform, Kate is also committed to bringing federal dollars to the district to upgrade infrastructure, specifically the Brent Spence Bridge and Western Hills Viaduct. Finally, she will approach gun violence as a national security and public health issue, championing common-sense reforms and laws that reflect the need for regulation while respecting the Second Amendment.
WHY HER?
Kate has personal experience working in the healthcare sector – and also relying on it as a patient. In 2011, Kate was diagnosed with Hodgkin's Lymphoma, and survived thanks to her grit and access to healthcare. Kate's professional and personal approach to navigating the healthcare industry was also recognized in 2017 when she was named a WCPO Next Nine honoree, recognizing her as one of nine rising professionals in the Cincinnati area who are transforming the healthcare sector. 
AN EXCLUSIVE DEMOCRATS ABROAD INTERVIEW WITH KATE SCHRODER
Several members of Democrats Abroad tuned in to your call with Mark Bergman on July 22, 2020, where you talked about your campaign and answered voters' questions. You described your district as a well-educated, urban/suburban mix. Why do you think your district went red in 2016, and how does this understanding shape your approach to connecting with them as a candidate yourself this cycle?
Schroder: This district has been gerrymandered since redistricting in 2010 to be a Republican-leaning district, so it's no surprise that the district went red in 2016. There were a number of moderate Republicans and Independents who voted for Trump in 2016 based on a desire for "change." Many of these voters have been deeply disappointed in Trump's failed leadership (and the Republican's who are enabling him); these voters are now supporting Democrats in much greater numbers than they have in the past. My approach to politics is focused on finding common ground with people, no matter how they identify politically, and I have brought that with me on this campaign. When I talk to voters, I often find that there are more things we agree on than disagree, so that's how I have approached connecting with voters all across the political spectrum.
You spent two years living in the Central African country Zambia working for the Clinton Health Access Initiative as Country Director. Expats know how important it is to be open to new ideas, as well as to be willing to consider different perspectives. Thus, we appreciate these qualities in our leaders. How do you feel that your time working in healthcare in Zambia prepared you to work with other members of Congress? Specifically on issues like healthcare, an issue that is often politicized to the point of total stagnation.
Schroder: Living and working in Zambia taught me to appreciate democracy and to look at our country from the eyes of another. My time working in Zambia's health care system taught me to never give up, even when a system is complex and broken in many ways. People's lives are at stake. Even incremental change can have an impact on countless individuals, on their families, on their communities.  Having that perspective fuels my approach as a relentless problem solver -- working hard every day to make things better -- even in the face of overwhelming bureaucracy and political agendas. - That is something I plan to take with me to Congress. I am always open to ideas, especially creative ones, on how to solve problems, which is something I had to do in Zambia, sometimes working with less resources. I am willing to work with anyone, regardless of party, on any measures that expand access to quality, affordable healthcare, and am willing to have conversations with any member of Congress, regardless of party, about ways to do that. As a country, we often get caught up in the spectacle, but in my career, I have worked to lower the cost of prescription drugs, which is just the start of what Congress can do to bring costs down for Americans. For too long, we have been electing people that divide us and tear us apart. We need people that reflect the majority of Americans, who want people to bring us together and get things done. I am also committed to being a part of the Problem Solvers Caucus, which you join with a member of the other party, to be able to make a difference and build relationships on both sides of the aisle.
Following the blue wave of women who both ran and were elected in 2018, many hit the ground running and are already beginning to leave their mark on Congress. For example, Illinois Representative Lauren Underwood co-founded the first Black Maternal Health Caucus with North Carolina Representative Alma Adams to actively address the discrepancy in healthcare that Black mothers receive compared to their White counterparts. What original or creative ideas pertaining to your current campaign platform (that also centers largely around healthcare) do you have that you would work to advance next year, should you be elected in November?
Schroder: In Congress, I will work hard to expand access, improve quality and reduce costs in healthcare, particularly on prescription drugs. We are the only country in the world that I am aware of that does not negotiate on prescription drugs. Even if we only negotiated for the top 200 drugs, we would have savings of $342 billion. I am committed to fighting for those savings for Americans. I am also excited to be a champion on addressing health disparities, including greater investments in community health workers and primary care, as well as incentives to increase recruitment of mental health professionals and minority clinicians through the National Health Service Corps. 
You're not only a seasoned healthcare professional, but you've personally overcome serious illness. (Editor's note: Kate was diagnosed with Hodgkin's Lymphoma in 2011.) While there are many reasons Americans move abroad, nearly all of us agree that the healthcare of our adopted countries is superior to that of the U.S. How, in your opinion, did it come to be that the U.S., the richest country in the world, has such a poor record of caring for its citizens? And can you speak to why voting down ballot is absolutely critical in this election?
Schroder: Our healthcare system has been broken for a long time. My personal experience with the healthcare system is why I decided to run for office. In 2011, I was diagnosed with Hodgkin's Lymphoma and I was lucky in that I had access to quality healthcare. I completed 4 months of chemotherapy and have been cancer-free for almost 10 years now. But not everyone is so lucky. Health insurance in this country is not affordable for millions of people, which is why I am in favor of a public option in our healthcare system. This is a great example of why voting down ballot is critical, especially in this election. Decisions are made in the legislatures, both in Congress and in states and local governments. In this particular race, the pathway to keeping the majority runs through flipping OH-01. As we saw in 2018, the blueprint to winning (and holding) these seats is by running strong female candidates with a healthcare background. Winning this seat means that we can keep the House Majority and ensure that we have the ability to pass progressive legislation.
HOW CAN I SUPPORT HER?
Get involved with supporting Kate! Visit her website and follow her on social media for the most up-to-date information on the campaign:
Learn More: www.kateforcongress.com
Facebook: Kate For Congress  
Twitter: @KateForCongress 
Instagram: @kateforcongress2020