DA sponsors caucus groups, which exist to engage members with a particular area of interest in campaigns, initiatives and advocacy projects.
All Democrats Abroad members are welcome to join them.   Click below to learn more about them or to join, and scroll down to find their events!
| | | | |
| --- | --- | --- | --- |
| | | | |
| | | | |
| | | | |
| | | | |
| | | | Volunteers Wanted! |
| | | |   |
---
News
All Americans Abroad Can Vote in the Midterms
November 5, 2022:  It is not too late for you to vote, no matter where you are! YOU can help stop the Republican red tide by voting. Every American citizen can vote in the midterms. Whether you vote in a blue state or a red state, we need your vote. Let's keep the "election deniers" - more than 50% of the GOP candidates - out of office.
There is still time to send your ballot or a FWAB/Backup Ballot if you are already registered.
Send your ballot home: If your ballot must be returned by mail, you can still send your ballot in by courier. Courier discounts are available to voters in several countries. More info here.
Many states also accept faxed ballots or have an online system to upload your ballot - click here to find your options!
If you need help, we have you covered: check out our Voting Abroad 101 and get live assistance on Zoom here every day from today through November 8th: https://qrco.de/bbh0zg
Need help figuring out who to vote for? Build Your Ballot with Blue Voter Guide. The site can help voters in AZ, CA, GA, FL, NC, NV, PA, TX, or WI. For other states, check Ballotpedia's Sample Ballot.
This year, Democratic Candidates at all levels in every state are incredibly talented and diverse. Here is a snapshot of some of the high-level candidates.
We can't know what moves you to vote, but here's some information on some of the biggest issues in the election. Please share these short summaries and their links with everyone you know who can vote, both at home and overseas!
It's the Economy, Stupid: Here are some hard facts and figures about where the US economy actually is. Inflation has been basically flat in the USA over the past three months, and real wages have gone up. The unemployment rate now matches its lowest level in 50 years at 3.5%, down from 6.4% when Biden took office. The economy has created 10 million jobs since the President took office, including almost 700,000 manufacturing jobs. 17 states are below 3% unemployment. Read more here.

Many countries around the world are being hit by inflation right now due to the post-covid recovery and invasion of Ukraine, and the USA is doing relatively well in a global context. This doesn't mean people don't have it hard, but that this is a global, not just a national (aka Democratic) problem. In fact, the Democratic party is taking real steps to address inflation, whereas the GOP's only ideas are to cut Medicare and Social Security.

Roe vs. Wade: President Biden agrees that Congress should codify Roe vs. Wade into Federal law. But this cannot be done if we lose the Senate, where the Women's Health Protection Act is waiting to be voted on - it was passed by the House months ago.

Why should you care? In over 26 states, a woman can be prosecuted for getting an abortion, and personal data such as period tracking apps can be used to try to prove that a woman had an illegal abortion, regardless of what actually happened. Minors and women of color who had miscarriages have already been accused of - and prosecuted for - having illegal abortions in some states. Vote for your sisters, daughters, and friends - vote for their freedom to access reproductive health medical care.
Cannabis: Another important, if under-covered, issue on the ballot this year is cannabis legalization. Being arrested for the crime of simple possession is one of the biggest on-ramps to prison for many, which is precisely why the USA has such a large and vast prison population. It's also an issue that massively and disproportionately impacts people of color. At many, many levels, cannabis legalization is a justice issue.
Marijuana is completely outlawed in just 13 states—with no allowances for medical or recreational use. See which states and find and get more information here.
Representation Matters: Whether you are Black, Asian, LGBTQIA+, Progressive, disabled, Hispanic, female, or yes, white and male - representation matters. It matters in elected officials, it matters in education, it matters in our daily lives. Do you want your voice, your opinions, and your experiences to be represented? VOTE, and please help your friends and family to vote.
Need language assistance for someone? We've covered you in Spanish, Mandarin, Korean, Vietnamese, Tagalog, Hindi, and more! AAPI Multilingual Voter Hotline: 1-888-274-8683 or see Spanish Overseas Voter Information: Votar del Extranjero.
Click here to see a short list of articles on the historical diversity of the 2022 midterms, including the full list of the 196 veterans running for office.
Whatever issues are important to you, don't let this election pass without casting your vote!
read more
This year, Democratic Candidates at all levels in every state are incredibly talented and diverse.
Here is a snapshot of some of the high-level candidates.
read more
See all posts
---
Upcoming Events
Thursday, December 01, 2022 at 03:00 AM Eastern Time (US & Canada)
Video launch via YouTube
The GWC Reproductive Justice Team is launching a project to promote voter registration under the theme Reproductive Justice for ALL.
As you certainly know, the rights of all women to choose when and if to start a family are being taken away with over 26 States prohibiting or restricting the right to abortion during the first trimester of pregnancy even in the cases of rape, incest and the mother's and/or the  fetus' health. Texas has empowered vigilantes to sue everyone and anyone aiding and abetting abortion once the fetal heartbeat can be heard (eg at approximately 6 weeks and before most women know they are pregnant).
We cannot allow this to continue particularly with Roe v Wade in peril and the Women's Health Protection Act stuck in the Senate.
Our project is a video launch via YouTube. We are asking all DA members to make a short (60 sec) video explaining why the right to abortion is absolutely necessary. If you come from a State where it is practically impossible to obtain an abortion, you can speak about the discrimination against minority and poor women whose lives are in jeopardy and who cannot travel. If you come from "good States" such as MA, CA, NY for example, you can speak to the injustice of access depending upon where you live. Make sure you mention in the video VotefromAbroad.org for expat voter registration and vote.gov for non expat voter registration.
We believe that many of our voters will be motivated to register when we roll out the videos.
Here are a few subjects that you could choose for your video:
If you live/vote in a country that has "good" reproductive freedom laws,

 

you could refer to the country and the liberal law(s) and how lucky you are to be in that country and how unfair it is for American women LIVING IN THE US who can't benefit from such laws
If you live/vote in a US State that has good reproductive freedom laws

, see above. And you can say that living in a "bad" State is  discriminatory since women in "good "US States have rights that you are denied.
You can share a personal experience

. You don't have to use your name or even mention where you live. The videos will be anonymous unless you do give details.
You can make a statement about women should have the right to control their bodies.

 

Period. There is no justification for the government to decide when, how  or even if women should have children.
If you can't think of anything to say but still want to make a video, feel free to contact Salli at [email protected]. She will set up a call and walk you through some ideas and we can help you make the video.
Here is a link on how to make a video:
https://docs.google.com/document/d/1O7wGPrZmmXocOuMI5zZutc1w62nHlQWZOat8Srq_bFQ/edit?usp=sharing
For more information, visit our blog space here:
https://www.democratsabroad.org/wc_reproductive_justice_action_team
All videos should be sent to Salli Swartz at [email protected]
THANKS FOR ALL YOUR EFFORTS TO MAKE THIS HAPPEN
---
Disclaimer: By submitting your video, you grant to Democrats Abroad a nonexclusive rights to use your video and your image only for the 2022 GWC Reproductive Justice Get Out the Vote video project. 
You therefore hereby waive all rights to any claims arising out of or in connection with Democrats Abroad GWC's use of your video  and image in connection with the 2022 Reproductive Justice video project.
---
Thursday, December 08, 2022 at 07:00 PM Paris Time · 4 rsvps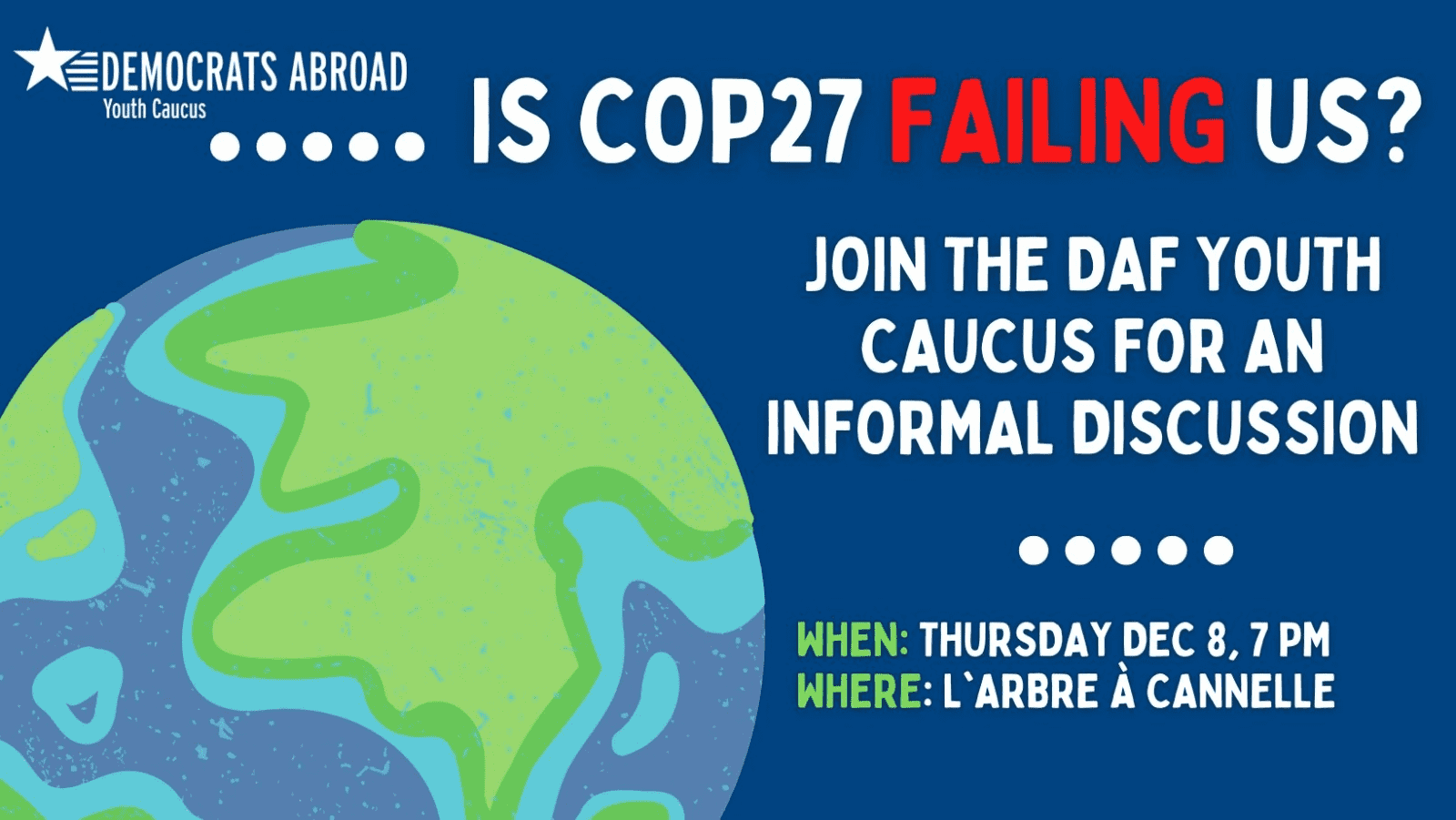 In a world where hurricanes, tornadoes, and heatwaves continue to ravage the world, many of us are struggling to find answers. What do we do? Is there a way forward?
You're in luck. We're pleased to announce that this coming Thursday at 7 PM on 08 December 2022, the DA Youth Caucus is coming together to discuss the recent COP event and what we can do to save the environment!
Sometimes the toughest choices require the toughest wills, and together, we've shown that, like the Midterms, when our generation acts, we can save democracy. Let's do the environment next.
Come, enjoy dinner, a drink, and discussion, and have a good time with your homies at the Democrats Abroad Youth Caucus. We can't wait to see you again!
For more information, send an e-mail to our co-chairs at [email protected], and we'll be happy to get in touch!
See you then!