DA Global Progressive Caucus Leadership:
Sue Alksnis
| Canada Secretary / DPCA Voting Member / Progressive Caucus
See all Leaders
---
News
January Newsletter
In July of 2020, presidential nominee, Joe Biden, and Senator Bernie Sanders announced their Unity Task Force recommendations for a Democratic presidency. Their bold plans to address the pressing needs of working-class families, combat climate change, and much more helped us win the presidency and Senate majority, as well as hold the House majority. We entered 2021 with high expectations!
As we begin 2022, many of our expectations remain unfulfilled. The scope of the Build Back Better Act has narrowed dramatically, remaining two votes short of passage. Existing filibuster rules stand in the way of passing the Freedom to Vote: John R. Lewis Act. Delivering victories for these and more is crucial to millions of us and for Democratic electoral success in the midterms. Let's get to work!
BIDEN-HARRIS PROGRESS REPORT #8 TAKING CARE OF UNFINISHED BUSINESS
JANUARY 22nd
read more
The House has passed three substantive bills to protect voting rights in the face of massive Republican voter-suppression efforts, including extreme partisan and racially-discriminatory redistricting schemes. Two of those bills, the Freedom to Vote Act and John Lewis Voting Rights Advancement Act, are supported by all 50 Democratic Senators. But Republicans have used the Senate filibuster rule to block even beginning formal debate on them.
As Grace Segers recently reported in The New Republic, Senate Democratic leadership is still committed to enacting voting rights legislation this year. The time is short and the stakes are high! 
Check out this short commercial with John Legend and this humorous ad featuring Mark Ruffalo and Jonathan Scott, from our friends at Represent Us. Share these with those you know and please call your senator at 1-202-224-3121. This number works 24 hours a day; often you speak to a person if you call 9-5 ET. See Senate contact info for individual Senators, including options for email and fax. 
Represent Us has an online "Stay in Washington Until Our Democracy Is Safe" petition.
*Thanks to Bruce Miller (proDA Steering Committee member) for drafting this article and the Global Veterans and Military Families Caucus for select materials.
read more
See all posts
---
Upcoming Events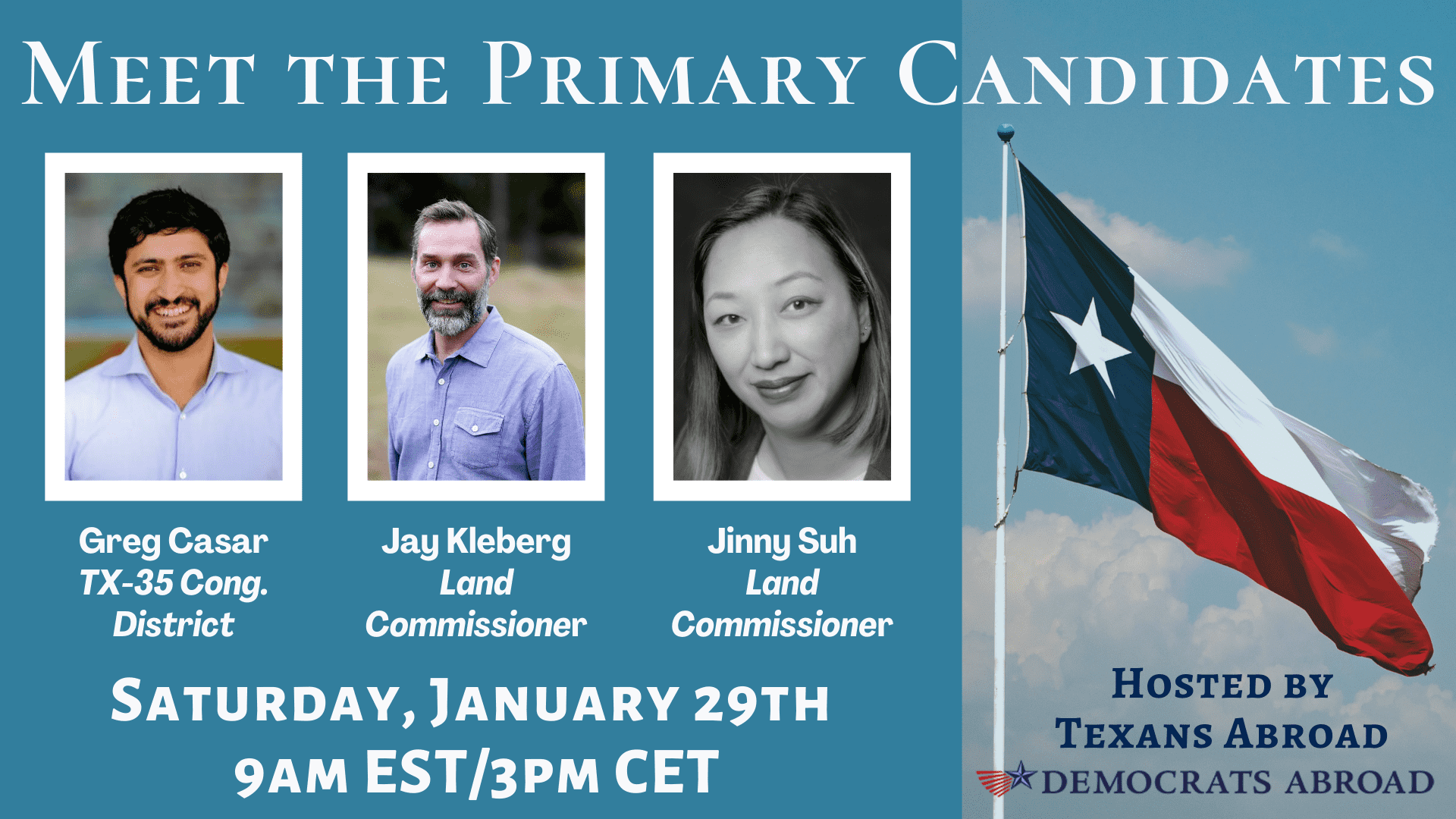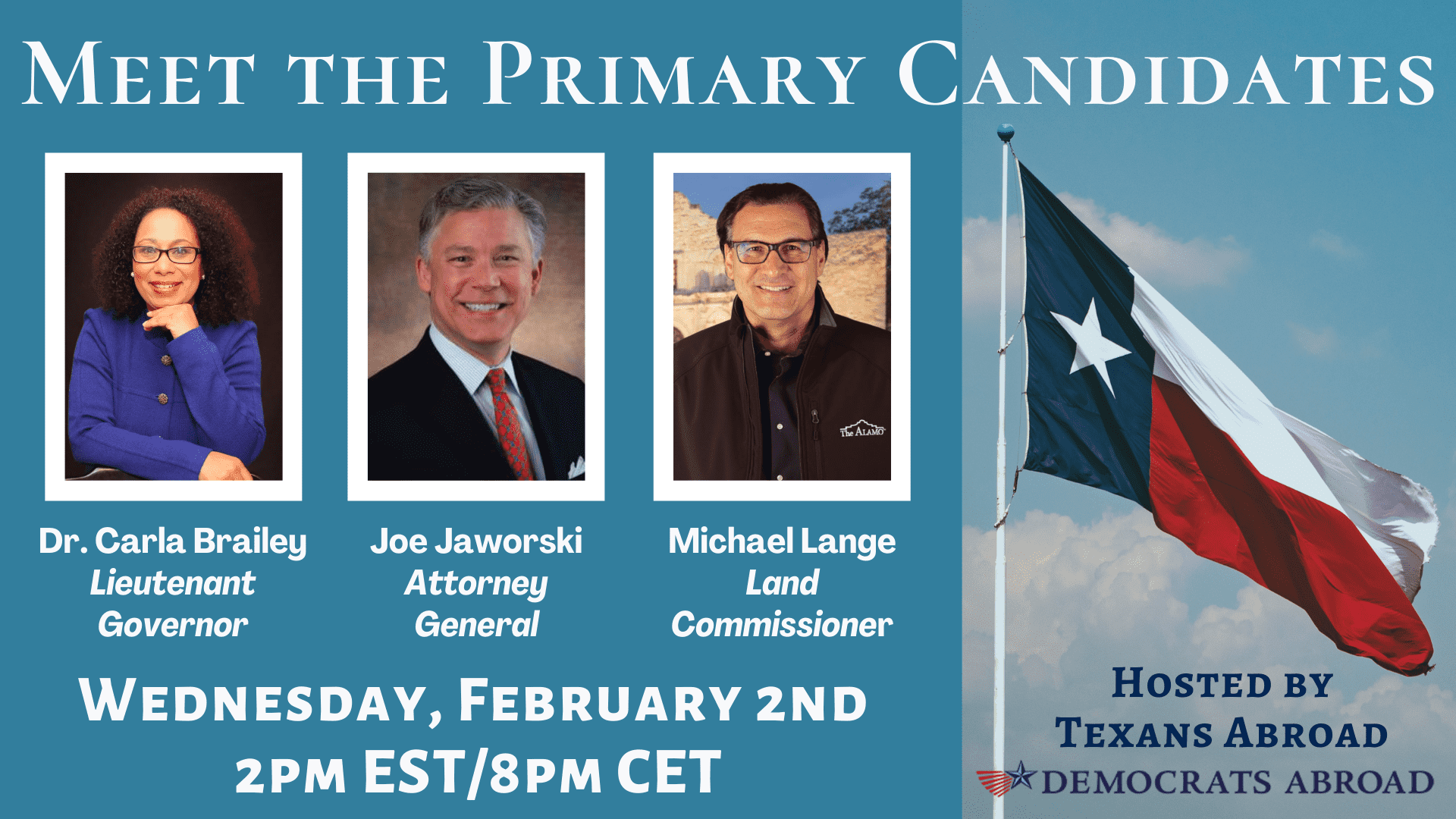 Join Texans Abroad for our Meet the Primary Candidates* panel discussion series to hear from some of the candidates for:
Lieutenant Governor
Attorney General
Land Commissioner
TX-35 Congressional District.
This event is your chance to hear the Democratic candidates share their backgrounds, key issues and their vision for the state. There will also be time for a Q&A session with an opportunity for attendees to ask questions. 
The event is being co-sponsored by the Democrats Abroad Progressive Caucus, Global Black Caucus, Hispanic Caucus and Global Women's Caucus.
WHEN:
Saturday, January 29th

8 am Central / 3pm CET / 10pm HKT

Wednesday, February 2nd

1 pm Central / 8pm CET / 11am PST
Texas Primary Ballots have already started going out! Request yours TODAY if you haven't already at www.votefromabroad.org! See our TX Voting Guide for more information.
RSVP for the Zoom link - same link for both events! Write to [email protected] with any questions.
*Democrats Abroad has not endorsed any candidate(s) and is committed to remaining neutral for the duration of the primary. All candidates for the above races were invited to speak at our events.
Monday, January 31, 2022 at 12:00 PM Eastern Time (US & Canada) · 148 rsvps
Online
Scared to Debt!
Film Screening & Panel Discussion with Filmmaker
[Note: film can be viewed anytime between January 27th-31st!]
Currently, 45 million borrowers are saddled with close to $1.9 trillion in federal student loan debt in the United States. The Biden Administration has extended the CARES ACT payment pause until May 1st, 2022. Many borrowers perceive the decision as kicking the can down the road. They remain victims of predatory loan practices within a corrupt system that profits while increasing their debt far beyond their ability to pay it.
View the award-winning Sallie Mae Not documentary, episode one of the Scared to Debt documentary film by Michael Camoin, and join him and others for a panel discussion to learn the chilling reality of student loan corruption in America and options to confront it effectively.
Panelists:
How to watch film and participate in panel discussion:
Watch the film in advance on your own [January 27th to 31st] via the easy access link you will receive when you RSVP below. The film is 41 minutes long. No fee/donation is necessary.
THEN
Join the panel discussion on Zoom on Monday, January 31st, at 12:00pm to 1:30pm ET, 6:00pm to 7:30pm CET, 9:00pm to 10:30pm Dubai time. [A link to the recording of the panel discussion will be shared with those who register and are unable to attend the discussion.] 
RSVP below for your free film screening access, panel discussion Zoom link, and invitation to submit a question for the panel discussion. 
Invite your family and friends to participate as well. Here is a Facebook post to share. 
** Double your impact to get out the vote for Democrats**
For a limited time, a generous donor in Asia Pacific will double your donation!
Join with others today to win for Democrats up and down the ballot, including Congressional Progressive Caucus Members who are committed to student debt relief for borrowers in the United States – If you are able, please consider giving $4.50, $45 or anything in between to help us reach our goal of 45 donations in recognition of the 45 million American student debt borrowers. Please donate here today. Thank you!
Co-hosted by the Global Progressive Caucus and Global Youth Caucus. 
Thank you to our co-sponsors: Austria, Canada, China, France, Germany, Japan, Mexico/Guadalajara, Singapore
This event is part of the proDA series "Monthly Mondays for Your Progressive Minds."
| | |
| --- | --- |
| Vancouver | 9-10:30 am |
| Toronto | 12-1:30 pm |
| Brazil | 2-3:30 pm |
| London | 5-6:30 pm |
| Berlin | 6-7:30 pm |
| Nairobi/Athens | 8-9:30 pm |
| Dubai | 9-10:30 pm |
| Mumbai | 10:30 pm - midnight |