---
News
WOW! 
Thanks to the many activists who participated in our monthly meeting on October 9th 2021.  We discussed what we can do to deliver for the planet, working families, and all who count on us to do just that with a truly big and bold Build Back Better Act, the Freedom to Vote Act, and much much more. Our momentum is surging to work toward progressive victories in 2021, 2022, and beyond. 
WHAT'S NEXT?
We host follow-up working-group meetings next Saturday and need your help!
When?
Saturday, 16 October at 2:00-3:00 pm CET--Terms of Reference Review (see Terms of Reference published here)

Saturday, 16 October at 3:00-4:00 pm CET--Communications
Saturday, 16 October at 4:00-5:30 pm CET--Working Groups/Collaboration/Events:
    Topics:
DA Environmental and Climate Crisis Council formation

Democracy and diversity reform in DA, the DNC, and state parties/primaries 

Foreign Policy Coordinating Committee

Medicare for All campaigns

Student debt relief efforts

Voting rights legislation

Issue advocacy priorities
Where?
Zoom: Please RSVP to the individual events above to receive the link.
There is plenty of work to do and your help is needed. 
THE NEEDS ARE CLEAR AND OUR TIME IS NOW!
read more
Actions:
Protect the overseas vote in New Jersey state elections - it was lost in 2017, and is more important now than ever with issues like climate change and net neutrality that affect us all. Join DA members globally and contact your NJ representatives now.
Urge your Senators to pass the George Floyd Justice in Policing Act. 
Support the THRIVE Act, an economic renewal plan as big and interconnected as the crises we face. In this bold investment package, impacted communities play a leading role in building a more just economy. Sponsored by Sens. Ed Markey and Jeff Merkley, and Reps. Debbie Dingell, Ilhan Omar, Jamaal Bowman, Pramila Jayapal, Earl Blumenauer, Ro Khanna, Yvette Clarke, and Nanette Barragán, this plan will Transform, Heal, Renew, and Invest in a Vibrant Economy. Contact your Senators and House Representative and urge them to support the THRIVE Act.
Reduce military spending. Tell your House Representative and Senators that the military budget is out of control and we need to redirect those funds to help people and the planet. In 2020, an unprecedented 116 Representatives voted for a reduced military budget. Urge your Rep to join the Defense Spending Reduction Caucus, headed by Reps Barbara Lee and Mark Pocan.
Strengthen union organizing with the PROAct. Backed by President Biden, this legislation will make it easier for ordinary hard working Americans to join unions and earn the pay, benefits and job security they deserve. Tell your Senators to support the Protecting the Right to Organize Act. These Democrat Senators still don't support the PROAct: Mark Warner (D-VA), Mark Kelly (D-AZ), and Kyrsten Sinema (D-AZ), along with Republican Senators. Call them! And if your Senator supports the Act, urge them to end the filibuster so this and other necessary legislation can move forward.
Events:
In case you missed it - proDA's Biden/Harris Progress Report #4 reviewed the American Rescue Plan, American Jobs Plan, American Families Plan, and Made in America Tax Plan. View the Progress Report's slide deck with links to more information and suggested actions or watch the recording.
DATE - Biden/Harris Progress Report #5 is June 24, focused on the American Jobs Plan. RSVP here.
May 29 - proDA Germany's Global AGM Update on May 29th recaps the results of DA's recent Global Annual General Meeting and next steps, from a progressive perspective.
May 30 - DA Austria's Solidarity Sundays addresses Biden's Infrastructure Plan
May 31 - proDA Global Book Club discusses The Tea Party and the Remaking of Republican Conservatism. Book available for those with access issues. RSVP here.
June 24 - proDA Biden/Harris Progress Report #5 explores the American Jobs Plan as an infrastructure plan, economic recovery plan, and the roadmap for a renewable revolution, as well as actions we can take to advance progressive change. RSVP here.
June 28 - proDA Global Book Club discusses How Fascism Works. Book available for those with access issues. RSVP here. 
read more
See all posts
---
Upcoming Events
Monday, October 25, 2021 at 12:00 PM Eastern Time (US & Canada) · 11 rsvps
Zoom
Date: Monday, October 25, 2021 at 12:00 pm ET (Washington DC) time
Location: Zoom
Event Title: Beaten Down, Worked Up by Steven Greenhouse - - Global Progressive Caucus Book Discussion
All are welcome to attend. Join us!  
"Greenhouse probably knows more about what is happening in the American workplace than anybody else in the country. . .  a page-turning book that spans a century of worker strikes, without overcondensing or oversimplifying, and with plausible suggestions for the future. . . Great nonfiction requires great characters, and Greenhouse has the gift of portraiture. He is able to draw a complex, human portrait of a worker with a minimum of words, making the reader greedy for more details, not just about the policies but about the people. And he has both the newspaper writer's ability to find the one or two individuals whose personal stories exemplify a larger point, and the historian's ability to make what has already happened seem unlikely. He is skilled at homing in on the moments of the highest uncertainty, and transforming them into stories with quick and destabilizing twists and turns. . . Engrossing, character-driven, panoramic."—Zephyr Teachout, The New York Times Book Review 

"What I fear is that the there is a systematic effort to wipe clean our national memory of the capacity and benefits of workers acting collectively and building strong unions. Greenhouse's book helps us remember that labor unions really did build the middle class, raise the dignity of workers, and civilize workplaces. It also gives us reason to believe that, as labor activist Rose Schneiderman poetically framed it, workers still "must have bread" but "must have roses, too."—Robert Bruno, Perspectives on Work

"[A] comprehensive primer on a subject that is intimately intertwined with our collective history. . . It is obvious that "Beaten Down, Worked Up" represents a monumental–and mostly successful–attempt to connect all the dots and thus provide a clear context for the ongoing societal debate about the efficacy of the labor movement and its place in contemporary culture. . . If you are concerned about the future, and especially our economic prospects, this is one you'll definitely want to add to your reading list. Highly recommended."—Aaron Hughey, Bowling Green Daily News
Participants need to know that if there are access, affordability, etc. problems for a book/books, they should contact co-leaders, John Esteban Rodriguez and Betsy Ettorre ([email protected]) who will help them with the listed books. Learn more about the proDA Book Club.
Location Local Event Start Time
| | |
| --- | --- |
| Vancouver | 9:00-10:30 |
| Toronto | 12:00-13:30 |
| London | 17:00-18:30 |
| Berlin | 18:00-19:30 |
| Nairobi/Athens | 19:00-20:30 |
| Dubai | 20:00-21:30 |
| Mumbai | 21:30-23:00 |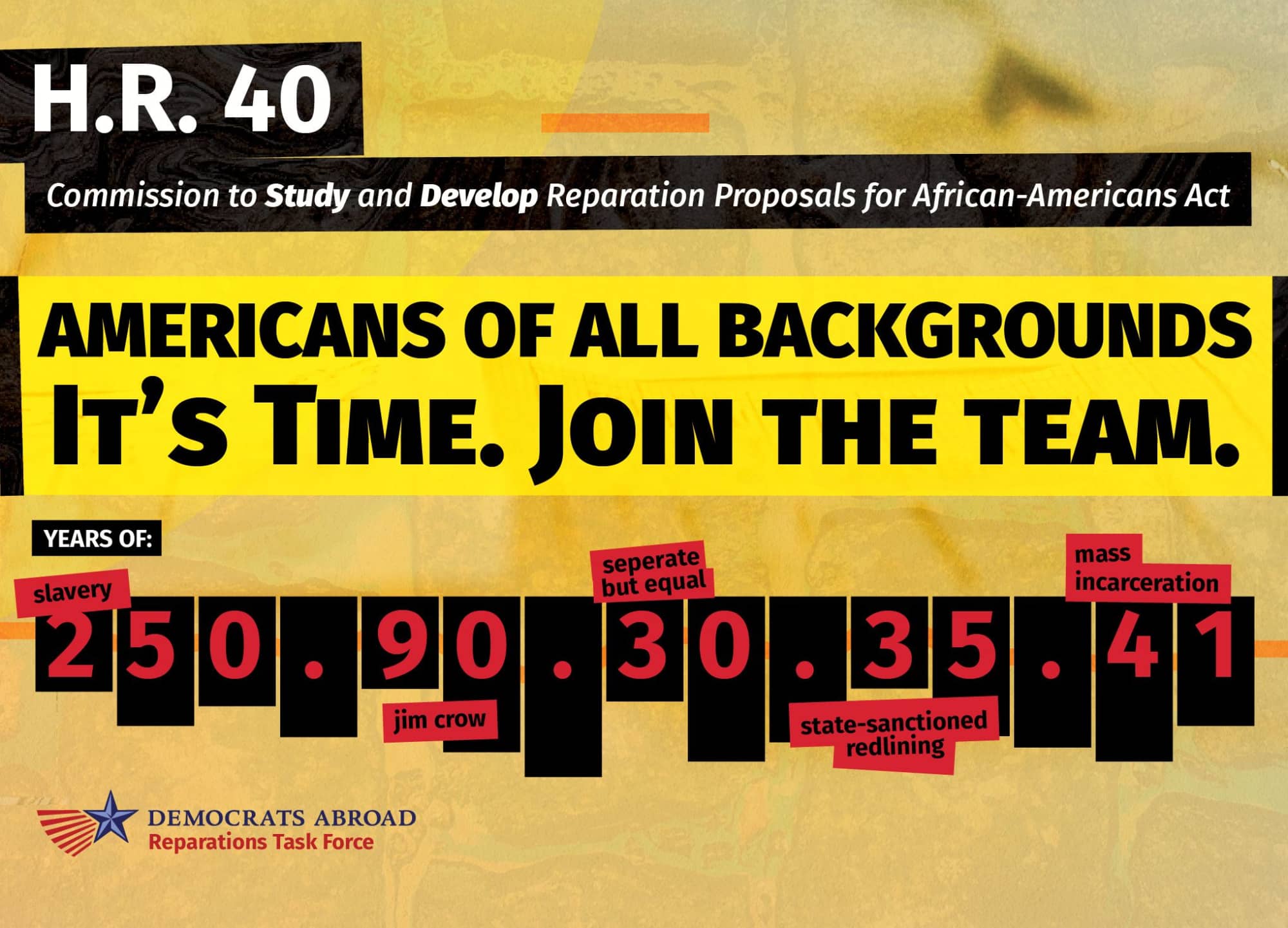 Join the Democrats Abroad Reparations Task Force on October 26 at 1:00 p.m. ET / 7:00 p.m. CET for an online Meet & Greet. Take the time to come and learn what we're all about, including our vision, goals, and reasons for enacting this special task force. No preparation is needed to attend. You need only bring your interest, enthusiasm, and passion for justice and knowledge.
Please RSVP to receive the Zoom link.