---
News
The Progressive Caucus invites you to learn and take action. March 24th join proDA Austria for Biden/Harris Progress Report #2.  Discuss progressive themes in the Oscar-winning film Parasite on March 27. On March 29, we'll talk about the Romance of American Communism in the 70s and what it has to do with now. Let's discuss concrete action in How to be an Anti-Capitalist in the 21st Century, our April 26th book. We also recommend DA Austria's Solidarity Sunday on the Filibuster, March 28, as well as Western Sweden's discussion with a long-time socialist on March 30. And we've just released our full reading list for 2021!
Phone your Senator at the HR 1 Phone Bank on March 23, 7-9pm Berlin Time. Absolutely don't miss the April 11th presentation on how to use Billtrack50 to track legislation, research policy and develop plans to reach legislators and make policy a reality. Check out calls to action from Poor People's Campaign, Sunrise, Our Revolution, NNU's M4A campaign, and Fight for $15, and Code PInk to urge your Representative to join the Defence Spending Reduction Caucus.
read more
The Global Progressive Caucus Book Club has lively discussions on a wide range of books. Check it out the last Monday of each month, 12-1:30 pm ET (Toronto time).
For more information, see Progressive Caucus Book Club, or contact the Book Club leaders Betsy Ettorre and John Esteban Rodriguez at [email protected]
2021 BOOKS  
The Deficit Myth: Modern Monetary Theory and the Birth of the People's Economy by Stephanie Kelton - January
Black Reconstruction in America by W.E.B. Du Bois - February
The Romance of American Communism
 by Vivian Gornick - March 29 -
RSVP here
How to Be Anti-Capitalist in the 21st Century by Erik Olin Wright - April 26 - RSVP here
Tea Party and the Remaking of Republican Conservatism by Theda Skocpol & Vanessa Williams - May 31
How Fascism Works by Jason Stanley - June 28
The Old is Dying and the New Cannot Be Born by Nancy Fraser - July 26
A History of America in Ten Strikes by Erik Loomis - August 30
Left of Karl Marx: The Political Life of Black Communist Claudia Jones by Carole Boyce Davis - September 27
Beaten Down, Worked Up by Stephen Greenhouse - October 25
A Job Guarantee by Pavlina Tcherneva - November 29
The Fight for Four Freedoms: What Made FDR and the Greatest Generation Truly Great by Harvey Kaye - December 27
The People, No: A Brief History of Anti-Populism by Thomas Frank - January 31
read more
See all posts
---
Upcoming Events
Thursday, May 13, 2021 at 06:30 PM Paris Time · 18 rsvps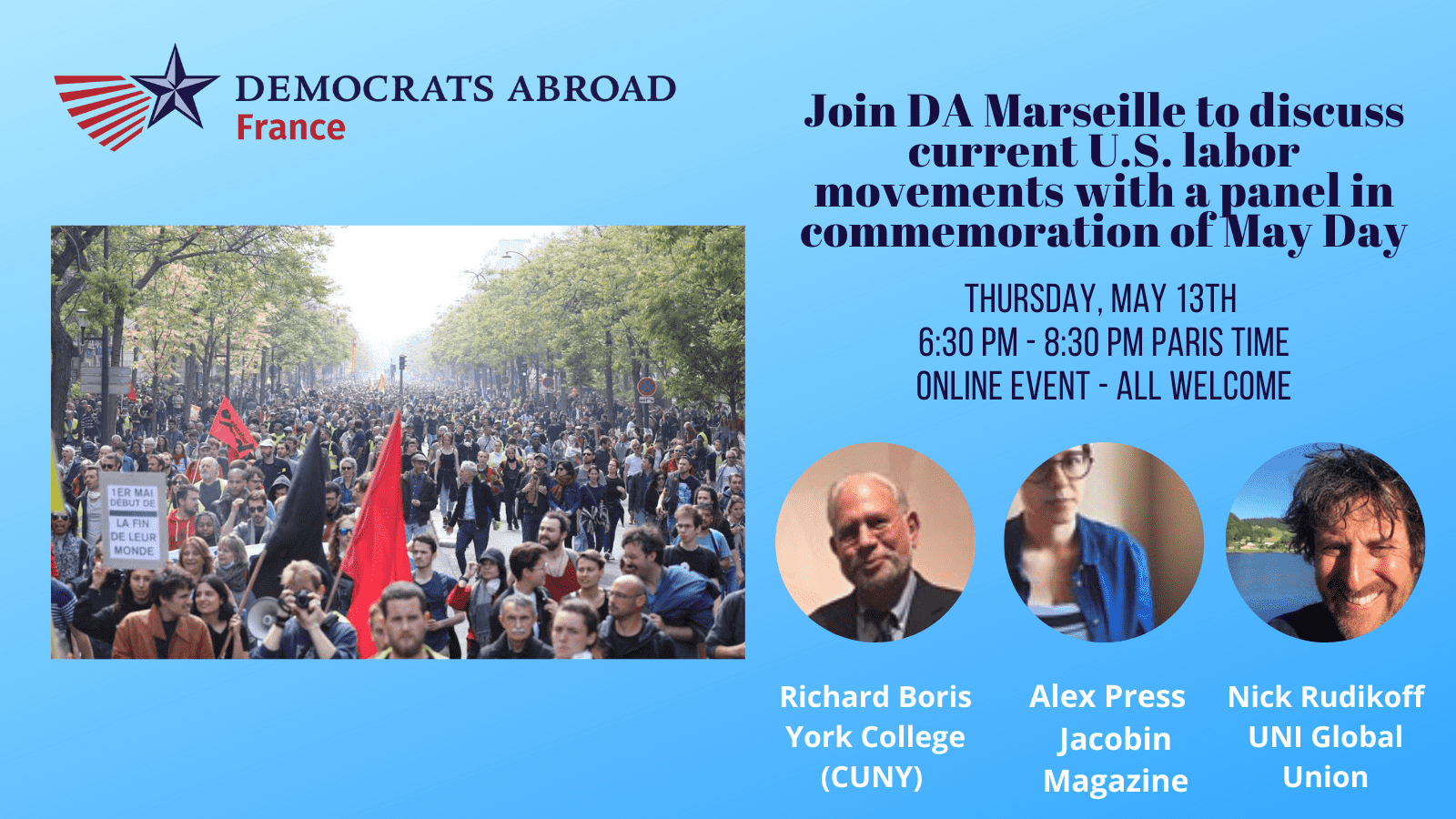 Join Democrats Abroad Marseille and Democrats Abroad France for a May Day panel to discuss current U.S. labor movements on May 13th at 6:30 pm Central European Summer Time. In 1889, May Day was chosen as International Worker's Day by socialists and communists of the Second International to memorialize the Haymarket affair in Chicago, a peaceful demonstration in which workers, trade unionists, and leftists marched for the eight-hour workday and that was met with violent confrontation by the police and the political establishment. In the U.S., however, Labor Day is celebrated not in May but in September, a move by the political establishment to discourage U.S. workers from engaging in labor organizing at the international level. 
As Democrats, progressives, leftists, and Democratic Socialists living abroad, we recognize the importance of commemorating the history of May Day, especially during a time of immense economic and social upheaval, rising inequality and political instability, intensifying global worker exploitation, turmoil in the health sector, rising financial and capitalist power, and increasing police violence. As we look forward to closing the Coronavirus pandemic chapter of our history and its ensuing devastation on our socio-political fabric, we echo the words of President Biden when he called on Congress to pass the PROAct, which would strengthen the rights of workers: "We need to summon a new wave of worker power to create an economy that works for everyone."
Today, we can look to May Day, and the conflicts that have followed in its footsteps, as inspiration as workers stand up to large corporations, big business, and the billionaire class and collectivize to demand better working conditions. One of the most recent and publicized struggles has been the effort to unionize Amazon workers in Bessemer, Alabama. Another ongoing labor organizing movement has been unionization efforts across university campuses. We will cover these movements with a panel of experts.
We will be joined by Nick Rudikoff, Campaigns Director at UNI Global Union, Alex Press, labor journalist and staff writer at Jacobin Magazine, and Richard Boris, Professor Emeritus of political science at York College, City University of New York and the former executive director of the National Center for the Study of Collective Bargaining in Higher Education and the Professions. We will link the importance of May Day to contemporary struggles to build worker power and resist entrenched capitalist logics of exploitation. By learning about current struggles, which have far-reaching global implications, we hope to create solidarity and build understanding regarding how, in an interconnected planet, no society can thrive so long as workers are kept silent. 

Biographies 
Nick Rudikoff is Campaigns Director at UNI Global Union, a union federation representing 20 million workers around the world in the service sector. Born and raised in Poughkeepsie, NY, Nick has more than 20 years of experience in the US labor movement as a researcher and campaigner, mostly with SEIU.

Alex Press is a staff writer at Jacobin magazine. Her writing has appeared in The Washington Post, The New Republic, and The Nation, among other places.
Richard J. Boris is emeritus professor of political science at York College, City University of New York (CUNY) and former executive director (2001-2014) of the National Center for the Study of Collective Bargaining in Higher Education and the Professions at Hunter College, CUNY. 
Four crises, four plans, one goal! On the heels of its success with the American Rescue Plan, the Biden-Harris Administration has proposed the American Jobs Plan, Made in America Tax Plan, and American Families Plan. The goal is to ensure a sustainable thriving economy with benefits for all. Join us to learn more about each, consider their strengths and weaknesses, and contemplate their chances of passage. proDA and DA Germany Climate Caucus members will offer information provocatively to stimulate our open discussion. It promises to be a memorable experience!
Please rsvp to receive the Zoom link.