---
News
Actions:
Protect the overseas vote in New Jersey state elections - it was lost in 2017, and is more important now than ever with issues like climate change and net neutrality that affect us all. Join DA members globally and contact your NJ representatives now.
Urge your Senators to pass the George Floyd Justice in Policing Act. 
Support the THRIVE Act, an economic renewal plan as big and interconnected as the crises we face. In this bold investment package, impacted communities play a leading role in building a more just economy. Sponsored by Sens. Ed Markey and Jeff Merkley, and Reps. Debbie Dingell, Ilhan Omar, Jamaal Bowman, Pramila Jayapal, Earl Blumenauer, Ro Khanna, Yvette Clarke, and Nanette Barragán, this plan will Transform, Heal, Renew, and Invest in a Vibrant Economy. Contact your Senators and House Representative and urge them to support the THRIVE Act.
Reduce military spending. Tell your House Representative and Senators that the military budget is out of control and we need to redirect those funds to help people and the planet. In 2020, an unprecedented 116 Representatives voted for a reduced military budget. Urge your Rep to join the Defense Spending Reduction Caucus, headed by Reps Barbara Lee and Mark Pocan.
Strengthen union organizing with the PROAct. Backed by President Biden, this legislation will make it easier for ordinary hard working Americans to join unions and earn the pay, benefits and job security they deserve. Tell your Senators to support the Protecting the Right to Organize Act. These Democrat Senators still don't support the PROAct: Mark Warner (D-VA), Mark Kelly (D-AZ), and Kyrsten Sinema (D-AZ), along with Republican Senators. Call them! And if your Senator supports the Act, urge them to end the filibuster so this and other necessary legislation can move forward.
Events:
In case you missed it - proDA's Biden/Harris Progress Report #4 reviewed the American Rescue Plan, American Jobs Plan, American Families Plan, and Made in America Tax Plan. View the Progress Report's slide deck with links to more information and suggested actions or watch the recording.
DATE - Biden/Harris Progress Report #5 is June 24, focused on the American Jobs Plan. RSVP here.
May 29 - proDA Germany's Global AGM Update on May 29th recaps the results of DA's recent Global Annual General Meeting and next steps, from a progressive perspective.
May 30 - DA Austria's Solidarity Sundays addresses Biden's Infrastructure Plan
May 31 - proDA Global Book Club discusses The Tea Party and the Remaking of Republican Conservatism. Book available for those with access issues. RSVP here.
June 24 - proDA Biden/Harris Progress Report #5 explores the American Jobs Plan as an infrastructure plan, economic recovery plan, and the roadmap for a renewable revolution, as well as actions we can take to advance progressive change. RSVP here.
June 28 - proDA Global Book Club discusses How Fascism Works. Book available for those with access issues. RSVP here. 
read more
The Progressive Caucus invites you to learn and take action. March 24th join proDA Austria for Biden/Harris Progress Report #2.  Discuss progressive themes in the Oscar-winning film Parasite on March 27. On March 29, we'll talk about the Romance of American Communism in the 70s and what it has to do with now. Let's discuss concrete action in How to be an Anti-Capitalist in the 21st Century, our April 26th book. We also recommend DA Austria's Solidarity Sunday on the Filibuster, March 28, as well as Western Sweden's discussion with a long-time socialist on March 30. And we've just released our full reading list for 2021!
Phone your Senator at the HR 1 Phone Bank on March 23, 7-9pm Berlin Time. Absolutely don't miss the April 11th presentation on how to use Billtrack50 to track legislation, research policy and develop plans to reach legislators and make policy a reality. Check out calls to action from Poor People's Campaign, Sunrise, Our Revolution, NNU's M4A campaign, and Fight for $15, and Code PInk to urge your Representative to join the Defence Spending Reduction Caucus.
read more
See all posts
---
Upcoming Events
Sunday, July 25, 2021 at 02:00 PM Vienna Time · 31 rsvps
Zoom
Infrastructure negotiations likely will lead to make or break legislation for climate change mitigation, millions who are skeptical about our two-party government, and Democrat prospects for the midterms. While the bipartisan and budget reconciliation proposals circulate in Congress, the House has passed its INVEST in America Act. At the same time, the Congressional Progressive Caucus has endorsed the THRIVE Act. Join members of proDA and the Global Black Caucus to learn more about the strengths and weaknesses of each. We will review their legislative status and consider what improvements are necessary to ensure they are just enough, just in time! We will advocate for action, urging all of us to intensify our efforts. The stakes remain very high and the clock is ticking!
Please RSVP here to receive the Zoom link.
Thanks to our co-hosts!
Democrats Abroad Austria
Democrats Abroad Canada
Democrats Abroad Guadalajara
Democrats Abroad - Global Black Caucus
Progressive Caucus of Democrats Abroad Austria
| | |
| --- | --- |
| Location | Local Event Start Time |
| Vancouver, Canada | 5:00 AM |
| Minneapolis, USA | 7:00 AM |
| Washington DC, USA | 8:00 AM |
| London, UK | 1:00 PM |
| Frankfurt, Germany | 2:00 PM |
| Nairobi, Kenya | 3:00 PM |
| Dubai, UAE | 4:00 PM |
| Bangkok, Thailand | 7:00 PM |
| Beijing, China | 8:00 PM |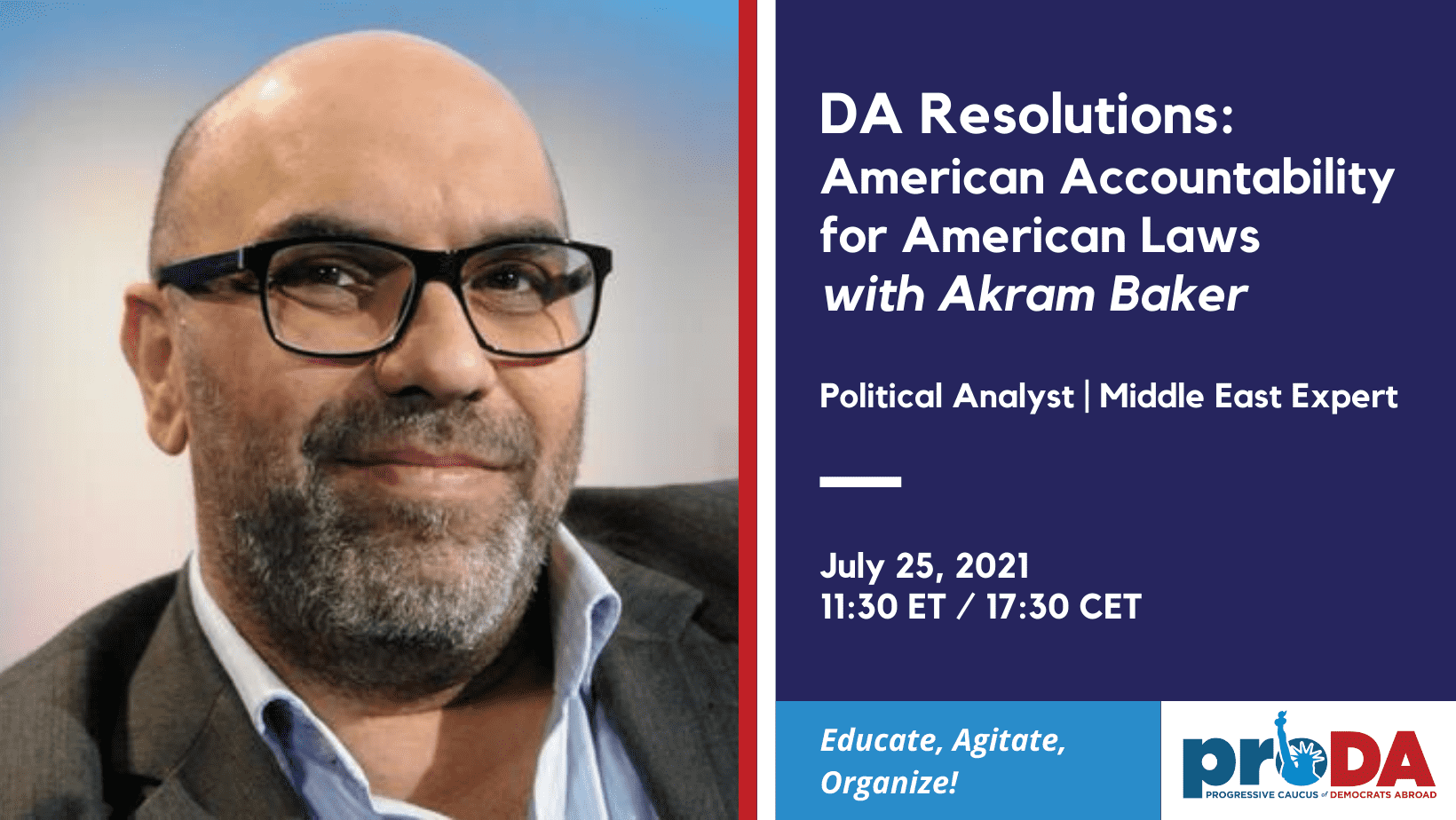 Join the Germany Progressive Caucus on July 25 at 11:30 a.m. ET/5:30 p.m. CET for the second edition of our DA resolutions update. We will be one month out from an important DPCA vote on Resolution 19 "Prohibiting the Use of U.S. Military Foreign Aid for the Detention of Children" and Resolution 20 "To Condition Military Aid to Israel" and are pleased to announce that several resolution authors will be joining us at our meeting.
We will also be joined by our keynote speaker for the event, Akram Baker. 
Akram

Baker is a long-time political analyst and management consultant. He has worked with numerous corporations, governments, and NGO's throughout the world, including Daimler AG, Bahn AG, The World Bank, and the GIZ in addition to his senior advisory roles to the Governors of the Central Bank of Egypt and the Palestine Monetary Authority. In the 1990's, 

Akram

was spokesman to Faisal Husseini, Head of the Palestinian Negotiating Team. A fourth-generation American of Palestinian descent, he was an active supporter of the Obama '08 and '12 campaigns and Joe Biden in 2020. His rants and opinions can by found on DW, BBC, etc, and in many newspapers and magazines.
Currently residing in Berlin,

Akram

has lived extensively in the Unites States, Palestine, Egypt, and Germany. 
Whether you are a DPCA voting representative looking to gain deeper insight into the issues before the vote, or you are a DA member wanting to join organizing efforts behind the proposals, you are most welcome to attend. Together, we can make a difference!
RSVP to receive the link.
Do you already support Resolutions #19 and #20? Then please consider signing and sharing our petition.