---
News
A Disability Discourse - Podcast with Heather Cox Richardson and Joanne Freeman
How has America historically defined physical disabilities? How have disability rights activists achieved hard-fought wins? And how does the current debate over mask mandates and pandemic restrictions leave out those with disabilities or chronic illness? 
Heather Cox Richardson and Joanne Freeman discuss the impact of pensions for disabled war veterans in the Revolutionary and Civil War periods, the interlocking histories of racism, sexism, and ableism, and the impact of the 1970s disability rights movement. 
read more
The American Association of People with Disabilities (AAPD) / News and Media / Press Releases
Disability Rights Advocates to Meet with CDC Director Following Good Morning America (GMA) Appearance; Nearly 150 Disability Organizations Release Policy Demand Letter Ahead of Meeting
Washington, D.C. – On Friday, January 7, CDC Director Dr. Rochelle Walensky, in an interview with Good Morning America, commented on the results of a research study. Director Walensky remarked that a disproportionate number of deaths due to COVID-19 in the study population occurred among those with four or more comorbidities, calling those patients "people who were unwell to begin with" and these results as "encouraging news". The disability community, who represent those with four or more comorbidities who died in the study, responded in turn. The hashtag #MyDisabledLifeIsWorthy, started by writer and activist Imani Barbarin, was a top trend on Twitter over the weekend.

... Ahead of the meeting, advocates sent a letter to the CDC Director from nearly 150  disability-focused organizations from around the country, representing tens of millions of disabled Americans from every state and territory. The letter, which can be read in full here, reads: 

"The disability community's faith in the government agencies responding to the pandemic has taken hit after hit with repeated policy choices that devalue disabled lives. For every step in the right direction, there have been steps backwards or actions delayed. It is necessary for the public health of our nation that the CDC and other agencies responding to the pandemic take immediate, concrete policy steps to rebuild that trust, protect disabled and high-risk people, and enact an equitable vision of pandemic recovery that centers on those communities most at risk and begins to shift long-standing systemic inequities." 

~The American Association of People with Disabilities (AAPD)
read more
See all posts
---
Upcoming Events
Democrats Abroad Global Seniors and Disability Caucuses invite you to join us for our monthly Social -- a time for Seniors and members of the Disability Caucus to connect with one another and discuss topics of concern and information. We will reflect, discuss, plan, and strategize together from the comfort of our own homes and with no duties or assignments! This will be fun as we can discuss freely any topic we would like.  
When: Friday May 27, 2022 at 9.00 am Eastern time
Where: on Zoom. 
| | |
| --- | --- |
| Vancouver CA | 6:00 AM PDT |
| Washington DC | 9:00 AM EDT |
| London UK | 2:00 PM BST |
| Paris FR | 3:00 PM CET |
| Hanoi VN | 8:00 PM ICT |
| Beijing CN | 9:00 PM CST |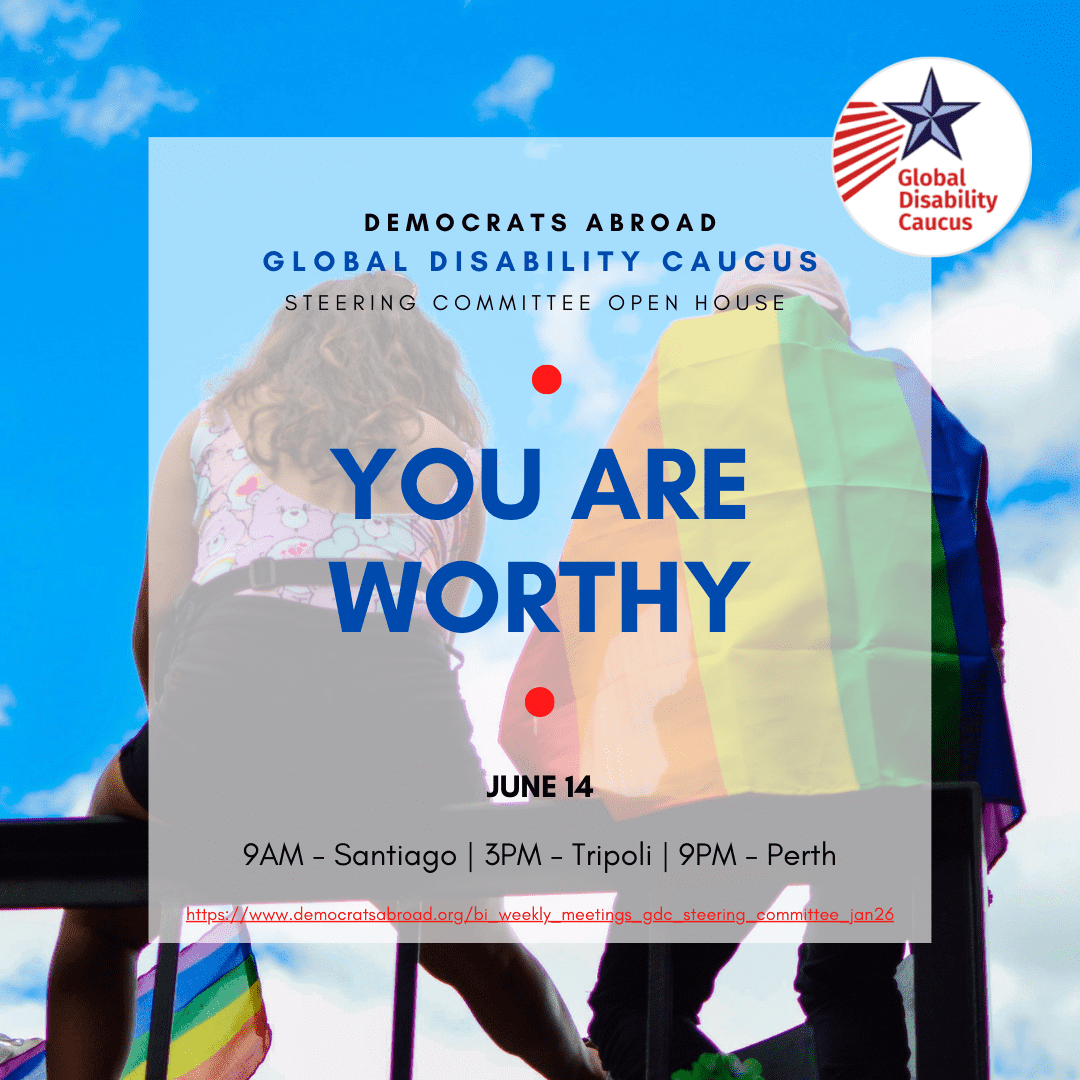 The Global Disability Caucus is dedicated to building a stronger Democrats Abroad! Our goals are to increase accessibility to information, events and activities. We strive to create sensitivity to and awareness of disability issues.
In addition to Democrats Abroad members with disabilities, we welcome and encourage the involvement of supporters of our members and our messages. We hope to form an inclusive, diverse, active, and effective community which provides fulfilling experiences for all.
Please check the Global Disability Caucus Wiki-Page or the DemsAbroad Global Calendar to find future dates for these meetings and other GDC events!
9 AM Eastern Daylight Time
3 PM Central European Time
9 PM China Standard Time
 THE FUTURE IS ACCESSIBLE! 
Consider making a donation to help get out the VOTE in 2022. Please donate today: https://www.democratsabroad.org/dc-donations