Pictured above: GBC Members at DA EMEA Conference in Madrid. From Left to Right Cuthbert Telesford-Denmark, Elizabeth Bond-Spain, Nicole Pearson-Spain, Angela Fobbs-GBC Chair-Germany, Ronda Zelezny-Green-UK, Christina Skovsgaard-Norway, Patricia Hamzahee-UK, Second Row. Adrienne Johnson-UK, Erica Smith-France, Shari Temple-Germany.
Welcome and thank you for visiting the Democrats Abroad Global Black Caucus page.
The Democrats Abroad Global Black Caucus (GBC) is made up of DA members of all ethnicities from around the world who are willing and able to advocate on issues important to Black Americans within the United States of America and those living abroad. All DA members are eligible to join the GBC. We advocate for laws, policies, and programs that improve the lives of Black Americans and educate all people on the humanity of Black people.
People of visible African descent have been in what we now know as the United States of America since 1619, long before many ethnic groups who are now considered to be White. Black Americans were essential to building America. Without Black people, the greatness of America would not be possible. Today, Black Americans are in all walks of life and are 13.3% of the American population[1]. By 2060, the projected black population in the United States will be 74.5 million, with a predicted median black wealth as of 2053 of zero and a current median White wealth of $116,000.
According to the Voter Participation Center, from 2012 to 2016, Black voter turnout dropped by 4.7% overall[2]. Black voter turnout is essential for Democratic election victories. Therefore, it is necessary for Democrats to identify and focus on those issues close to the hearts of African Americans and other minority voters.  In general, voters do not turn out unless they feel included, listened to, and excited. It is important that Democrats Abroad have a caucus that directly addresses the issues of Black Americans. Thus, the Global Black Caucus will produce and disseminate political content which bears witness to the ever-unfolding international history of the Black American reality. Black Lives Matter!
Follow us on
---
News
On the morning of May 30, 1921, a young black man named Dick Rowland was riding in the elevator in the Drexel Building at Third and Main with a white woman named Sarah Page. The details of what followed vary from person to person. Accounts of an incident circulated among the city's white community during the day and became more exaggerated with each telling.
Tulsa police arrested Rowland the following day and began an investigation. An inflammatory report in the May 31 edition of the Tulsa Tribune spurred a confrontation between black and white-armed mobs around the courthouse where the sheriff and his men had barricaded the top floor to protect Rowland. Shots were fired and the outnumbered African Americans began retreating to the Greenwood District.
In the early morning hours of June 1, 1921, Greenwood was looted and burned by white rioters. Governor Robertson declared martial law, and National Guard troops arrived in Tulsa. Guardsmen assisted firemen in putting out fires, took African Americans out of the hands of vigilantes, and imprisoned all black Tulsans not already interned. Over 6,000 people were held at the Convention Hall and the Fairgrounds, some for as long as eight days.
Twenty-four hours after the violence erupted, it ceased. In the wake of the violence, 35 city blocks lay in charred ruins, more than 800 people were treated for injuries and contemporary reports of deaths began at 36. Historians now believe as many as 300 people may have died.
Watch our event commemorating the Tulsa Race Massacre.
Download the slides from the presentation
Listed below are some resources you can use to learn more about this tragedy and make sure nothing like this happens again.
read more
Please welcome Carlos Colao to the GBC Poet Laureate Circle!
Carlos is an active poet that writes in both Spanish and English.
We are looking forward to Carlos' participation in the Poet Laureate Circle.
You can read/hear the poem, "Nuestro Día", by Carlos Colao here.
Nadine Pinede from Belgium - Read Nadine's Bio
---
You can register to vote and request a ballot at https://www.votefromabroad.org/. The sooner you do it, the better. 
read more
See all posts
---
Upcoming Events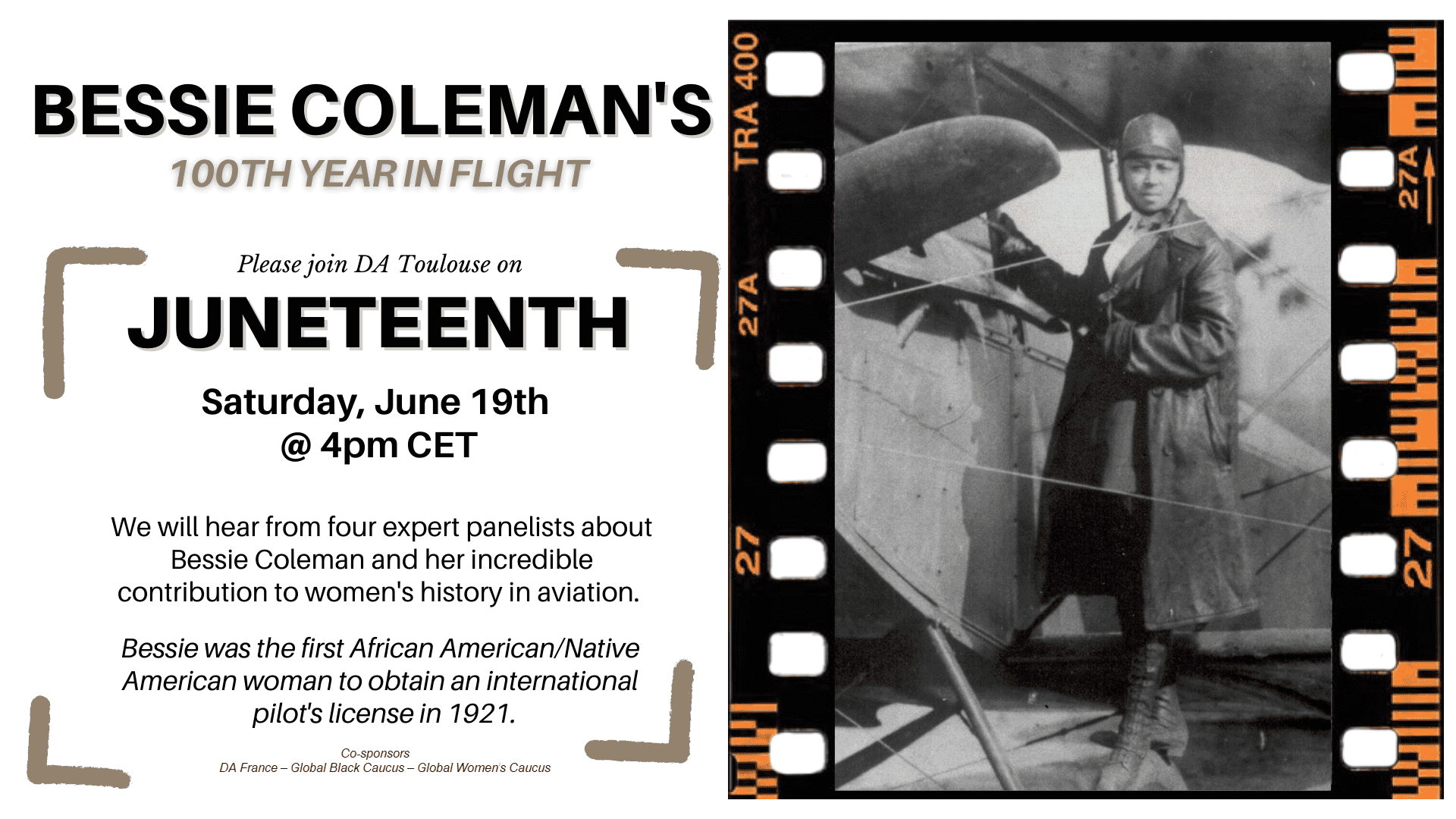 Please join Democrats Abroad Toulouse on Saturday, June 19th to celebrate the 100th anniversary of Bessie Coleman becoming a pilot in France. She was the first woman of color to earn her pilot's license, truly a milestone in history! 
The event will be moderated by Beatrice Monthioux, DA Toulouse Member-at-Large
Speakers will include: 
Christine Debouzy - President of the French Association of Women Pilots
Coline Béry - Specialist on Adrienne Bolland, aviatrix who did the same type of training before Coleman
Olivier Sarrazain - Director of the documentary film "Bessie Coleman Première Aviatrice Noire"
Françoise Sockeel - Of the Aeroclub of Abbeyville in the region where Coleman trained
The event will take place via Zoom. Please RSVP to receive a link for joining the event. 
Co-sponsored by the Global Black Caucus and Global Women's Caucus--Main organiser Jeaneen Johnson 
Juneteenth festivities continue with a different event hosted by the Global Black Caucus from 6pm to midnight CET where there will be music, poetry and art.  Please click here for more details and to RSVP for the particular event.
Saturday, June 19, 2021 at 04:00 PM Pretoria Time · 94 rsvps
Online
We invite you to join us virtually at the 2021 1st Pan-African Juneteenth Celebration to celebrate Juneteenth and to galvanize support to address human and civil rights issues including equal rights, voter suppression, policing, and racial justice. The Juneteenth celebration will be curated by multiple international African diasporic and Democratic Party organizations.
The celebration is particularly poignant as many attendees, African and American, have never celebrated Juneteenth. The 1st Pan-African Juneteenth is a unique opportunity to:
1) Address the inequalities and social challenges still prevalent in many countries due to lack of police oversight, poor governance, gender bias, etc.
2) Strengthen the bridge between Africans and African-Americans by recognizing the emancipation of enslaved Africans and the ongoing journey for equal rights
The participating diaspora organizations and their hosting countries include: South Africa-Global Diaspora Connect, Kenya- Still We Rise, Ghana-African American Association of Ghana, Zambia-Zambia Diaspora Community, Tanzania-Tanzania Diaspora Community.
The Democrats Abroad Global Black Caucus and the Democrats Abroad South Africa are auxiliaries of the Democrats Abroad, the official Democratic Party arm for the 9 million Americans living outside the United States.
RSVP to receive the Zoom link.