Welcome and thank you for visiting the Democrats Abroad
Global Black Caucus page.


The Democrats Abroad Global Black Caucus (GBC) is made up of DA members of all ethnicities from around the world who are willing and able to advocate on issues important to Black Americans within the United States of America and those living abroad. All DA members are eligible to join the GBC. We advocate for laws, policies, and programs that improve the lives of Black Americans and educate all people on the humanity of Black people.
People of visible African descent have been in what we now know as the United States of America since 1619, long before many ethnic groups who are now considered to be White. Black Americans were essential to building America. Without Black people, the greatness of America would not be possible. Today, Black Americans are in all walks of life and are 13.3% of the American population[1]. By 2060, the projected black population in the United States will be 74.5 million, with a predicted median black wealth as of 2053 of zero and a current median White wealth of $116,000.
According to the Voter Participation Center, from 2012 to 2016, Black voter turnout dropped by 4.7% overall[2]. Black voter turnout is essential for Democratic election victories. Therefore, it is necessary for Democrats to identify and focus on those issues close to the hearts of African Americans and other minority voters.  In general, voters do not turn out unless they feel included, listened to, and excited. It is important that Democrats Abroad have a caucus that directly addresses the issues of Black Americans. Thus, the Global Black Caucus will produce and disseminate political content which bears witness to the ever-unfolding international history of the Black American reality. Black Lives Matter!
| | |
| --- | --- |
| Pictured above: GBC Members at DA EMEA Conference in Madrid. From Left to Right Cuthbert Telesford-Denmark, Elizabeth Bond-Spain, Nicole Pearson-Spain, Angela Fobbs-GBC Chair-Germany, Ronda Zelezny-Green-UK, Christina Skovsgaard-Norway, Patricia Hamzahee-UK, Second Row. Adrienne Johnson-UK, Erica Smith-France, Shari Temple-Germany. | Follow us on |
DA Global Black Caucus Leadership:
Leedonal Moore
| Global Black Caucus Chair; DPCA Voting Rep, Switzerland
See all Leaders
---
News
Feb. 14th - 20th 2022 the Global Black Caucus (GBC) and the Global Black Youth Caucus (GYC) are teaming up to take over each other's social media accounts to raise awareness of mutual issues.
During the second Democrats Abroad Global Caucus Social Media Takeover Week the GBC & GYC are taking over each other's social media accounts while advocating on the issues related to their cause.  
read more
How We Remember And Honor Dr. King's Legacy
The past year has further exposed the inequalities in American society. From the pandemic to affordable housing, access to education and the effects of climate change. Nowhere has the inequality gap grown more than exercising the right to vote. 
While January 6th culminated with a violent act to deny our legal and constitutional right to vote, the assault has persisted. To date, 19 state legislatures have passed laws that make it harder for students, people of color, low income and physically challenged Americans to vote. And there are no less than 163 congressional candidates who believe and campaign on the big lie that the election was stolen.
As we remember Rev. Dr. Martin Luther King, Jr. on what should have been his 93rd birthday, let us not only honor his legacy but uphold it … not fail it! As Americans of all races and creeds living abroad and stateside, our right to vote is not a forgone conclusion. 
The pace of voting rights for all citizens has been long and arduous. It has taken over a century for America to give all U.S. citizens the right to vote. Yes, 100 years. When Black men were given the right through the 15th amendment, restrictive state laws, poll taxes, literacy tests and grandfather made it nearly impossible to vote. When women got the right to vote in 1920, it did not include minority women. From 1924 to 1962, Indigenous, Asian and Washington D.C. residents were enfranchised.
It was not until the passage of the Voting Rights Act of 1965 that enforced the 15th amendment at the federal level to become one of the most far-reaching and important civil rights legislation in U.S. history. 
This was the life's work of Dr. King … his legacy. Dr. King gave his life for this. We stand on his and the shoulders of Hosea Williams and John Lewis. We must uphold the dream.
Since the signing of the Voting Rights Act of 1965, 18 year olds, non-English speaking citizens  and Americans abroad, had been given the right to vote in 1971, 1975 and 1976, respectively. And in 1982, the Reagan administration … the Reagan administration … extended it for 25 years.
Today, our voting rights lie in peril as states have, 100 years later, enacted laws that restrict all of our access to the ballot. How will we meet this moment? How will we honor Dr. King's legacy? 
Why is this taking so long? If segregationists and trickle down theorists can protect voting rights, Senators Manchin and Sinema can support the Freedom to Vote: John R. Lewis Act.
Rest in power, Dr. King. We honor you. We will not fail you.
Leedonal (Jazz) Moore, Chair 
Democrats Abroad Global Black Caucus

Video Excerpt of Dr. Martin Luther King's speech - I HAVE A DREAM
read more
See all posts
---
Upcoming Events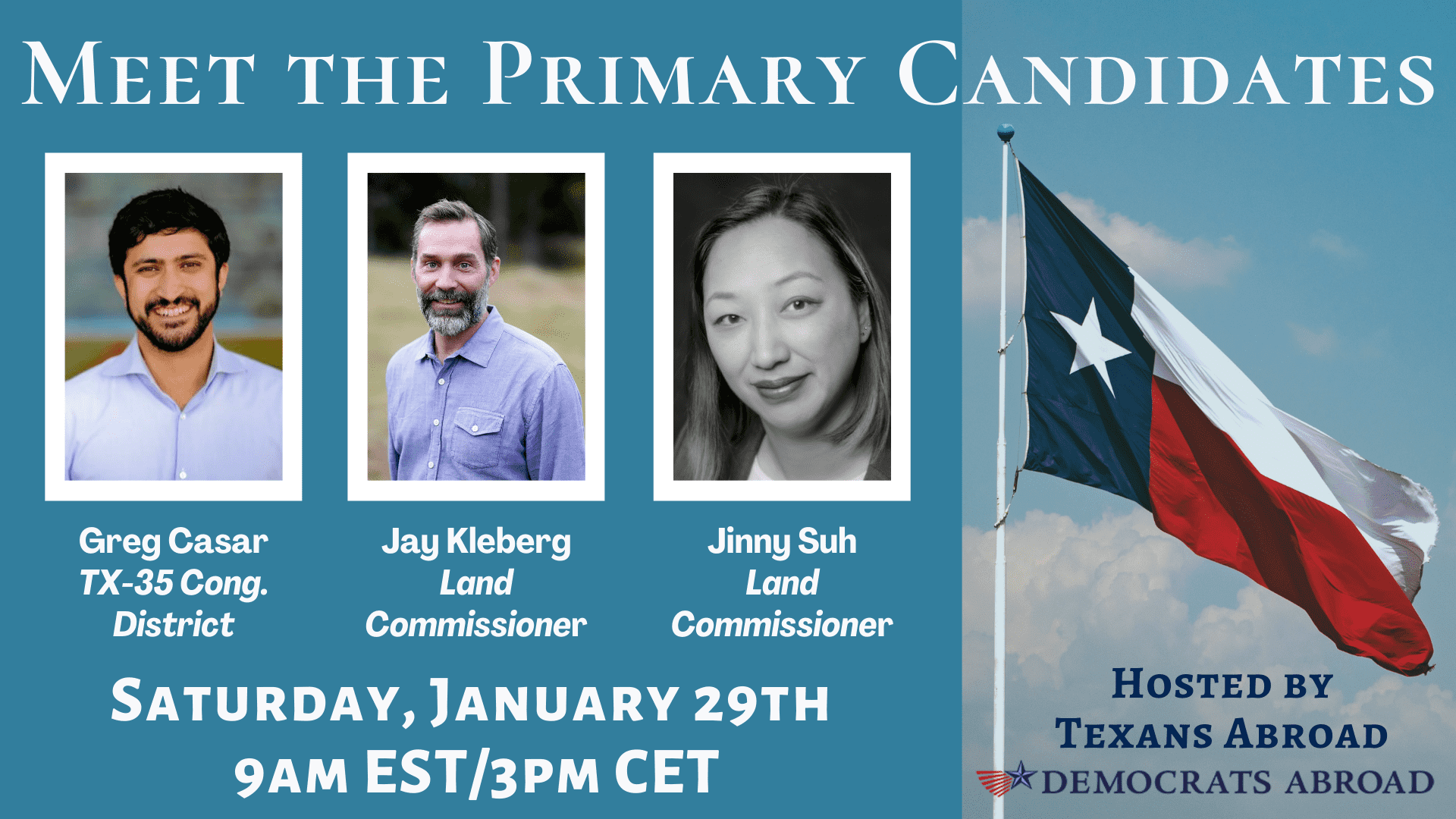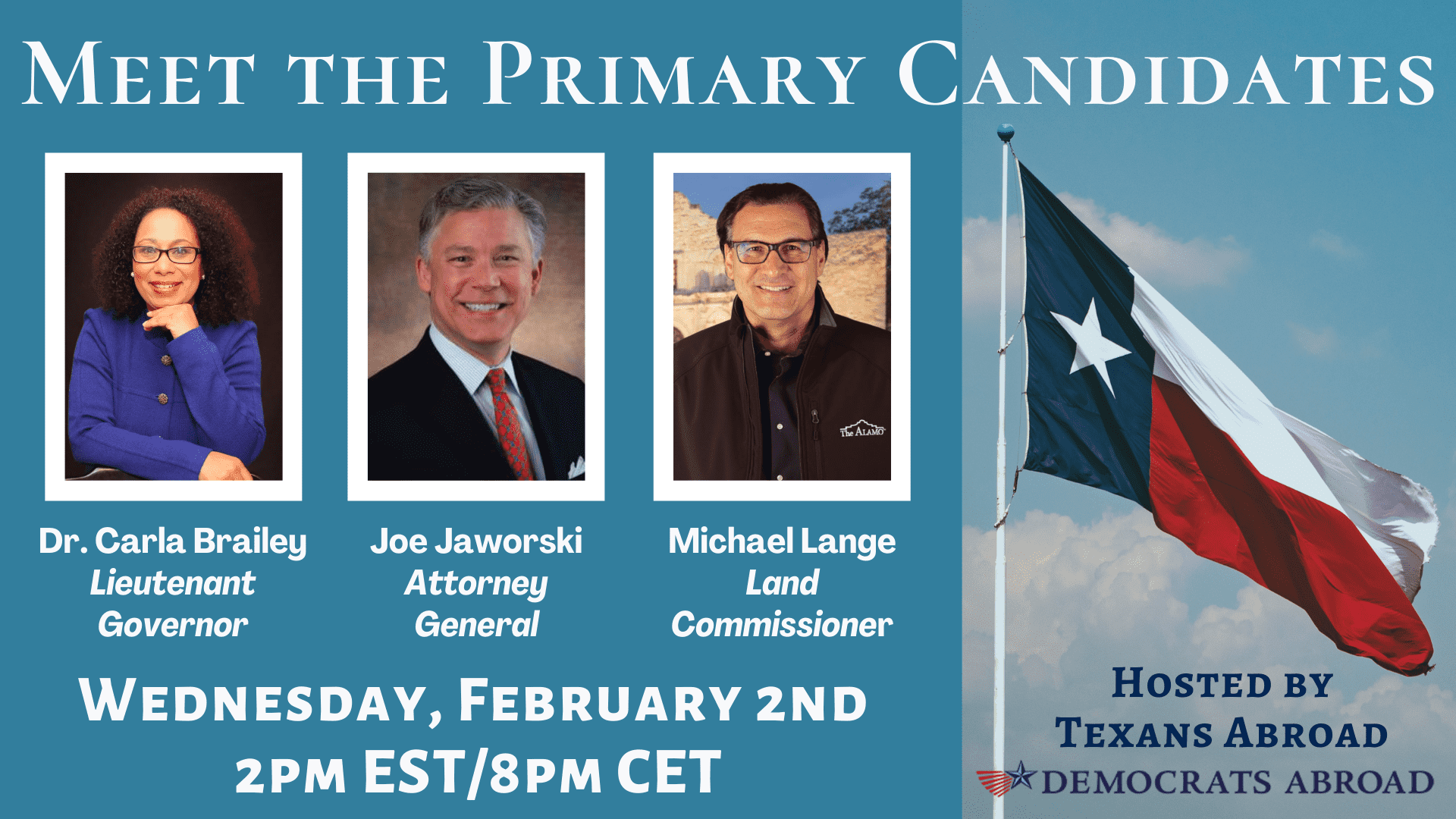 Join Texans Abroad for our Meet the Primary Candidates* panel discussion series to hear from some of the candidates for:
Lieutenant Governor
Attorney General
Land Commissioner
TX-35 Congressional District.
This event is your chance to hear the Democratic candidates share their backgrounds, key issues and their vision for the state. There will also be time for a Q&A session with an opportunity for attendees to ask questions. 
The event is being co-sponsored by the Democrats Abroad Progressive Caucus, Global Black Caucus, Hispanic Caucus and Global Women's Caucus.
WHEN:
Saturday, January 29th

8 am Central / 3pm CET / 10pm HKT

Wednesday, February 2nd

1 pm Central / 8pm CET / 11am PST
Texas Primary Ballots have already started going out! Request yours TODAY if you haven't already at www.votefromabroad.org! See our TX Voting Guide for more information.
RSVP for the Zoom link - same link for both events! Write to [email protected] with any questions.
*Democrats Abroad has not endorsed any candidate(s) and is committed to remaining neutral for the duration of the primary. All candidates for the above races were invited to speak at our events.
Sunday, January 30, 2022 at 03:00 AM Eastern Time (US & Canada) · 10 rsvps
Zoom - Online
During these meetings we
CONNECT, LISTEN, SUPPORT & EMPOWER
each other, exchange thoughts and ideas, plan possible co-sponsored events and ultimately strengthen our community. The Global Black Caucus is hosting an open roundtable discussion once every three months for DA leaders and volunteers, and you are invited to be a vital part of the collective advocating on issues of African-Americans not just in the U.S. but all around the world.
The meetings will be of duration of 90 mins and be held on Zoom.

Please RSVP here to get the Zoom link and to let us know you are interested! 


The second Global Black Caucus Quarterly Global Meeting will take place on January 30th, 3AM EST / 9 AM CET  Zoom (next meeting dates: Mar. 31st, May 31st…)
Check the Global Black Caucus
Wiki-Page
or the Global Universal
Calendar
to find further dates for these meetings.
We are looking forward to having great conversations with you all.

Love and Light
Leedonal (Jazz) Moore