Welcome and thank you for visiting the Democrats Abroad Global Black Caucus page.
The Democrats Abroad Global Black Caucus (GBC) is made up of DA members of all ethnicities from around the world who are willing and able to advocate on issues important to Black Americans within the United States of America and those living abroad. All DA members are eligible to join the GBC. We advocate for laws, policies and programs that improve the lives of Black Americans and educate all people on the humanity of Black people.
People of visible African descent have been in what we now know as the United States of America since 1619, long before many ethnic groups who are now considered to be White. Black Americans were essential to building America. Without Black people, the greatness of America would not be possible. Today, Black Americans are in all walks of life and are 13.3% of the American population[1]. By 2060, the projected black population in the United States will be 74.5 million, with a predicted median black wealth as of 2053 of zero and a current median White wealth of $116,000.
According to The Voter Participation Center, from 2012 to 2016, Black voter turnout dropped by 4.7% overall[2]. Black voter turnout is essential for Democratic election victories. Therefore, it is necessary for Democrats to identify and focus on those issues close to the hearts of African American and other minority voters.  In general, voters do not turn out unless they feel included, listened to, and excited. It is important that Democrats Abroad  have a caucus which directly addresses the issues of Black Americans. Thus, the Global Black Caucus will produce and disseminate political content which bears witness to the ever-unfolding international history of the Black American reality. Black Lives Matter!
 Follow us on Facebook
---
News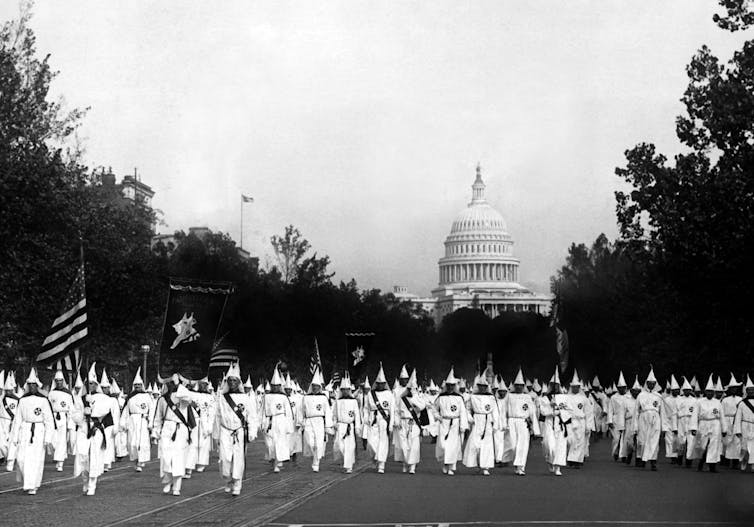 Noelle Hurd, University of Virginia
When it comes to how deeply embedded racism is in American society, blacks and whites have sharply different views.
For instance, 70 percent of whites believe that individual discrimination is a bigger problem than discrimination built into the nation's laws and institutions. Only 48 percent of blacks believe that is true.
Many blacks and whites also fail to see eye to eye regarding the use of blackface, which dominated the news cycle during the early part of 2019 due to a series of scandals that involve the highest elected leaders in Virginia, where I teach.
The donning of blackface happens throughout the country, particularly on college campuses. Recent polls indicate that 42 percent of white American adults either think blackface is acceptable or are uncertain as to whether it is.
One of the most recent blackface scandals has involved Virginia Gov. Ralph Northam, whose yearbook page from medical school features someone in blackface standing alongside another person dressed in a Ku Klux Klan robe. Northam has denied being either person. The more Northam has tried to defend his past actions, the clearer it has become to me how little he appears to know about fundamental aspects of American history, such as slavery. For instance, Northam referred to Virginia's earliest slaves as "indentured servants". His ignorance has led to greater scrutiny of how he managed to ascend to the highest leadership position in a racially diverse state with such a profound history of racism and white supremacy.
read more
Just as Black history is American history, so too is Women's history. Just as the "African American" section of the bookstore is as infuriating as it is necessary, so too is the Chick Lit genre and the "Women's" section. They serve the purpose of highlighting writers, ideas, points of view, and histories that sadly might go unknown, unexplored, or underappreciated otherwise.
In celebration of International Women's Day and Women's History Month, we've put together a list of some of our favorite women writers. Some are well-known, some less so but all are deserving of their turn in the spotlight. We invite you to turn the page!
Song in a Weary Throat: Memoir of an American Pilgrimage
Pauli Murray and Patricia Bell-Scott
Paperback: 624 pages
Publisher: Liveright
ISBN-10: 1631494589
Although she is relatively unknown today—despite a rich, fascinating life---there are a decent handful of biographies to choose from if you are interested in learning about Pauli Murray. Born in Baltimore in 1910, and raised in Durham, North Carolina, Murray, the first African American woman to receive a Doctor of Law at Yale, a poet, a social activist, a confidante of Eleanor Roosevelt and Thurgood Marshall, tells her own tale in this hefty memoir. It is a lyrical, powerful story.
read more
See all posts
---
Upcoming Events
Thursday, January 31, 2019 at 06:00 PM through December 30, 2019 · 51 rsvps
Online
The Equal Rights Amendment resolution passed unanimously in Tokyo where we committed to do whatever we can to help get the ERA ratified.  See the resolution here.
Watch the video "Legalize Equality."  This 30-minute video gives an excellent overview of the Equal Rights Amendment and why it is critical to be ratified.  
You can watch the video until 31 December 2019.
To receive the streaming link and password, click RSVP and you will receive an email with the information in it.
Feel free to share the link and password to DA members that want to view it.  However, please do NOT post the link and password on the internet in any way.  Only Democrats Abroad has access for this private screening and we need to honor this special access given by Equal Means Equal and Heroica Films.  
Additional References to learn more about ERA: