Welcome and thank you for visiting the Democrats Abroad Global Black Caucus site
The Democrats Abroad Global Black Caucus (GBC) is made up of DA members of all ethnicities from around the world who are willing and able to advocate on issues important to Black Americans within the United States of America and those living abroad. All DA members are eligible to join the GBC. We advocate for laws, policies and programs that improve the lives of Black Americans and educate all people on the humanity of Black people.
People of visible African descent have been in what we now know as the United States of America since 1619, long before many ethnic groups who are now considered to be White. Black Americans were essential to building America. Without Black people, the greatness of America would not be possible. Today, Black Americans are in all walks of life and are 13.3% of the American population[1]. By 2060, the projected black population in the United States will be 74.5 million, with a predicted median black wealth as of 2053 of zero and a current median White wealth of $116,000.
According to The Voter Participation Center, from 2012 to 2016, Black voter turnout dropped by 4.7% overall[2]. Black voter turnout is essential for Democratic election victories. Therefore, it is necessary for Democrats to identify and focus on those issues close to the hearts of African American and other minority voters.  In general, voters do not turn out unless they feel included, listened to, and excited. It is important that Democrats Abroad  have a caucus which directly addresses the issues of Black Americans. Thus, the Global Black Caucus will produce and disseminate political content which bears witness to the ever-unfolding international history of the Black American reality. Black Lives Matter!
 Follow us on Facebook
---
News
Slavery was never abolished – it affects millions, and you may be funding it
Catherine Armstrong, Loughborough University
When we think of slavery, many of us think of historical or so-called "traditional forms" of slavery – and of the 12m people ripped from their West African homes and shipped across the Atlantic for a lifetime in the plantations of the Americas.
But slavery is not just something that happened in the past –- the modern day estimate for the number of men, women and children forced into labour worldwide exceeds 40m. Today's global slave trade is so lucrative that it nets traffickers more than US$150 billion each year.
Slavery affects children as well as adults
Debt bondage often ensnares both children and adults. In Haiti, for example, many children are sent to work by their families as domestic servants under what's known as the Restavek system – the term comes from the French language rester avec, "to stay with". These children, numbering as many as 300,000, are often denied an education, forced to work up to 14 hours a day and are sometimes victims of sexual abuse.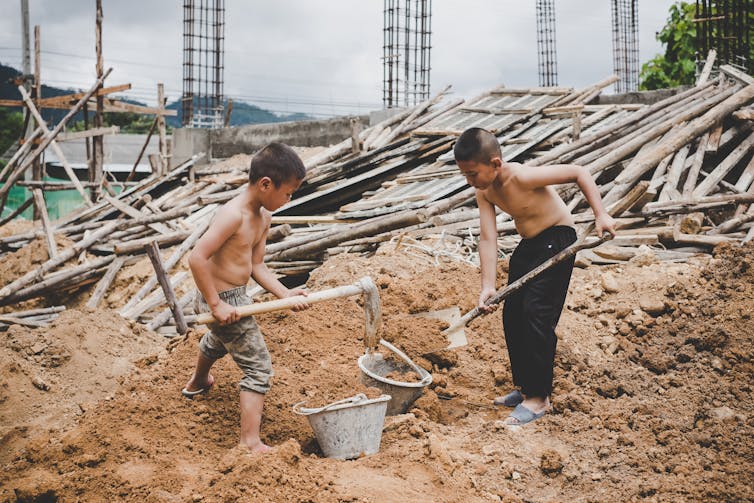 ---
Read more: How trafficked children are being hidden behind a focus on modern slavery
---
read more
The midterm elections are not over. The race for US Senator in Mississippi will go to a Run-Off election on November 27th. Democrat Mike Espy needs our help to win.

This is a runoff election that until a few days ago was rated SOLID REPUBLICAN. But incumbent Republican Senator Cindy Hyde-Smith has continued to say extreme and SHOCKINGLY RACIST things (she joked about "public lynching") and photographs have surfaced of her wearing a Confederate hat while posing with a member of a known hate group.


She has now LOST the support of many donors, including corporations — and Mike Espy is fighting for every vote he can get. Mike Espy is a former Congressman from MS, a former US Secretary of Agriculture, and he will bring Mississippi forward, not backward. If he wins he will be the first black Senator to go to Washington from Mississippi since Reconstruction.


Mississippi Democrats need to turn out and VOTE on November 27th. Democrats Abroad can help by PHONE BANKING for the MIKE ESPY CAMPAIGN this Saturday, November 24th. 

RSVP NOW for one of the two call windows reserved for Democrats Abroad volunteers:
RSVP for the Morning call block. This call list is good for those in Europe and the Americas
10am - 3pm Mississippi time (CST)
11am - 4pm DC time (EST)
4pm - 10pm Great Britain (GMT)
5pm - 11pm Germany/France (CET) - good for Europe
RSVP for the Afternoon call block.  This call list is good for those in the Americas
3pm - 8pm Mississippi time (CST)
4pm - 9pm DC time (EST)
You will receive a link for the Call List you have signed up for, with an access code prior to the phone bank going live. A computer with an internet connection is necessary to participate.


Please feel free to HOST A PHONE BANKING EVENT near you, and tell us about it. We will share it on social media.

I hope you can join us on Saturday.
Thank you,
Angela Fobbs
GBC, Chair
read more
See all posts
---
Upcoming Events