Welcome and thank you for visiting the Democrats Abroad
Global Black Caucus page.
The Democrats Abroad Global Black Caucus (GBC) is made up of DA members of all ethnicities from around the world who are willing and able to advocate on issues important to Black Americans within the United States of America and those living abroad. All DA members are eligible to join the GBC. We advocate for laws, policies, and programs that improve the lives of Black Americans and educate all people on the humanity of Black people.
---
News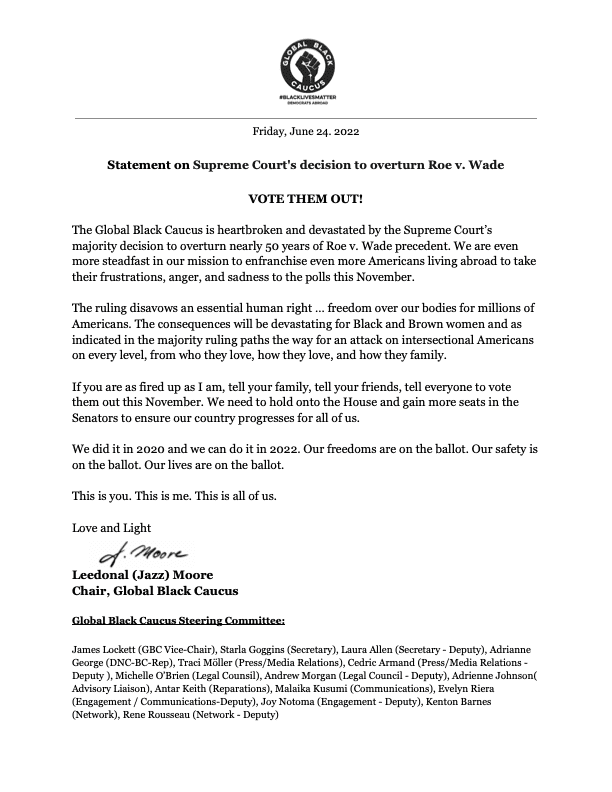 VOTE THEM OUT!
The Global Black Caucus is heartbroken and devastated by the Supreme Court's majority decision to overturn nearly 50 years of Roe v. Wade precedent. We are even more steadfast in our mission to enfranchise even more Americans living abroad to take their frustrations, anger, and sadness to the polls this November. 
The ruling disavows an essential human right … freedom over our bodies for millions of Americans. The consequences will be devastating for Black and Brown women and as indicated in the majority ruling paths the way for an attack on intersectional Americans on every level, from who they love, how they love, and how they family.
If you are as fired up as I am, tell your family, tell your friends, tell everyone to vote them out this November. We need to hold onto the House and gain more seats in the Senators to ensure our country progresses for all of us.
We did it in 2020 and we can do it in 2022. Our freedoms are on the ballot. Our safety is on the ballot. Our lives are on the ballot.
This is you. This is me. This is all of us.
Love and Light

Leedonal (Jazz) Moore
Chair, Global Black Caucus
Global Black Caucus Steering Committee:
James Lockett (GBC Vice-Chair), Starla Goggins (Secretary), Laura Allen (Secretary - Deputy), Adrianne George (DNC-BC-Rep), Traci Möller (Press/Media Relations), Cedric Armand (Press/Media Relations - Deputy ), Michelle O'Brien (Legal Council), Andrew Morgan (Legal Council - Deputy), Adrienne Johnson( Advisory Liaison), Antar Keith (Reparations), Malaika Kusumi (Communications), Evelyn Riera (Engagement / Communications-Deputy), Joy Notoma (Engagement - Deputy), Kenton Barnes (Network), Rene Rousseau (Network - Deputy)
---
#RoeVsWade #SupremeCourt #VoteFromAbroad #GetOutTheVote #BlackLivesMatter #BlackVotesMatter #MidtermsMatter 
read more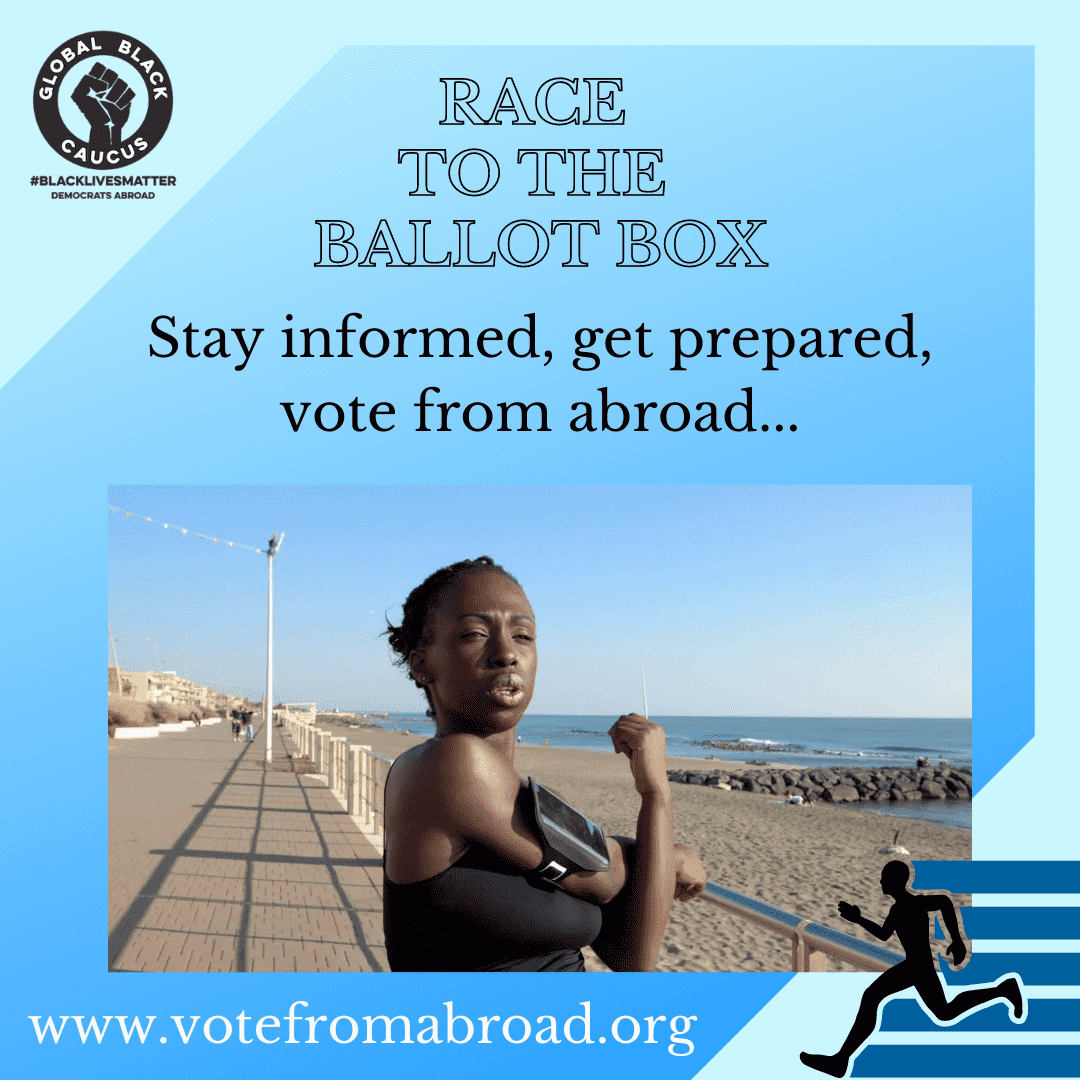 🏃🏿‍♀️Race To Saving Our Democracy 🏃🏿‍♂️

❖ Hold & Expand our Senate seats so that we can get rid of the filibuster, don't have to rely on Sens Manchin and Sinema, and can finally pass popular measures that a majority of Americans want. This means, at a minimum, defending the toughest seats to hold (GA, AZ, NH, and NV) and flipping the 3 seats where we already hold statewide leadership positions (NC, WI, and PA).

❖ Hold the House so that we can continue to pass extraordinary measures that help the American People. Every state has vulnerable Dems who need protection to flip seats.

❖ Win key State leadership roles – ie Keeping Govs in WI, MI, PA, and KS to prevent toxic state legislatures from passing heinous legislation and flipping MD and MA so we can incubate more great policies in the states.

❖ Give President Biden two more years (at least) to govern with both chambers of Congress so that the seeds he's planted with ARP, the Infrastructure package and other efforts across government can sprout and bloom and so that he can pass voter protection reform and Build Back Better.

☞ Encourage, Educate, Empower and Inspire eligible voters to Register & Vote!

VOTE FROM ABROAD - REGISTER HERE!
---


#RaceToVote #DemsAbroad #GlobalBlackCaucus #BlackLivesMatter #BlackVotesMatter #MidtermsMatter #VoteFromAbroad #GetOutTheVote #Register #Vote
read more
See all posts
---
Upcoming Events
Sunday, June 26, 2022 at 08:45 AM Eastern Time (US & Canada) · 141 rsvps
Come meet the phenomenal US Senate Candidate from North Carolina!
Cheri Beasley is a mom, former public defender, judge, and the first Black woman to serve as Chief Justice of the North Carolina Supreme Court. She's spent her life fighting to uphold the law and keep communities safe – and as U.S. Senator, she'll fight to lower costs, create good-paying jobs and expand access to affordable, quality health care in every part of North Carolina.
Join the DA North Carolinians Abroad State Team to welcome Cheri Beasley, Democratic nominee for US Senate!
WHEN: Sunday, June 26th at 8:45am EDT/ 2:45pm CEST
RSVP for the Zoom link!
You can also join our NC team to help pave the way to the Midterms and Turn NC Blue!