Pictured above: GBC Members at DA EMEA Conference in Madrid. From Left to Right Cuthbert Telesford-Denmark, Elizabeth Bond-Spain, Nicole Pearson-Spain, Angela Fobbs-GBC Chair-Germany, Ronda Zelezny-Green-UK, Christina Skovsgaard-Norway, Patricia Hamzahee-UK, Second Row. Adrienne Johnson-UK, Erica Smith-France, Shari Temple-Germany.
Welcome and thank you for visiting the Democrats Abroad Global Black Caucus page.
The Democrats Abroad Global Black Caucus (GBC) is made up of DA members of all ethnicities from around the world who are willing and able to advocate on issues important to Black Americans within the United States of America and those living abroad. All DA members are eligible to join the GBC. We advocate for laws, policies, and programs that improve the lives of Black Americans and educate all people on the humanity of Black people.
People of visible African descent have been in what we now know as the United States of America since 1619, long before many ethnic groups who are now considered to be White. Black Americans were essential to building America. Without Black people, the greatness of America would not be possible. Today, Black Americans are in all walks of life and are 13.3% of the American population[1]. By 2060, the projected black population in the United States will be 74.5 million, with a predicted median black wealth as of 2053 of zero and a current median White wealth of $116,000.
According to The Voter Participation Center, from 2012 to 2016, Black voter turnout dropped by 4.7% overall[2]. Black voter turnout is essential for Democratic election victories. Therefore, it is necessary for Democrats to identify and focus on those issues close to the hearts of African American and other minority voters.  In general, voters do not turn out unless they feel included, listened to, and excited. It is important that Democrats Abroad have a caucus which directly addresses the issues of Black Americans. Thus, the Global Black Caucus will produce and disseminate political content which bears witness to the ever-unfolding international history of the Black American reality. Black Lives Matter!
Follow us on
---
News
My name is Robyn T. Emerson; I'm the lead country coordinator for Kenya and Co-Chair of the Black Caucus here. I have traveled, studied, or worked in every corner of the United States, with my last port-of-call and my voting district being Austin, Texas.   I am proud to say I have knocked on thousands of doors, managed hundreds of phone banks, did hundreds of advance work, coordinated hundreds of rides to polls all for the belief in collective power and justice prevailing. I've now lived in Kenya for over ten years, where creating communities and empowering people continues.
I'm an urban planner and a consummate organizer.  People of color, more specifically people of African descent, are staggering in the life-affirming statistics and leading in the life-threatening statistics.  Despite this, we keep rising; we keep singing, we keep fighting.
Living in what #45 considers a sh**hole country and the U.S. clamping down on immigration and refugee permissions out of nationalism and racism, I can not stand for its continuance another moment.  With brilliant Americans living in Kenya, we aim to make our voices known and count on issues impacting African Americans. We've coined this 13-months to Change, being inspired by the 13th amendment. We will continue community socializing, sharing information, and taking action as a community of African-Americans.  We will make a concerted effort to cast the net wider by having monthly meet-ups, connecting the dots between oppression & discrimination here to the experience on the same of our people in the U.S. We stand in solidarity for dignity, freedom, and justice for everyone. We will exercise our rights afforded to us...voting is our top emphasis. I hope you will join us in exploring, learning, and growing.
If you would like to join the DA Kenya Global Black Caucus, just click the join button on our homepage. Everyone is welcome, and I look forward to meeting up, discussing important issues, and winning some important seats with you!
Follow us on
read more
Mississippi: African American voters sue over election law rooted in the state's racist past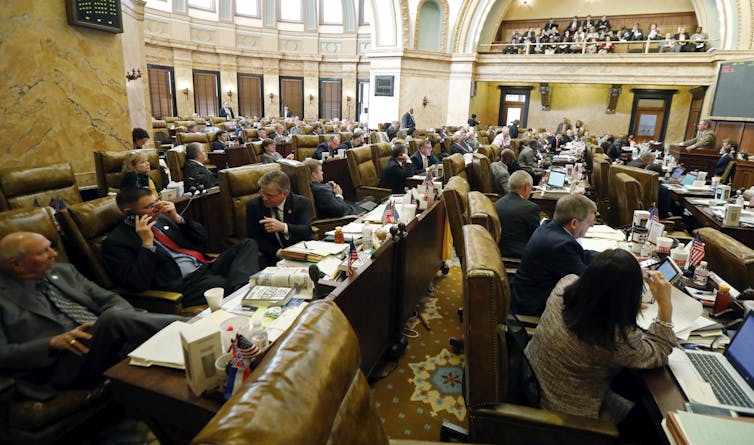 Gideon Cohn-Postar, Northwestern University
A lawsuit over a Mississippi election law, if successful, will change the way that state elects its governor.
Four African Americans filed the federal civil rights lawsuit in May 2019, charging that the way their state elects its statewide officials violates the Voting Rights Act, the 14th Amendment and the principle of "one-person, one-vote."
To win election, a candidate for governor of Mississippi has to win an outright majority of the popular vote – and win a majority of the state's 122 House districts.
If no candidate does both, the state House gets to select the next governor, regardless of who got the most votes. No African American has been elected statewide since 1890.
Republican legislators in Mississippi defended the law by arguing that the plaintiffs provide "nothing more than conjecture" that they would be harmed by this election method.
Media coverage of the lawsuit has emphasized that "no Mississippi candidate who won the most votes for a statewide office has been prevented from taking office because of the other requirements."
As a historian of 19th-century voting rights in the U.S., I believe this analysis ignores the history of anti-democratic gubernatorial election laws.
Today, Mississippi is one of only two states where the winner of the popular vote does not automatically become governor. Vermont is the other. In the 19th century, however, many states had such laws.
The damage that these laws did to democratic legitimacy and political stability in the 1870s, '80s and '90s was not conjecture. These laws were intended to entrench the rule of the party in power.
This November, Mississippi is preparing for its first close gubernatorial election since 1999. The election law that is the focus of the lawsuit could decide who wins. Its origins and the track record of similar laws in more competitive states bear investigation.
read more
See all posts
---
Upcoming Events
Thursday, January 31, 2019 at 06:00 PM through February 28, 2020 · 109 rsvps
Online
The Equal Rights Amendment resolution passed unanimously in Tokyo where we committed to do whatever we can to help get the ERA ratified.  See the resolution here.
Watch the video "Legalize Equality."  This 30-minute video gives an excellent overview of the Equal Rights Amendment and why it is critical to be ratified.  
You can watch the video until 31 December 2020 or the ERA passes.
To receive the streaming link and password, click RSVP and you will receive an email with the information in it.
Feel free to share the link and password to DA members that want to view it.  However, please do NOT post the link and password on the internet in any way.  Only Democrats Abroad has access for this private screening and we need to honor this special access given by Equal Means Equal and Heroica Films.  
Additional References to learn more about ERA:
Thursday, January 30, 2020 at 08:30 PM · €5.00 EUR · 9 rsvps

This film exposes rampant voter suppression that affected the outcome of the 2018 midterm election in Georgia and the threat it poses to our elections all across the nation in 2020. During the 2018 midterms, millions of voters experienced suppression due to voter roll purges, poll closures, long lines of over 4 hours, missing absentee ballots, and strict voter ID laws that disproportionately prevented black and brown citizens from their constitutional right to vote. 
The race in 2018 was finally decided by 54,723 votes and Surpressed reveals that basic constitutional suffrage in America remains under pressure.
Given what is at stake in 2020, the effort to prevent people voting will be fierce! We've been here before and we can stop it!
For this event, DAG partnered with the Mainz cinema Cinémayence. The movie theater is located on the first floor of the baroque Schönborner Hof in a central location on Schillerplatz. It is a guest of the French Cultural Institute - hence the French name ("Mayence" = French for Mainz).
The schedule of the cinema is designed with cultural aspects in mind. The program offers mainly international films. Like most of the films in Cinemayence, Surpressed has never been shown in Mainz before.
Join us in the discussion after the screening to learn how the Republicans will crack down on voting rights in 2020 and what you can do. Non-Democrats Abroad members and non-US citizens are welcome and the discription of the film is in German in the Cinémayence program.

There will be a discussion after the screening lead by Sarah A Wagner. Wagner studied Political Science, English and Educational Science at the University of Trier and the University of Nebraska-Omaha. Since 2015, she is the Education Manager at the Atlantic Academy Rheinland-Pfalz. Her research focus lies on the Democratic Party, civil-military relations and transatlantic relations.
Democrats Abroad voter registration experts will assist Americans living in Germany register to vote and request your ballot for the 2020 election. 
Tickets are 5€ and can be purchased at the theater's box office, opens at 19:45. 
We hope to see you there!
Add this event to your Google calendar