Welcome and thank you for visiting the Democrats Abroad
Global Black Caucus page.
The Democrats Abroad Global Black Caucus (GBC) is made up of DA members of all ethnicities from around the world who are willing and able to advocate on issues important to Black Americans within the United States of America and those living abroad. All DA members are eligible to join the GBC. We advocate for laws, policies, and programs that improve the lives of Black Americans and educate all people on the humanity of Black people.
---
News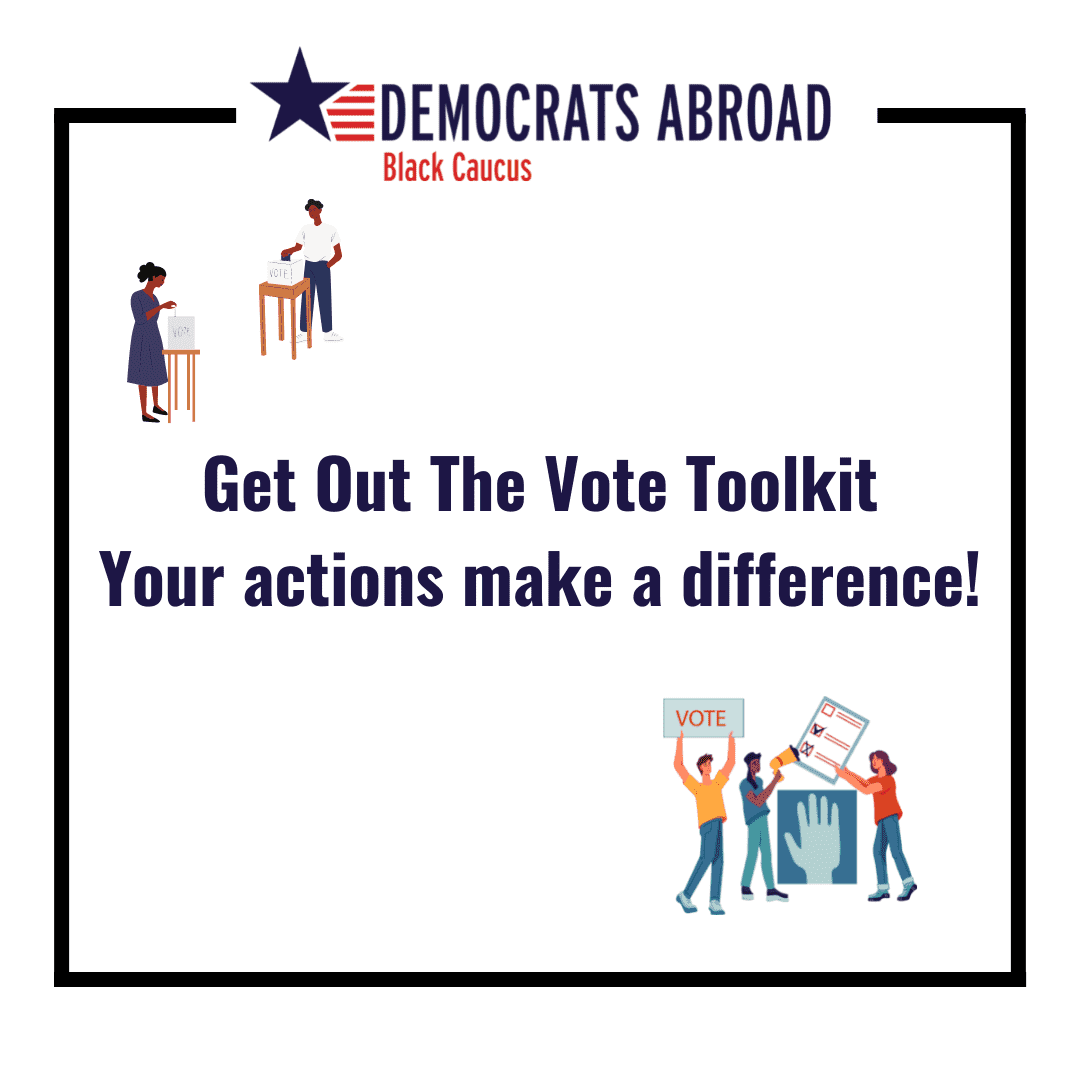 Get Out The Vote ToolKit 
The Global Black Caucus is working hard to reach out to Americans around the world and has assembled this "Get out the Vote" toolkit with ideas on how each and every one of our members can help spread the word!
We stand on the shoulders of generations of Black Indigenous People Of Color,  who marched, fought, and died for our rights. We will not let them down! 
SIMPLE AND EASY THINGS YOU CAN DO BY YOURSELF OR IN A GROUP TO HELP INCREASE VOTER TURNOUT…
Click Image below for Get Out The Vote Toolkit:
---
#GetOutTheVote #Toolkit #DemsAbroad #GOTVToolKit #GlobalBlackCaucus #BlackLivesMatter #BlackVotesMatter #MidtermsMatter #Vote 
read more
Take Action to Help People with Disabilities Register & Vote
The CDC reports that 1 in 4 adult Americans (26% or 61 million) live with a disability. 
Of all adults in the U.S. with disabilities:
1 in 7 have serious difficulty walking or climbing stairs

1 in 9 with concentrating, remembering, and making decisions

1 in 15  live alone, without help

1 in 17 are hearing impaired 

1 in 22 are visually impaired  and

1 in 27 have serious difficulty with tasks like getting dressed or collecting mail 
According to American Community Survey data, 14 percent of Black Americans have a disability, compared with 12.6 percent of the overall population. 36 percent of disabled Black Americans live in poverty, compared with 26 percent of all disabled Americans. Disabled Black people often have to battle harder to get correct diagnoses and services. This is especially true for "invisible disabilities" such as autism, which educators are more likely to dismiss as behavioral issues in Black children than in white ones.
Black people with disabilities are especially likely to have issues with police officers, who can misinterpret their behavior—such as a deaf person who keeps walking when told to stop—as a threat. When law enforcement assumes a Black person's failure to comply is because of aggression rather than a disability, the consequences can be deadly.
Please help Democrats Abroad & the Global Disability Caucus help U.S. citizens abroad and in your voting state exercise their right to vote. 
Is your #PollingPlace fully #ADA #Compliant? 
👉 GAO reports only 17% of polling places were in 2016. American elections *are not* accessible 👈
👉  Contact your Local Election Official and remind them to break down the barriers preventing #DisabledVoting
#Invisible disabilities significantly impair normal daily life for millions of #Americans.
Getting to the #Polls on #ElectionDay may not be possible.
👉 Support #Absentee #Voting so #AllOfUs have a seat at the table! Voters with #Disabilities have the right to vote with assistance. 
👉 Bring someone along, such as a friend, family member, caregiver, or assisted living provider, to the #Polls. Learn more at the ADA.gov website, or via AAPD's Rev Up campaign. Tinyurl.com/voteADA22
👉  Are you abled? Become a Disabled Voter Champion and offer to help those in your neighborhood and community today.
#Voting is riddled with barriers.
Signature match requirements are a barrier to those who cannot sign/consistently sign their name.
Know where to find a notary? Some states require ballot envelopes to be notarized or signed by a #Witness. If you live alone, this is a significant hurdle, especially when voting #Absentee is a necessity.
Domestic voter info: www.votee411.org
Voting from abroad info: www.votefromabroad.org
---

#BarriersWeFace #EqualOpportunity #CripTheVote #DVRW #MyDisabledLifeIsWorthy #DisabilityVote #Access #WhenWeAllVote #IWillVote #VoteFromAbroad #DisabledVeteran #Accessibility #DisabledLife #DisabledBodiesMatter #SeatAtTheTable #Inclusion #DisabledAndProud #MidtermsMatter #BlackVotesMatter #BlackDisabledBodiesMatter
read more
See all posts
---
Upcoming Events
MEET CALIFORNIA SWING DISTRICT CANDIDATES!
The road to victory in 2022 runs through CA thanks to these competitive but winnable districts!
Special Guest - Representative Katie Porter!
California needs your help!  

Our mostly blue state still has many purple and red districts that we must flip. In 2020, we lost one district by 333 votes. We are not going to let that happen again! All roads to victory in the House of Representatives go through California, and we are determined to win them all! Your vote, as a Californian, has never been so important.

The Golden State is leading the way in expanded abortion access, common sense gun laws, cleaner environment, combating wildfires, and much more. These big tent districts with diverse communities demonstrate that, together, we can make our dreams for California, and the United States, a reality.

For Part 2 of our California Dreaming series, we are proud to feature:
Jay Chen - CA 45
Kermit Jones - CA 03
Rep. Katie Porter - CA 47
Will Rollins - CA 41
Join the DA Californians Abroad State Team for our Congressional District Series:
Date: Saturday, October 8th 
Time: 8am PDT / 11am EDT/ 5pm CEST
RSVP for the Zoom link!
You can also join our CA team to help pave the way to the Midterms!