DA Women's Caucus Leadership:
Salli Swartz
| DAF Vice Chair; Global Women's Caucus Co-Chair
Ann Hesse
| Stuttgart Chapter Chair, Germany; Global Women's Caucus Co-Chair
See all Leaders
---
News
 Germany Women's Caucus Berlin Workshop Recap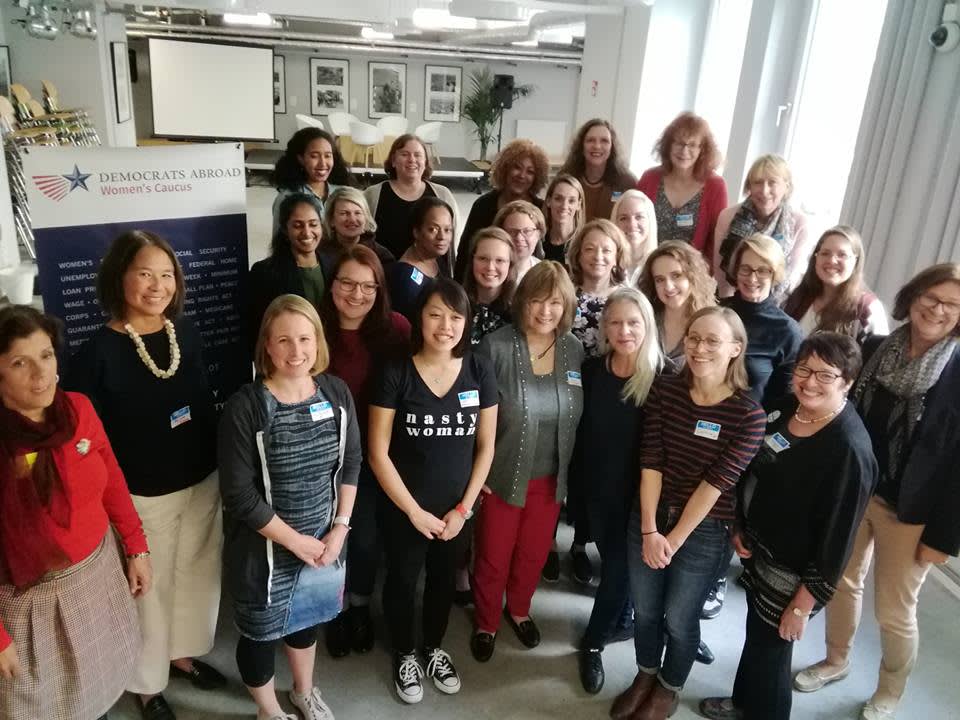 by Kelsey McLendon
On Saturday, the 22nd of September, Democrats Abroad Women's Caucus members from eight of the twelve Germany chapters met for a day-long workshop in Berlin. The workshop was divided into five sessions, each one focusing on a different approach to language and messaging. Together, the 33 participants unpacked words and phrases like "pro-choice," "emotional," and "misconduct," before moving on to discuss the ways in which women are under attack and what we as Democrats need to focus on as we push forward.
One participant succinctly summarized the conversation in three main points: 1) the need to create safe spaces for women and allies to hold dialogues, 2) deciding on effective political strategy, and 3) answering the question, "What do we stand for?".
As a group, participants recognized that Donald Trump and his administration are merely a symptom of systemic racism and misogyny. To combat the insidious cultural forces that Trump represents, Democrats must not only resist the destruction wrought by his administration, but also—and more importantly—push forward with progressive action. Participants agreed that in order to move forward successfully, we must elect more women representatives, support better voter education, and define our goals as Democrats in a clear, positive way.
Thanks to a presentation on "women to watch," participants were energized with a long list of trailblazing women running for office this November, and it ended with speculation on female presidential candidates for the 2020 election including Elizabeth Warren, Kamala Harris, and Kirsten Gillibrand. Currently, women comprise only 20% of Congress, and while women turn out to vote in much higher rates than men, the Center for American Women in Politics reports than only 63% of eligible women voters cast ballots in the 2016 federal election. Hopefully, women and members of other marginalized groups claiming a more proportional chunk of elected offices will encourage eligible voters of all genders to head to the polls.
The final two sessions of the day asked participants to rethink commonly used phrases like "equal pay for equal work," "the right to choose," and "#MeToo" in order to rebrand our messaging. As one speaker pointed out, Republicans do a better job of marketing their messages to make emotional appeals while Democrats tend to over-rationalize. The last presentation of the day challenged participants to consider reframing our political dialogue. Democrats have fallen into the habit of allowing Republican leaders to define the discourse, creating our terminology in response to theirs rather than establishing our own, and then building a platform in opposition to Republican efforts rather than in the pursuit of Democratic ideals. In other words, we were reminded that we need to stand for something not just against something.
After a day of re-examining and celebrating the cross-sectional connections that unite us as women, Democrats, and Americans, we continued our atmosphere of kinship with a big, family-style meal at a local Indian restaurant. Refueled and refocused, our minds are looking forward.
The following books were recommended as essential reading for activists during the workshop:
The Righteous Mind by Jonathan Haidt
The Little Blue Book by George Lakoff and Elizabeth Wehling
Your Brain's Politics by George Lakoff and Elizabeth Wehling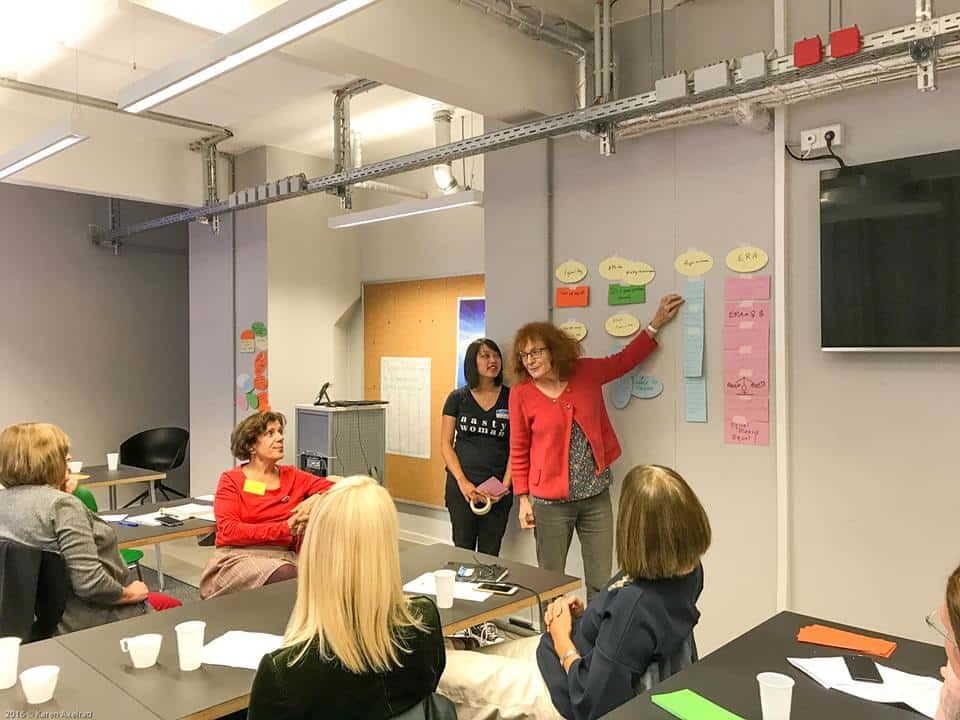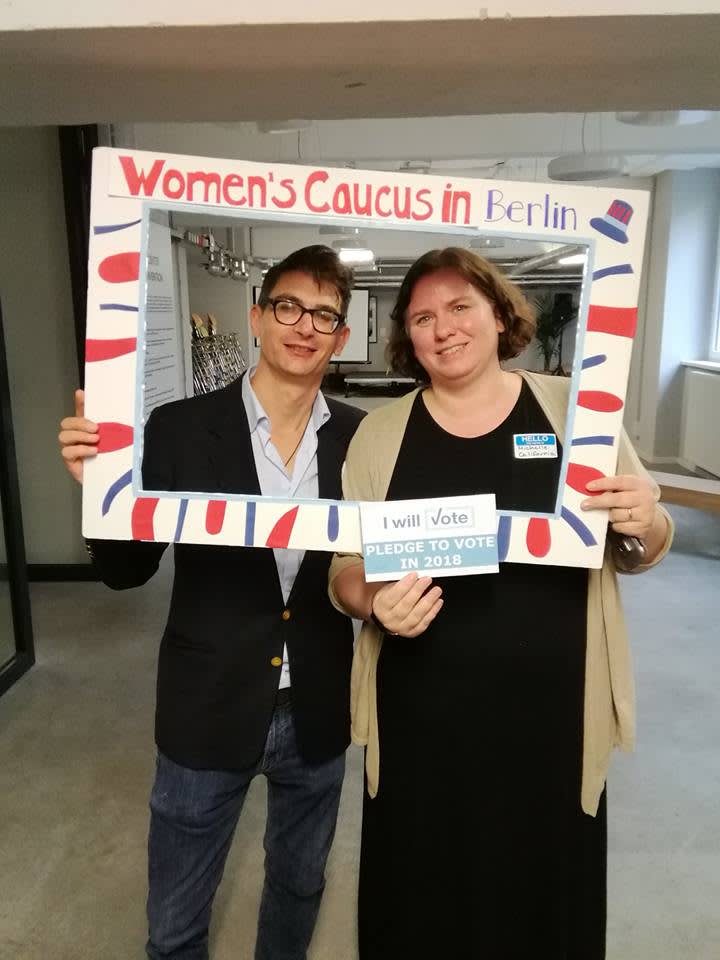 read more
As we wrote these words, we were riveted to the Kavanaugh hearings. The brave and unforgettable testimony of Dr. Christine Blasey Ford has given us all courage and has strengthened our resolve to push even harder in these last weeks before the election. We salute her and thank her for speaking up for the millions of women who have been too afraid to come forward with their own stories of sexual assault.
We can best honor her courage and sense of civic responsibility by voting in this crucial election, and by encouraging our friends to vote too! If you have not requested your ballot, there is still time. You can request your ballot for the November elections at https://www.votefromabroad.org/. If you are registered to vote and you have not received your ballot yet, you will need to request your ballot to get it.
We're almost there!
read more
See all posts
---
Upcoming Events
Tuesday, October 16, 2018 at 02:00 PM · 80 rsvps
Learn about the Equal Rights Amendment – first introduced in 1923 – and how you can help.
Please join us on Tuesday October 16 @ 2PM EDT for the kickoff meeting for the Global Women's Caucus Equal Rights Amendment (ERA) project.
Kamala Lopez, the executive director of Equal Means Equal, will be sharing information about the history and the current status of the ERA along with what needs to be done.
Men were granted rights in the Constitution in 1776. Women are still waiting for the amendment to grant them equal rights. We are one state short of the 38 states needed to ratify the amendment.
RSVP below to reserve a spot for the webinar which will be both informative as well as a call to action.
If you have questions you would like asked during the call, please send via email before October 10, to shari_temple+era@democratsabroad.org.
Check out the DA Wiki for more information on the ERA: (https://wiki.democratsabroad.org/display/ERA )
BOOKS ABROAD, A global feminist reading group, conducted on Webex with you right in front of your own computer screen!
FEMINIST STORYTELLING: BOOKS ABROAD READS REBECCA SOLNIT
At this meeting, we'll be discussing Rebecca's Solnit's book The Mother of All Questions, a collection of essays centered around feminist storytelling. Solnit, a California native and lifelong activist, is credited with inspiring the term "mansplaining" in a 2008 essay titled, "Men Explain Things to Me," which later became a book published in 2014. The Mother of All Questions is a follow-up to that book in which Solnit further unpacks cultural misogyny and the power of a woman's story.
You can find the book easily on Amazon.
As a prominent writer in literary feminism, Solnit is both praised for her wide-ranging thematic coverage and criticized as a figurehead at the forefront of "pop feminism." Please join us as we dive into Solnit's lyrical storytelling style, debate what its means to be a "valid feminist," and discuss the ways in which we can amplify women's voices. 
We will send you the Webex link and explanations for calling in when you RSVP.  
Try it!  It's fun and interesting.
Please join us as we dive into Solnit's lyrical storytelling style and discuss the ways in which we can amplify women's voices.
RSVP below to get the link