DA Women's Caucus Leadership:
Salli Swartz
| DAF Vice Chair, Global Women's Caucus Co-Chair
Ann Hesse
| Stuttgart Chapter Chair, Germany; Global Women's Caucus Co-Chair
See all Leaders
---
News
A Letter from our Co-Chairs,
Carol Moore and Lan Wu
Our monthly meeting on November 15th was inspiring, with over 35 members joining us for a talk by Dr. Ronda Zelezny-Green on Intersectionality, followed by two workshops led by Ronda and DAUK WC Vice-Chair Kate van Dermark. That triggered extensive discussion and great ideas on how to move forward in 2018! In December, we will have a social gathering on the 13th, followed by the January 21st Anniversary of the Women's Marches (in DC, London, and worldwide), and there will be a DAUK WC activist "faire" called "March to the Ballot Box 2018"! So, we hope you all can join us for the chance to mingle and plan for activism (from the UK or when you're back in the States) to take back Congress next November!
Wasn't the November 7th Election Night a fantastic event? It was a combination of grassroots activism and an expanded number of Democratic candidates that resulted in the impressive wins in Virginia, New Jersey, and across the country. Women were out in force, with Northam winning the women's vote by a majority of 22%. Also, in Virginia, 11 of the 15 seats Democrats have (so far) picked up were women candidates (one remain contested) and one Democratic candidate, Danica Roem, is transgender. Women also won mayoral races in Manchester (NH), Charlotte (NC), Topeka (KS), and Seattle (WA).
And women are coming out in force to run in 2018. We heard from Stephanie Schriock (President of EMILY's List) at her talk on November 2nd that over 18,000 Democratic women have contacted EMILY's List to ask for information on running next November! Several political commentators are calling the November 7th election the start of a Democratic wave, combining Trump's record-low approval ratings (November 12-15 Gallup Poll gave Trump only a 38% approval rating) with high levels of Democratic activism and high Democratic scores in "generic" Congressional polls (+10%). We can be quietly optimistic, but need to prepare for hard work and commitment to convert these positive trends into success!
With best wishes to you and your families for a very happy holiday season,
Have a look at our Facebook page and website for updates on activism ideas!

Carol Moore and Lan Wu
Co-Chairs
read more
Looking for a unique holiday gift with real world impact?
The 2018 Global Women's Caucus Calendar is now available! Take a look!
These high-quality calendars celebrating women's firsts, make wonderful Holiday gifts for American daughters, nieces, sisters , friends. and even yourself!
Order here:   https://democratsabroad.nationbuilder.com/gwc_2018_calendar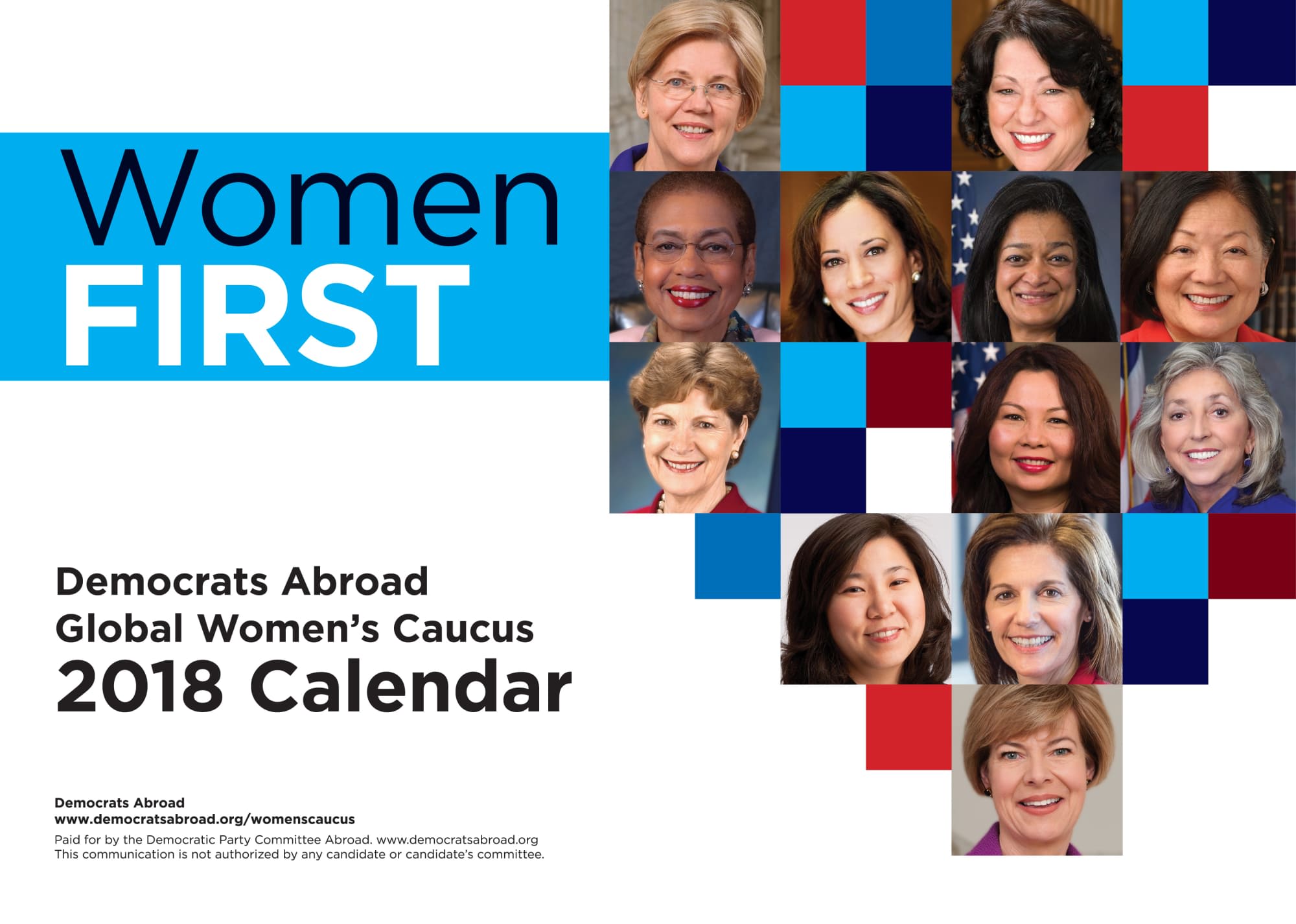 read more
See all posts
---
Upcoming Events
Saturday, January 20, 2018 at 10:00 AM through January 22, 2018
March to the Ballot Box!
On the first day of the Trump Administration, the Women's March on Washington sent a bold message seen and heard around the world.
The Democrats Abroad Global Women's Caucus and DA groups across the globe are organizing celebrations and voter registration/membership drives throughout the entire anniversary weekend of January 20-21, 2018.
The purpose of these events is to rekindle the excitement and confidence that the 2017 Women's March generated and channel that energy to voting in the 2018 Mid-term Elections.  These events will help turn marchers and resisters into voters and members!
Our message is "keep marching to the ballot box!"
Our mood is celebratory, defiant, constructive, and positive.
Join us  as we participate in  commemorative events around the world and set the tone for resistance in this all important election year!
Follow these links for some great ideas on how to prepare for your event:
A really simple loom-knitted hat
The quickest: a fabric hat to sew up
Check our GWC Wiki for even more ideas
Watch this place for updates on events!
Sunday, January 21, 2018 at 10:30 AM · 1 rsvp
On January 21, 2018, thousands of women, femmes and allies will come together in Las Vegas, Nevada, to celebrate the one-year anniversary of the Women's March and to launch our collective 2018 Women's March agenda: #PowerToThe Polls.
We in Shanghai, CHINA are organizing a 2018 Absentee Ballot Request and Voter Registration Driveon Sunday January 21 for the Women's March anniversary weekend. 
From the Women's March to the Women's Convention, we've seen how powerful we are when we gather together, share space and lift each other up. While the official Women's March anniversary event will take place in Nevada, Women's March Chapters are organizing exciting state-specific anniversary events throughout the anniversary weekend, from marches to legislative actions to community events to voter registration drives.

Together, we will show this administration that women are not backing down.

Join Democrats Abroad China in Shanghai for the first anniversary of the Women's March.