EXTRA! EXTRA!  The GWC turns 30 this year!
For those of you who missed the 30th Anniversary Celebration, click here to read all about it, watch the recording, and read the notes.
---
The Democrats Abroad Global Women's Caucus is appalled by the majority Supreme Court opinion overturning 50 years of history which granted women the right to control their own bodies and reproductive freedom.
This will drastically change the landscape of women's rights and reproductive justice, for all women and particularly those poor and minority women who  live in the 26 + States which already prohibit or drastically restrict abortion. Currently more than 26 States restrict abortion, 13 have trigger laws which will now ban it totally and 9 states have bills which want to amend their state constitutions to outlaw abortion. And there are over 400 bills in State legislations obliviating our rights.
Yes there are safe havens for women who can afford the time and have the money to travel to such states. But the Republicans are fast on the move: they are in the process of making it illegal to use medical abortion and travelling to safe havens to obtain abortions. And there is talk of the Republicans trying to legislate a Federal law to ban all abortions.
They are pushing us back into the 19th century:  barefoot and pregnant.
We must gather our strength and get voters registered. And we need to do it RIGHT NOW. We no longer have any choices.
WOMEN: We must register to vote, participate in Democrats Abroad GET OUT THE VOTE efforts to register voters and join forces with the forces of good.
---
---
News
Letter from the Editor
Dear Member,
Today we celebrate Equality Day, and the anniversary of the 19th Amendment to the United States Constitution that prohibits States and the Federal Government from denying the right to vote on the basis of sex. The struggle for this right was not won by all at the time of ratification, and is under threat today. The Global Women's Caucus is asking you to join us in commemorating and celebrating this struggle by helping to mobilize our base for the '22 midterms so that we can exercise our right to vote. With nearly 9 million Americans living abroad, we have the power to make impactful and lasting changes this election. As the Republicans pursue tactics to undermine the democratic practice of free and fair elections, we will fight back by voting in numbers and sending the loud and clear message that we will not, and cannot be quieted!
November marks the pivotal moment in deciding our future. We have the chance to ensure that pro-choice and pro-equality candidates win their seats, and WE NEED YOU! First, we need you to register to vote in your State to receive your absentee ballot here. Then we need you to help us Get Out the Vote, by contacting everyone you know who is eligible to vote and making sure they are ready to cast their ballot as well. Lastly, please help our efforts by checking out our GOTV Equality toolkit here. With your help, we can win in November!
We hope you enjoy this special edition filled with voting information, events, and stories of motivation from our leaders and members!
Stayce Camparo, Communications Co-director, Global Women's Caucus
read more
Letter from the Editor
Dear Member,
This is not lightly stated: the Republican party is blatantly pursuing an agenda to strip the rights and freedoms from women, LGBTQ+ individuals, and our youth. They have succeeded in the establishment of a conservative Supreme Court that is threatening the long fought-for protections of equality and rights. They are pursuing tactics that undermine the democratic practice of free and fair elections. They are doing this without full representation of the people and they are not heeding our cry!
We find ourselves at a pivotal moment in the course of deciding our future. The Global Women's Caucus is preparing to mobilize our members to make sure we Get Out the Vote in November for the midterms. We have the chance to ensure that pro-choice and pro-equality candidates win their seats, and WE NEED YOU! 
As the GWC continues to grow, we need your help. Join our team for this very important midterm year. Consider volunteering with us, help friends and family register to vote, or donate! Make sure you're registered to vote in 2022 here!
We hope you enjoy this edition, and we look forward to seeing you at our events!
Stayce Camparo, Communications Co-director, Global Women's Caucus
read more
See all posts
---
Upcoming Events
Friday, October 07, 2022 at 08:00 PM Tokyo Time · 11 rsvps
Join the Women's Wave: We're Fighting for Our Freedom.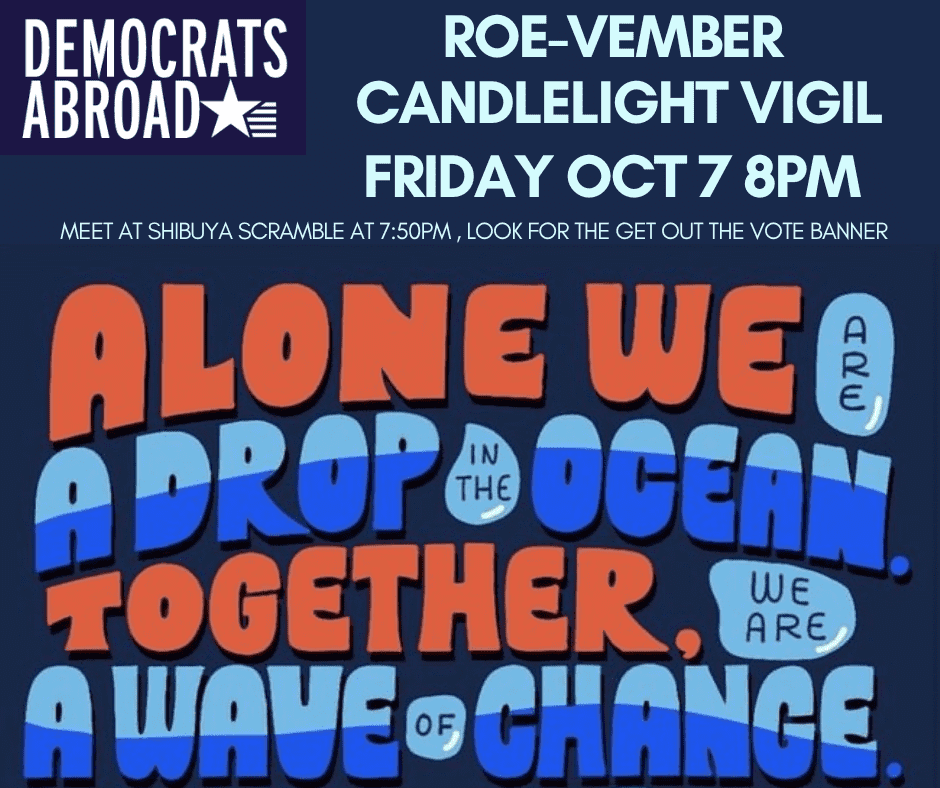 Join DAJapan as we gather with people across the US and around the world for a National Weekend of Action, October 7-9, 2022. Just 1 month before the elections, we must energize voters across the globe. Too much is on the line. 
On the November 8 elections
- abortion is on the line
- privacy is on the line
-  healthcare is on the line
- women's rights are on the line
- women's lives are on the line
Roe-Vember Candle light vigil 
Friday Oct 7 8pm Shibuya Scramble 
Assemble at 7:50pm - Look for the Vote from Abroad Banner
Welcome and open comments at 8pm 
LED candles only - no live flames 

A limited number of LED candles will be available
Bring your own signs with messages like 
Abortion is healthcare

My body my choice 

Roe Roe Roe, the Vote

Reproductive Justice is Racial Justice

Protect Privacy and Marriage Equality
MEET CALIFORNIA SWING DISTRICT CANDIDATES!
The road to victory in 2022 runs through CA thanks to these competitive but winnable districts!
Special Guest - Representative Katie Porter!
California needs your help!  

Our mostly blue state still has many purple and red districts that we must flip. In 2020, we lost one district by 333 votes. We are not going to let that happen again! All roads to victory in the House of Representatives go through California, and we are determined to win them all! Your vote, as a Californian, has never been so important.

The Golden State is leading the way in expanded abortion access, common sense gun laws, cleaner environment, combating wildfires, and much more. These big tent districts with diverse communities demonstrate that, together, we can make our dreams for California, and the United States, a reality.

For Part 2 of our California Dreaming series, we are proud to feature:
Jay Chen - CA 45
Kermit Jones - CA 03
Rep. Katie Porter - CA 47
Will Rollins - CA 41
Join the DA Californians Abroad State Team for our Congressional District Series:
Date: Saturday, October 8th 
Time: 8am PDT / 11am EDT/ 5pm CEST
RSVP for the Zoom link!
You can also join our CA team to help pave the way to the Midterms!