Elimination Violence Against Women
In Recognition of the International Day for the Elimination of Violence Against Women, The Women Safe Abroad Project of the GWC Violence Against Women Team will conduct a very special interview with the leaders of Pathways to Safety, the only organization created specifically to support US victims of violence while living, traveling or working abroad. Violence against women and girls is a persistent pandemic that often remains silenced and in the shadows. The International Day for the Elimination of Violence Against Women is a day of awareness and action. We urge you to participate in the 16 days of activism developed by UN WOmen and join the GWC and Pathways to Safety event. 
Sign the Petition
When Virginia became the 38th state to ratify the ERA on January 27, 2020, all constitutional requirements for the ERA to become the 28th Amendment to the U.S. Constitution were satisfied. Yet, the ERA has not been published by the Archivist, who is deferring to the opinion issued by the previous Administration's Office of Legal Counsel. The GWC is urging Attorney General Merrick Garland to take the immediate action of directing his newly confirmed Director of the Office of Legal Counsel, Christopher Schroeder, to withdraw the January 6, 2020 opinion memo from the Attorney General Barr Department of Justice. Please sign the ERA Coalition's public petition to the Attorney General, asking him to correct this error and let history be made.
---
---
News
Letter from the Editor
As we welcome yet another year, and hope that this new year brings more fortune, let's not forget our strength and resolution as Democrats. We must not lose sight of the progress we've made, even in light of sideways, or even some backwards, steps. We are moving forward! -- and the Global Women's Caucus is resolute on maintaining that movement. 
2022 is another important election year. As you read the GWC Newsletter, we hope you will be encouraged and encourage others to VOTE. Be sure to request your ballot at https://www.votefromabroad.org/. It's recommended to request your ballot every year. For those of you voting in Texas, the first primary is March 1st. Your vote matters.
The GWC is growing, and we need your help. Join our team for this very important midterm year. Consider volunteering with us, help friends and family register to vote, or donate! It's the new year, so make sure you're registered to vote here!
We hope you enjoy this edition, and we look forward to seeing you at our events!
Stayce Camparo, Communications Co-director, Global Women's Caucus
Over 10,000 members and growing! Join us
read more
Letter from the Editor
There is not a day that goes by that the Global Women's Caucus is not aware of the immense threats to the rights of women and girls all over the world, however the ability to act on every development, or appreciate every advance, is difficult to do. Awareness doesn't always involve an act, per se, but rather also a clear intention to be well informed. By gathering information from reputable sources and understanding how to express that information, we can all be warriors against mis and disinformation. As we celebrate holidays, once again in person with our loved ones, the GWC invites you to practice awareness as we both recognize the threats to women all over the world and discuss ways to alleviate these threats.
This GWC newsletter is taking on a different look to accommodate our growing caucus, but some elements still remain. Check out our Artist's Corner and read ERA excerpts written by our members.
We hope you enjoy this edition, and we look forward to seeing you at our events!
Stayce Camparo, Communications Co-director, Global Women's Caucus
Over 10,000 members and growing! Join us
read more
See all posts
---
Upcoming Events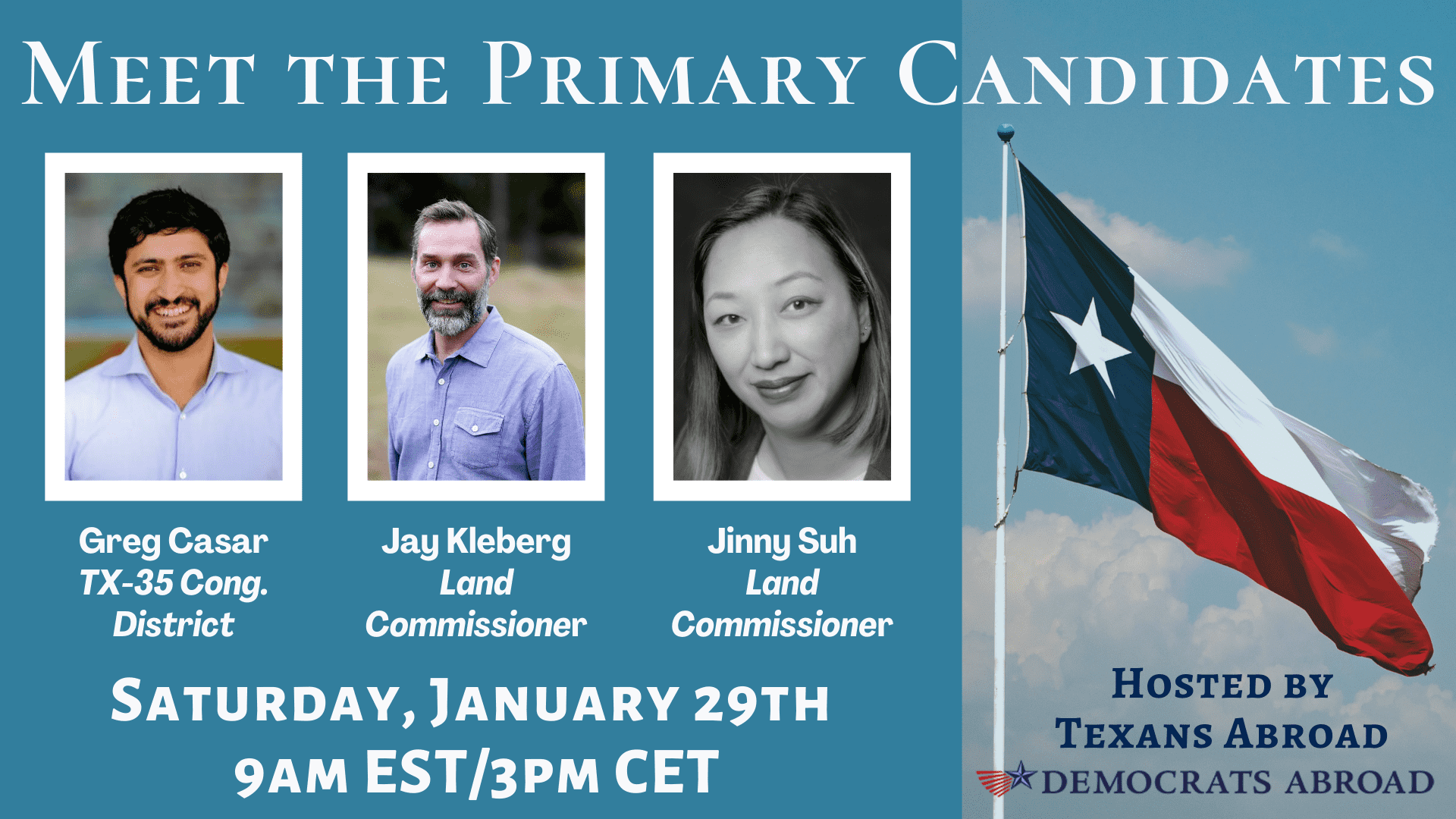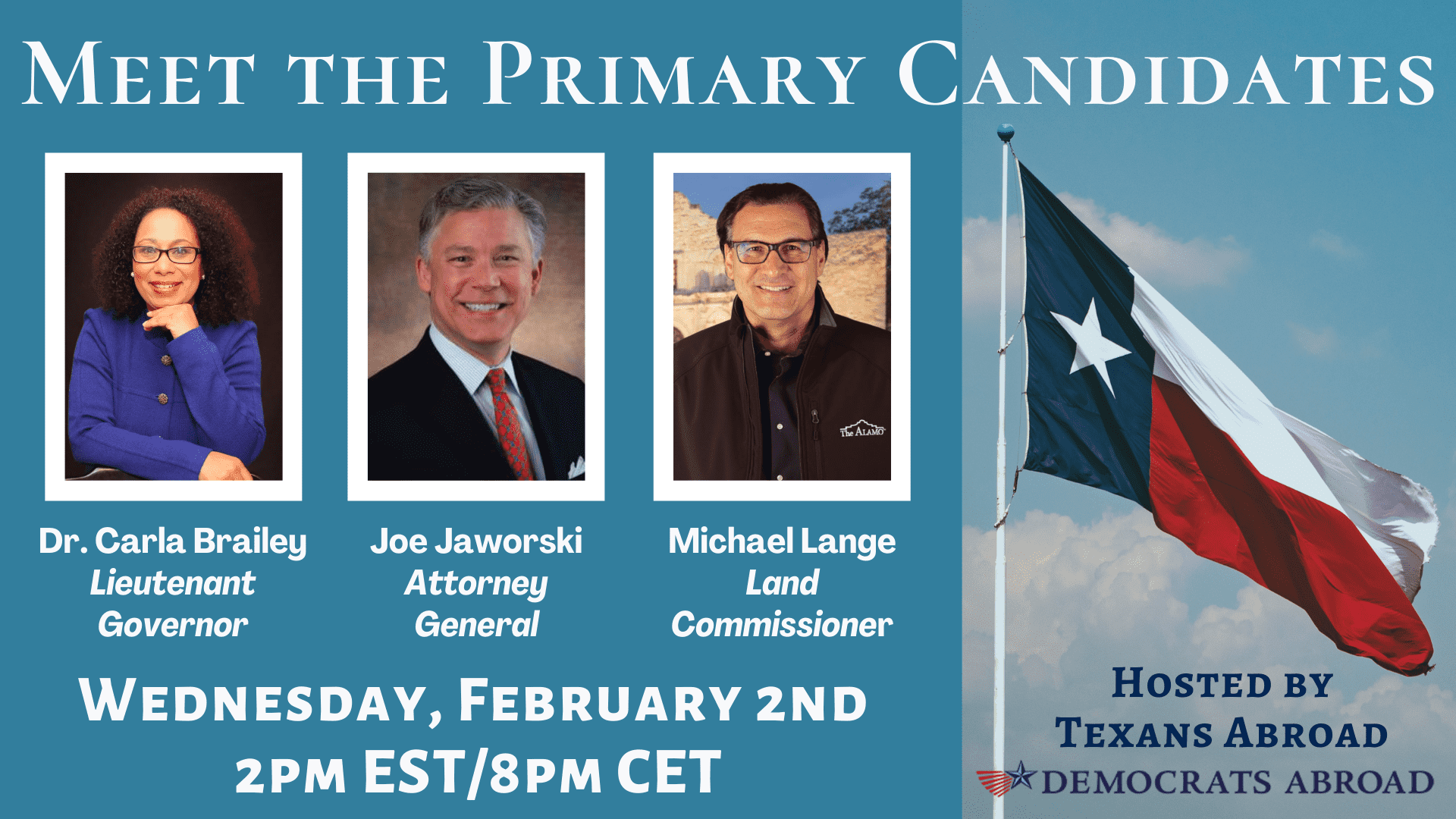 Join Texans Abroad for our Meet the Primary Candidates* panel discussion series to hear from some of the candidates for:
Lieutenant Governor
Attorney General
Land Commissioner
TX-35 Congressional District.
This event is your chance to hear the Democratic candidates share their backgrounds, key issues and their vision for the state. There will also be time for a Q&A session with an opportunity for attendees to ask questions. 
The event is being co-sponsored by the Democrats Abroad Progressive Caucus, Global Black Caucus, Hispanic Caucus and Global Women's Caucus.
WHEN:
Saturday, January 29th

8 am Central / 3pm CET / 10pm HKT

Wednesday, February 2nd

1 pm Central / 8pm CET / 11am PST
Texas Primary Ballots have already started going out! Request yours TODAY if you haven't already at www.votefromabroad.org! See our TX Voting Guide for more information.
RSVP for the Zoom link - same link for both events! Write to [email protected] with any questions.
*Democrats Abroad has not endorsed any candidate(s) and is committed to remaining neutral for the duration of the primary. All candidates for the above races were invited to speak at our events.
Monday, February 21, 2022 at 12:00 PM Eastern Time (US & Canada) · 1 rsvp
RSVP to receive Zoom link
Violence Against Women (VAW) Task Force: Call for Volunteers!
We are currently looking for motivated team players to join our Violence Against Women research project. Our project provides tactical, practical information to American women overseas who find themselves in violent situations. Our efforts also go towards advocating for legislation stateside.
We're looking for a minimum 3 month commitment, a passion for this cause, and people who are team players.
RSVP to join one of our upcoming Zoom calls and learn more.