---
News
Editorial: Support democracy by voting for Democrats
by Fred Kuhr, editor
January 6, 2022, marked a dark day in American history — the first anniversary of the Trump-backed Insurrection and invasion of the U.S. Capitol. Many Democrats — and only a handful of Republicans — marked the occasion solemnly and honestly.
The disgraced, twice-impeached former president, who continues to promulgate the Big Lie that the 2020 election was "stolen" from him, marked the anniversary just as one would expect, by sending out a press release (since he can't tweet) filled with misinformation.
New reporting has also showed that anti-LGBTQ+ ideology was running rampant at the Insurrection. Among those who have been charged so far for their participation in the riot is a slew of leaders in the anti-LGBTQ+ movement. They include Owen Shorter, a host of Alex Jones' InfoWars; Mark Sahady, vice president of the far-right group Super Happy Fun America; Gina Michelle Bisignano, best known for shouting anti-gay slurs at an anti-mask protest; Suzanne Ianni, operations director of Super Happy Fun America; and Kevin Tuck, an anti-LGBTQ+ YouTuber.
On the side of the Democrats and "future former Republicans," to borrow a phrase from Transportation Secretary Pete Buttigieg, are people like David Cicilline, the openly gay congressman from Rhode Island who was an impeachment manager during the former president's second impeachment trial.
In an interview with The Hill, Cicilline recounts what it was like to work in Congress during the Insurrection and how it inspired him to start working on the second impeachment. He said that California Congressman Ted Lieu "came into my office because he had been evacuated from his office building." As they watched the violence on TV, they started "writing what the articles of impeachment would actually look like."
During the impeachment trial, Cicilline said, "The president of the United States sided with the insurrectionists. He celebrated their cause. He validated their attack." And while many Republican legislators on that day said the former president was responsible, they have backtracked out of fear — placing partisanship and power over democracy and peace.
The differences between the two political parties has never been starker. Please keep that in mind as you register to vote in this year's elections. Democracy hangs in the balance.
(Let us know what you think about anything you read in the Newsletter. Or let us know if there's something we should cover. Email us your feedback to [email protected].)
read more
Editorial: Get ready to vote like your rights depend on it
by Fred Kuhr, editor
If no other lesson is learned from the recent U.S. Supreme Court hearing on the Mississippi abortion case known formally as Dobbs v. Jackson, it's that elections have consequences.
This is something Republicans have known for a long time now. Even during the Trump era, many conservatives were willing to overlook a laundry list of anti-democratic moves and statements — as well as a whole host of other issues and problems too long to rehash here — just because it meant getting Supreme Court nominees that would side with them.
And now it looks like the Court is in a position to either severely hamper or simply overturn Roe v. Wade, a decision that has ensured safe and legal abortion rights for almost 50 years.
Make no mistake, if that right can be taken away by the country's highest court, so could other rights such as marriage equality and sexual freedom, issues that, like abortion, fall under the U.S. Constitution's guarantees of personal privacy.
So, with midterm elections coming up in 2022, the need for progressive, liberal, center-left and centrist voters to support Democratic candidates at all levels of government has never been greater. If we lose the Senate, President Biden will never be able to get another judicial nominee through.
The previous president made a mess of things, even violently radicalizing a segment of the electorate. The only way to reverse the damage before it gets any worse is to strengthen the hand of Democrats.
Plan now to request your ballot from your home state in 2022, and vote like your rights depend on it — because they do.
(Let us know what you think about anything you read in the Newsletter. Or let us know if there's something we should cover. Email us your feedback to [email protected].)
read more
See all posts
---
Upcoming Events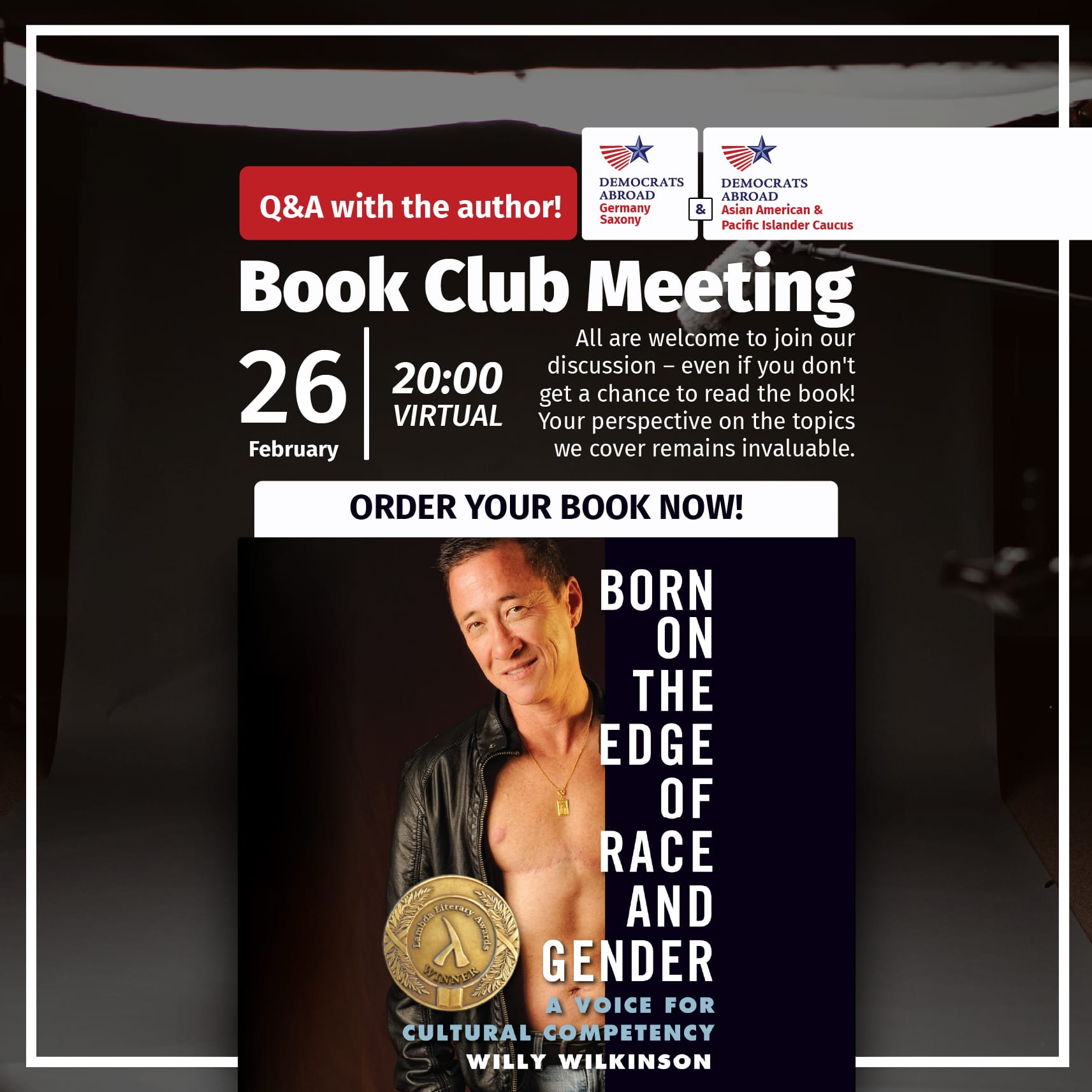 Join us on February 26th for a book club discussion of Born on the Edge of Race and Gender: A Voice for Cultural Competency with author Willy Wilkinson! Signed books for people living in continental Europe cost €17,70 ($20) plus a variable shipping fee under 3 euros and can be pre-ordered until January 1st, 2022 by sending an email to [email protected]
We look forward to seeing you there!
Willy Wilkinson, MPH is an award-winning transgender writer and public health consultant who has been advocating for marginalized populations since the early days of the HIV/AIDS pandemic. A dynamic and engaging speaker who is recognized widely for his expertise in transgender issues, he has provided training and consultation services for hundreds of community health organizations, educational institutions, businesses, and other entities on how to provide affirming services or LGBTQ populations. Willy's book Born on the Edge of Race and Gender: A Voice for Cultural Competency (winner of the 2016 Lambda Literary Award in transgender non-fiction) blends his intersectional experiences of race, gender, sexuality, disability, class, and parenthood with lessons from the fields of cultural competency, public health, and policy advocacy.