---
News
"I started off in Democratic politics a long, long time ago," Daniel James explains. "I worked for a member of the U.S. House of Representatives and started working on campaigns," serving on "three House campaigns and a Senate campaign." James' 34-year career in the federal government then shifted toward more non-partisan work.
But even after his retirement in 2019, James carefully considers and consults before jumping in as an activist in the partisan arena. Of course, this has not prevented him from being actively involved, and like many others, James has felt even more compelled to act in the current political climate.
read more
At the 2021 Democratic Party Committee Abroad (DPCA) Annual Global Meeting (May 14-16), the Resolution To Condemn Recent Anti-Transgender Legislation and to Support Passage of the Equality Act, proposed by Austin Allaire (DA UK) and Brian Westley (DA UK), was adopted. It states:
Whereas 16 anti-LGBTQ laws have been enacted since the beginning of 2021; and
Whereas recent legislation passed in the state of Arkansas serves as a case study of the perils of such laws; and
Whereas, on April 2, 2021, Republicans in the Arkansas General Assembly voted to override Governor Asa Hutchinson's veto to enact the Save Adolescents From Experimentation (SAFE) Act; and
Whereas this law bans gender-confirming surgery for anyone under 18 and prohibits doctors from providing transgender youth with puberty blockers or hormone therapy; and
read more
See all posts
---
Upcoming Events
Wednesday, June 16, 2021 at 08:30 AM Eastern Time (US & Canada) · 248 rsvps
Zoom
RSVP Below to get the meeting link!
Join us as we speak with Senator Tammy Baldwin, a leading co-sponsor of the Equality Act, about the bill and what steps we can take as Americans abroad to ensure its passage. 
"There will not be a magic day when we wake up and it's now OK to express ourselves publicly. We must make  that day ourselves, by speaking out publicly -- first in small numbers, then in greater numbers, until it's simply the way things are and no one thinks twice. Never doubt that we will create this world, because, my friends, we are fortunate to live in a democracy, and in a democracy, we decide what's possible."
-- Tammy Baldwin
Senator Tammy Baldwin is the junior US Senator from Wisconsin. A member of the Democratic Party she served three terms in the Wisconsin State Assembly representing the 78th district, and from 1999 to 2013 represented Wisconsin's 2nd congressional district in the US House of Representatives. 
In 1998, Baldwin was elected as the state's first female member of Congress and the nation's first openly gay challenger sent to Congress. In 2012, Baldwin became the first woman from Wisconsin to serve in the Senate and the first openly-LGBTQ senator ever elected. Senator Baldwin was re-elected in 2018 by a near historic margin of nearly 11%. 

In the Senate, Baldwin has worked closely with the Wisconsin business community to build a Made in Wisconsin economy and drive economic growth. Baldwin has championed reforms for lowering costs and expanding access to health care, taking on Wall Street and the special interests that are calling the shots in Washington, and standing up for Wisconsin. 
Baldwin identifies as a progressive, and she has a consistently progressive voting record. She supports Medicare for All, LGBTQ rights, and gun control, and opposed the Iraq War.  Senator Baldwin is a leading co-sponsor of the Equality Act.
Even if you can't join our talk with Senator Baldwin, please support our 2021 and 2022 Get Out the Vote campaign by making a donation - large or small.

EVENT DETAILS
Date: June 16, 2021
Time: 8:30 am EDT (Washington)
13.30 BST (London)
14.30 CET (Paris)
21.30 JST (Tokyo)
22.30 AEST (Sydney)
RSVP to receive the Zoom link.
Sunday, June 20, 2021 at 11:30 AM Berlin Time · 1 rsvp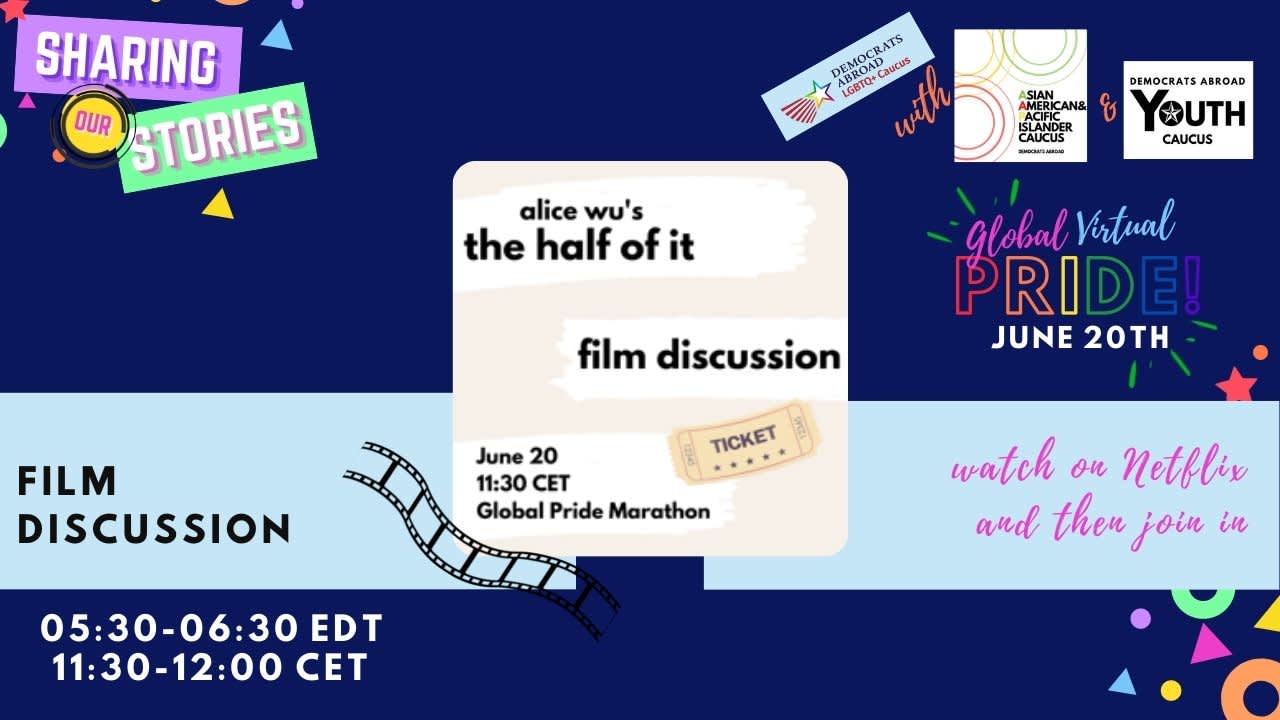 Join us and the Youth Caucus at DA's Virtual Pride Marathon to talk about Alice Wu's film The Half of It.
A Netflix original movie, The Half of It received rave reviews from critics and tells the story of teenage Ellie Chu, who writes letters to her crush on the behalf of her classmate Paul in a queer retelling of Cyrano de Bergerac. As Paul and Ellie's friendship grows, the film explores the isolation of the intersection of queer and immigrant identity as well as the meaning of friendship.
The film is available for streaming on Netflix.
This event is part of the Democrats Abroad LGBTQ+ Caucus' Global Virtual Pride Marathon. You can find the list of all the events on their main event page.