---
News
The main program of the National Democratic Convention has a small number of Latino leaders taking the floor. The Global Hispanic Caucus is disappointed by this decision. Amerika García-Grewal, chair of the Democrats Abroad Hispanic Caucus, explained that "This is a missed opportunity to inspire and mobilize Latinos whose votes are going to be crucial in these elections."
Latinos are the country's second largest racial or ethnic group, behind white non-Hispanics, reaching nearly 61 million in 2019. The 2020 election will mark the first time that Hispanics will be the largest minority group in the electorate, accounting for just over 13% of eligible voters – slightly more than the black community. According to research based on past elections and surveys conducted by research centers, in many States over half of Latinos are registered and unlikely to vote, or are not registered to vote. 
A powerful tool to inspire Latinos is seeing Latino political leaders speaking at major events; the Democratic Convention being one of them. It's true that most Latinos are fairly set in their vote choice; few are traditional swing voters. But Democrats should be concerned that an ambivalent voter could swing to the couch, reducing turnout.
According to recent research by the Pew Centre, Latinas are key to winning back the White House in 2020. They are far more likely to go out and vote. Yet, politicians need to speak to the issues that matter most to them and earn their trust before earning their vote.  Latinas are key influencers in their communities and can make resounding arguments to get family and friends to the polls. If the Democratic Party wants Latinas to help mobilize their community, the party needs to create a self-fulfilling prophecy around their decisive impact on the process. Higher representation of Latina speakers at the Convention is one way to help do that.
Latinos are key to Democrats re-taking the White House and Congress, they should play a more prominent role in the upcoming Convention. 
read more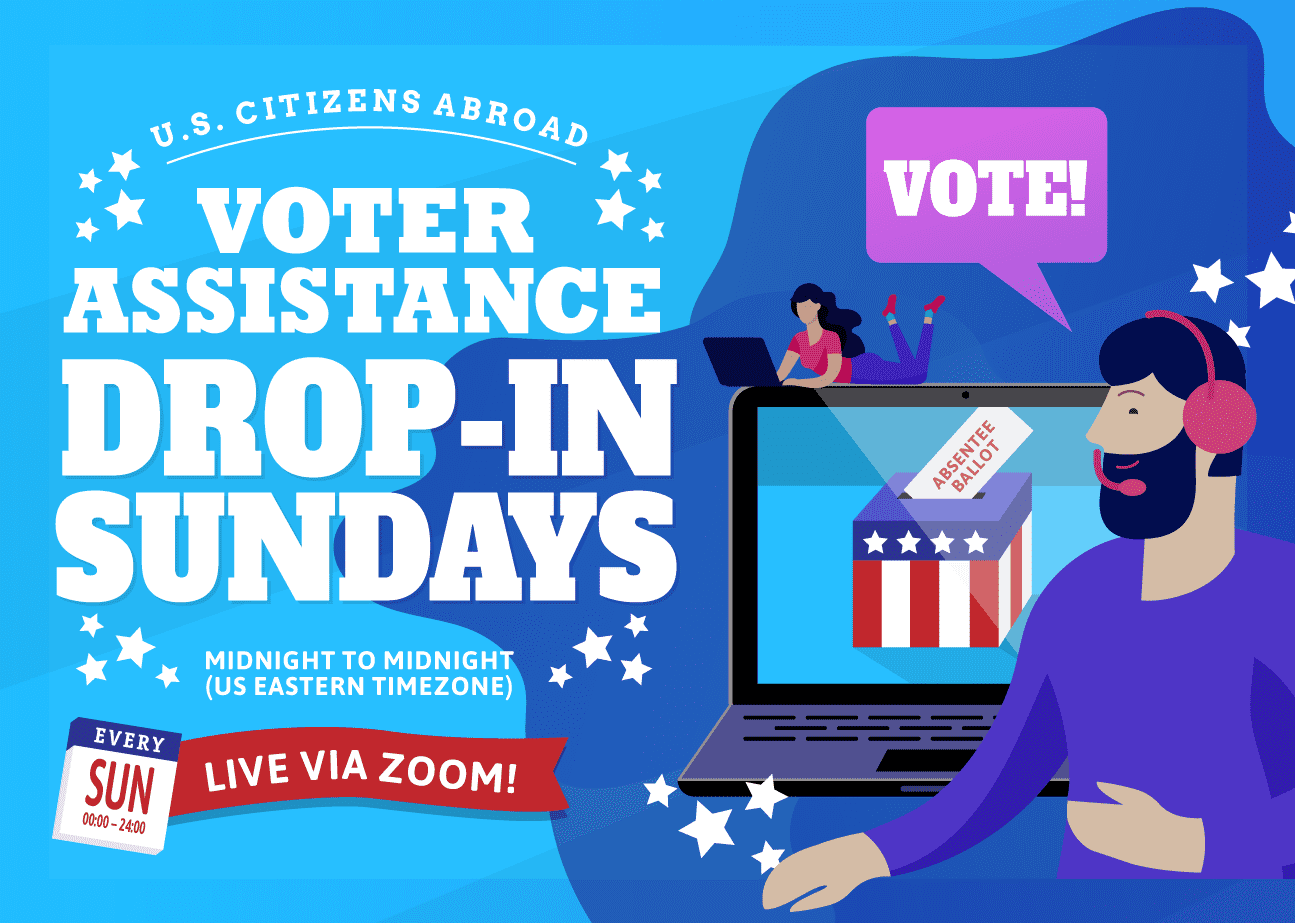 Did you know every eligible American living abroad can vote in U.S. elections this year? 
Do you have questions about how to vote? Click the chat bubble at the bottom of this screen and we'll help you find the answers.  
Starting July 26th, join us any Sunday till November from midnight to midnight Eastern time to talk to a volunteer LIVE on Zoom about questions you have about voting from abroad.
More information: The easiest way to request your ballot is at VoteFromAbroad.org. It takes just a few minutes to complete your form and send it in to the US state where you last lived. If you've never voted from abroad, the website will guide you step by step. In most cases it's pretty simple. But if you're new to overseas voting, or if you haven't done it in a while, you may have additional questions. That's why we'll be here every Sunday until election day to help.
If you can't make it any Sunday, you can always email us at helpdesk@votefromabroad.org or send in your question through our online help bubble, and a volunteer will get back to you promptly.
Click on a date to get specific details.
read more
See all posts
---
Upcoming Events
Thursday, September 24, 2020 at 01:00 PM Eastern Time (US & Canada) · 11 rsvps
Please join us for a discussion about the diversity within the Latino community and what that means for community organizers like us. We'll be touching on the role of the Latino vote and how it will affect
a) Keeping CA, NV, AZ, NM & CO within the Dem fold;
b) pushing TX to flip blue, either now or in the future; and
c) How and why the Hispanic vote in FL splits between democrat and republican, and how it's forecast to evolve.
In sum, an evaluation of the role of the Latin vote in the elections, now and in the future.
All members of DA are welcome to attend.
Friday, September 25, 2020 at 11:00 PM through September 26, 2020 at 12am Eastern Time (US & Canada) · 4 rsvps
Please join us for an update with the Hispanic Caucus members of Asia Pacific. All members of DA are welcome.