---
News
The elections are right around the corner, and here are some ways you can help us create a BLUE WAVE: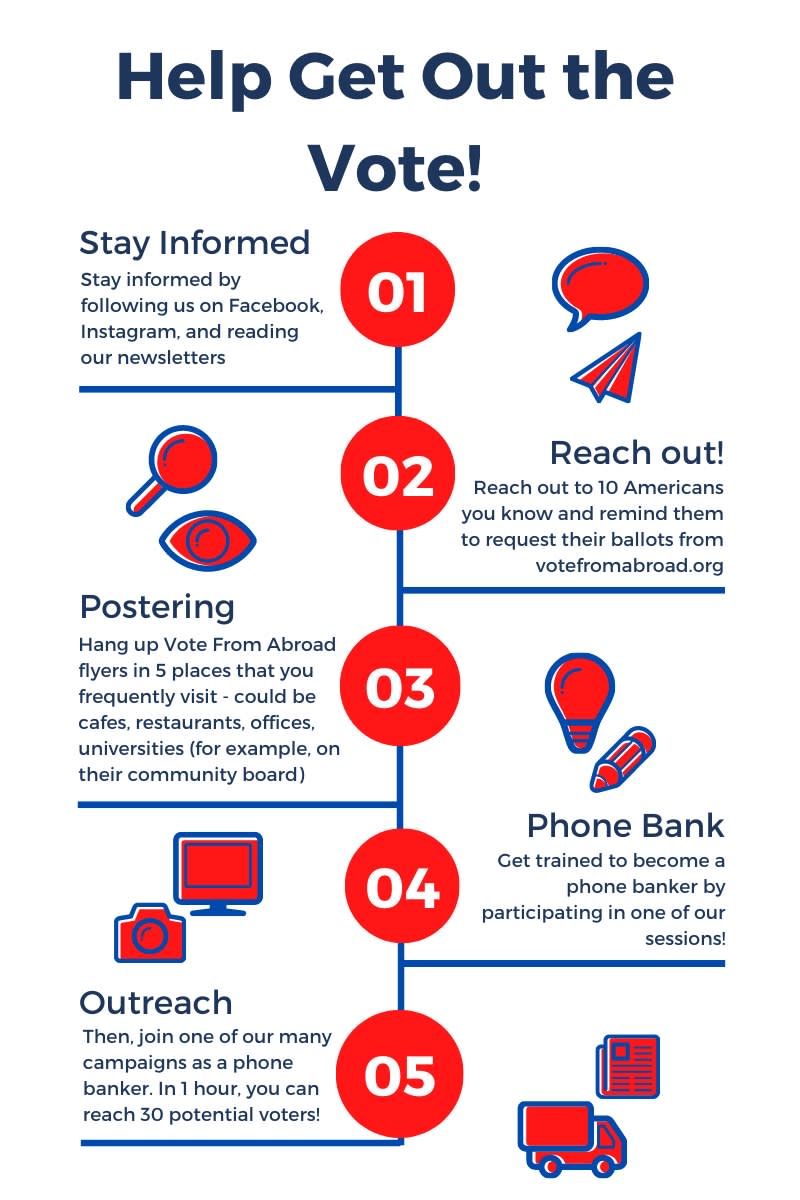 Stay informed by following us on social media (@DemsAbroadYouth)
Reach out to others to help them register and request their ballots
Hang up Vote From Abroad posters
Train to be a phone banker (its' easy!)
Then, join one of the many available phone banking outreach campaigns

If you want to help but don't have much free time, consider

making a donation here.
Re-share informational posts to help others learn how to vote
Create your own posts encouraging others to vote
Attend Democrats Abroad Global Youth Caucus events to get excited about the elections (here's one coming up soon)
Join other caucuses to get involved with other issues you care about 
Please contribute in any way you can—with your time, your voice, or with other resources. We can make a difference if we actively engage together.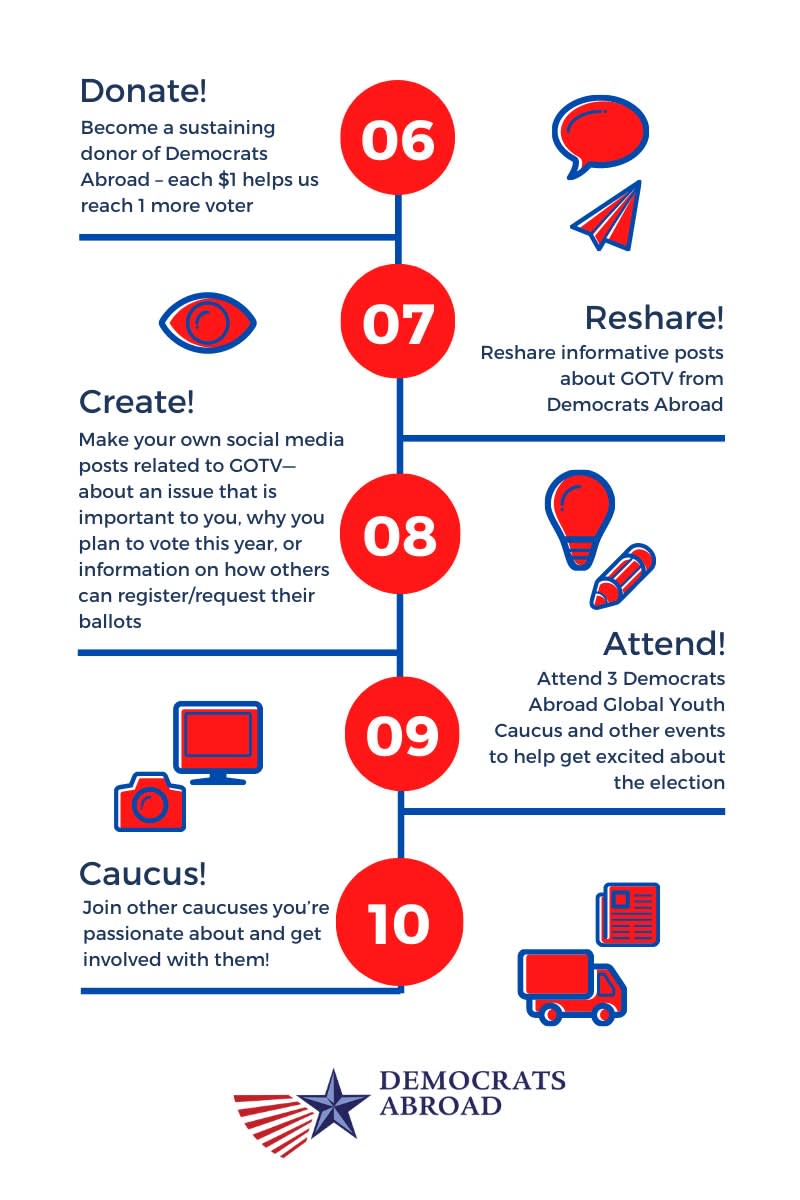 read more
When? August 8 and 15, 2020 – 09:00 to 21:00 CEST; 00:00-12:00 PDT; 03:00-15:00 EDT; 15:00-03:00 HKT
Where? Online via CallHub
Why?
As the GYC, we believe the voice of every eligible voter matters. Therefore, we want to increase voter participation from abroad to ensure victory in November!
What is it?
The GYC Call-a-Thon is a fundraising calling marathon. Our phonebankers will make as many calls as they can between 9am-9pm CEST on August, 8, 2020 to remind DA members to request their ballots. The GYC and callers will work together to secure sponsors to help us reach our calling goals and generously provide the funds we need to keep our voter outreach projects going strong through November!
How can YOU help?
First, please RSVP to the event. Then, use this form to let us know how many calls you will commit to making during the call-a-thon. In about 1 hour, a caller can make up to 30 calls – that is 30 potential voters reached!
We also ask you to find sponsors to donate money to support our efforts. You can share this link with your friends and family to secure pledges for your calling commitment. Your sponsors may donate whatever amount they would like! But remember, the more money we raise, the more voters we will reach! However, we understand this may be a difficult time for many people, so please only do what you can.
Please also share this event with other Democrats Abroad members and encourage them to join our effort!
If you are unable to participate in the call-a-thon, but would still like to donate money to assist us with our efforts, please do so here.
Never used Callhub or made calls before?
Sign up here for a Callhub Training event on August 5!  You'll get a complete walk through and hands on training on how to help DA Get Out The Vote!
read more
See all posts
---
Upcoming Events
Saturday, January 23, 2021 at 10:00 AM Eastern Time (US & Canada) · 284 rsvps
Zoom
"Now is when the real work begins. the hard work.  The necessary work.  the good work."
Vice President-Elect, Kamala Harris
On November 7th, 2020, Kamala Harris, the newly elected Vice President of the United States, stepped up on stage and began her acceptance speech by stating, "...that America's democracy is not guaranteed. It is only as strong as our willingness to fight for it, to guard it, and never take it for granted."
For the first time in many people's lifetime, this election has displayed that action makes change — that voices, when united, are loud. Therefore, the Global Women's Caucus of Democrats Abroad is accepting the torch that Vice President Kamala Harris has delivered to the people, and we are extending the responsibility of action to you.
Join us on January 23rd at 10 am EST (US and Canada) for a celebration of the newly inaugurated Biden-Harris administration, as we share our plans for the coming year and present the many and varied opportunities for volunteering that the Global Women's Caucus offers world-wide. Each of our Global Action Teams will give a short presentation on plans going forward and suggest ways that members can help out.
We will then move to smaller break out sessions where our leaders will answer your questions, explain how members can establish local women's caucus groups, and hear your own creative ideas for new ways our caucus might support our members and do the good work.
Now that we are putting four long years of backward movement behind us, we are looking forward to the opportunity to address the many issues still facing women in the United States and to advance an agenda which will benefit all. To do that we need to refine our goals and develop plans which will be informed, realistic and action-oriented, and we need your help.
We know you want to continue to be a part of the change that delivered Joe Biden and Kamala Harris to the White House. The real change will happen as the Biden-Harris administration begins, working with Nancy Pelosi and, we hope, a more productive Senate, to push their legislation in Congress. The Global Women's Caucus will be focused on making sure women remain central to American domestic and foreign policy, however we need volunteers to make that happen. We are a global network of action driven individuals, working together from all over the world. We need you to help build our movement stronger. We need you for the vital fight that is ahead.
Please RSVP below and join us for a fun and productive session!
Saturday, February 06, 2021 at 09:00 AM Berlin Time · 28 rsvps
Zoom-Online
The event is under construction but please feel free to RSVP. It's going to be a great event. Please RSVP to receive the Zoom link.