"I'm focused on pragmatic solutions to the challenges hardworking Iowans face. Together, we can make sure everyone has quality health care and education, and that Iowa's economy thrives in every part of the state, and I'm committed to getting the job done."
-Theresa Greenfield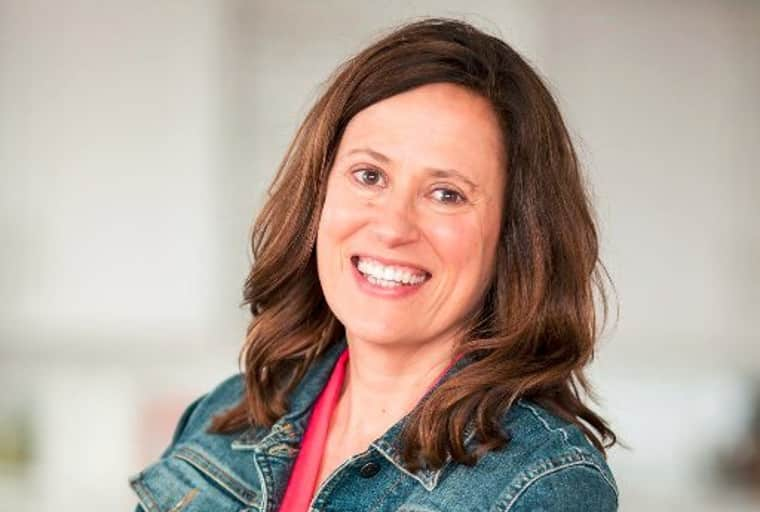 WHO IS SHE?
Theresa was raised on Greenfield farm. She and her four siblings helped run the family business. It was here Theresa first learned the importance of hard work and self-sufficiency. She also helped with the family crop-dusting business as a teenager. Theresa understands the hardship and trials farmers can experience, as the 1980s farm crisis hit while she was trying to put herself through college. In order to get her degree, Theresa worked multiple part-time jobs and utilized financial aid. 
When Theresa was expecting her second child, her husband was killed in an accident at his job as a union electrical worker. His untimely death left Theresa a young widow, now having to provide for her two sons by herself. Social Security survivor benefits helped her family avoid poverty and get back on their feet. She began working as an urban planner and went on to work in real estate and development in Iowa. She now leads one real estate development company as president. Determined to pay it forward, Theresa is dedicated to protecting Social Security from partisan attacks. 
Theresa now lives in Des Moines with her husband Steve and four children. One of her sons serves in the U.S. Army. 
How has your background inspired and equipped you to represent Iowans in Congress? 
Greenfield: "I'm in this race to put hard-working Iowans first. As a proud farm kid, I know the challenges hard-working families face. When my first husband died in an accident at his job as a union electrician, it was Social Security Survivor Benefits and hard-earned union benefits that got me back on my feet. 
I've also run a small business, gaining valuable experience signing paychecks, keeping the lights on and balancing budgets. Before that, I spent 14 years as a community planner, working hand-in-hand with local governments, and seeing firsthand how we can get things done when we work together."
WHAT IS SHE FIGHTING FOR?
What are the key voter concerns in your district, and how do you plan to address them?
Greenfield: "I'm fighting to protect and expand access to affordable, quality health care, create more good-paying jobs, and take urgent climate action that creates opportunities throughout Iowa.
To get this done, we need to get money out of our politics. I've pledged to not accept a dime of corporate PAC money and am proud to be endorsed by End Citizens United. I've also released a plan to end political corruption that calls for overturning Citizens United, banning dark money and corporate PACs, and enacting a lifetime ban on lobbying for all members of Congress."
Healthcare: Theresa is fighting for access to affordable healthcare; she supports strengthening the ACA, creating a public health insurance option, and bringing down the cost of copays and prescription drugs. She will also strengthen rural hospitals and health care options in underserved rural areas. Theresa is fighting to make sure that when our soldiers return home, they have access to the best healthcare our nation can provide. She also believes in funding Planned Parenthood, enabling women to make their own healthcare and reproductive decisions. 
Economy, Infrastructure, & Growing Rural Opportunity: Theresa supports a living wage, union rights, investing in our workforce and infrastructure, and fighting for women to have equal opportunities and equal pay for equal work. She also supports the USMCA due to the benefits it brings to Iowa farmers and businesses. A small business owner herself, she is committed to increasing access to capital and expanding export opportunities for entrepreneurs. Theresa will also invest in farmers by ending irresponsible tariff and unfair ethanol policies. Finally, Theresa will create a diverse and inclusive workplace by fighting for LGBT+ rights. 
Environment: Theresa is endorsed by the League of Conservation Voters Action Fund. She will advocate for clean energy jobs and strengthen environmental protection laws that are being attacked by special interests. She will also secure infrastructure funding in order to act against flooding in Iowa. 
Education: Theresa will fight to fully fund Pell grants and ensure our teachers have the compensation, resources, and respect they deserve, including the ability to unionize and collectively bargain. She also wants to expand public pre-kindergarten and invest in higher education and job training.
Public Safety: Theresa will fight to keep our communities safe. She supports expanding background checks, funding critical gun violence research, and keeping guns out of the hands of domestic abusers and other criminals. She is also committed to addressing the opioid epidemic. 
What is your leadership style, and how will you use it to unite our divided polity after the election? Further, what common issues and core beliefs do you believe Iowans and Americans are ready to rally around together? 
Greenfield: "As a community planner, I worked with local governments, neighborhood groups, and city councils, where we all worked together to find common-sense solutions. I learned when something like a pothole needed to be fixed - it wasn't a Democratic or Republican issue - it was a job that needed to get done. 
I'm focused on pragmatic solutions to the challenges hardworking Iowans face. Together, we can make sure everyone has quality health care and education, and that Iowa's economy thrives in every part of the state, and I'm committed to getting the job done."
WHY HER?
Theresa is challenging Republican incumbent Joni Ernst in this battleground race. As a swing state, Iowa's U.S. Senate election is extremely competitive. Several polls point to Ernst's favorability and approval ratings dropping. Further, Democrats flipped two congressional seats in Iowa in 2018. Republicans know this seat is in danger; apart from North Carolina, the (Republican-run) Senate Leadership Fund has spent the highest amount of their battleground state campaigning fund in Iowa. This election presents an important opportunity to flip a Senate seat Blue, and swing the balance of power in Democrats' favor. 
Both parties are competing to reach rural voters. With Theresa's firsthand experience working on a farm and relying on benefits, she understands the struggles many Iowans face today. Theresa is the candidate with the life experience and grit to mobilize this key component of the electorate. 
As a swing state, Iowa is particularly sensitive to the national political environment. Given Iowa's special position as the first state to vote in the primary election season, its caucus has long been seen as a litmus test for the political leanings of rural voters. Given the current political climate in Iowa and elsewhere, why might traditionally Republican voters be ready to vote for you? 
Greenfield: "I grew up in a rural, small town, and I know Iowans are ready for Washington to work more like our home towns, where we come together and get the job done. I'm focused on the issues that bring us together - like investing in good-paying jobs and skills training, infrastructure, and protecting hard-earned benefits like Social Security and Medicare.
As Senator, I'll be an independent voice that listens, works hard, and always puts Iowans first."
What is the current state of your race, and how do you envision your path to victory?
Greenfield: "Since launching my campaign last year, I've been focused on building the strong grassroots team needed to defeat Joni Ernst and flip this Senate seat. Our campaign has strong support and momentum all across the state - with 25 local labor endorsements, nearly 80 endorsements from local leaders across Iowa, and nearly 19,000 contributions from Iowans in all 99 counties. 
I'm excited to keep bringing our grassroots campaign to every part of the state and to hear from Iowans. I'm ready to take my grit and farm kid values to the U.S. Senate, where I will always put Iowans first."
HOW CAN I SUPPORT HER?
If you would like to support or learn more about Theresa Greenfield, please visit:
Learn more: greenfieldforiowa.com 
Medium: @TheresaGreenfield
Facebook: Theresa Greenfield
Twitter: @GreenfieldIowa
Instagram: @thetheresagreenfield
Youtube: Theresa Greenfield for Iowa