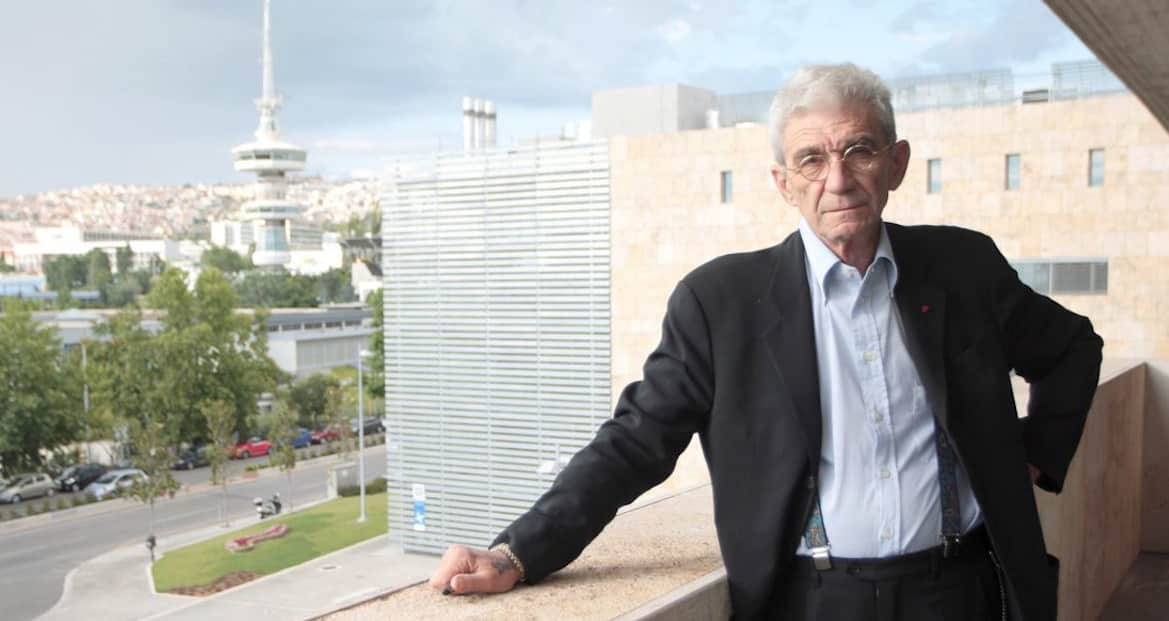 Giannis Boutaris, 2018, courtesy PappasPost
by Kevin Berkowitz
Spend some time talking to people in Thessaloniki, especially cab drivers and the like, and you will hear any number of insults against Giannis Boutaris, the mayor of Thessaloniki from 2011 to 2019. He made a name for himself as a progressive leader in a conservative city. 
As a member of the Thessaloniki Jewish community, I knew of Boutaris as a mayor who spoke publicly about the long Jewish history of the city and how it was important for Greeks to know this history. This is not a great way to become popular in Greece, considering the amount of traditional Jew-hatred in Greek society. According to a 2019 report from the Heinrich Böll Foundation, Greece is "the most anti-Semitic country across all Western Europe."¹
The report overviews manifestations of hatred of Jews found across Greek society, and particularly in politics, the media and the national religion, Orthodox Christianity.
What kind of man can support environmental causes, promote Jewish and Muslim history in Greece, support gay pride and other progressive causes, and win election to political office in this most conservative of Greek cities? Could Democrats in the USA learn something from this man who sailed against strong political winds?
We met in his office in downtown Thessaloniki, which is decorated with the many civic awards he was given by various countries and organizations. He is a tallish man, thin, casually dressed, with tattooed forearms and a jumble of bracelets on his wrists. 
Born in 1942, Boutaris comes from Vlach family roots in the Macedonian region of Northern Greece and areas that are today parts of Albania and the Republic of North Macedonia. His family has been in the wine-making business for several generations, and after working for the family business, he started his own winery in 1998. He graduated from Anatolia College and Aristotle University in Thessaloniki, and his English is quite good.
You get a good understanding of the man and his life by watching his 2013 TEDx presentation in Athens. He talks frankly and wisely about his personal life, his values and philosophy, and his struggles with alcoholism. It is hard to imagine any politician, Greek or American, talking this openly about themselves and still holding public office in the current political and cultural climate. It shows his confidence and courage.
Perhaps this is because he had a career and economic security before becoming mayor, and he had no ambitions beyond being mayor of a large city.
"I am not a politician," Boutaris said. He was interested in becoming mayor because, as he put it, local politics is the cell of good government of a nation. This was certainly the ancient Greek tradition, and it probably has something to do with Boutaris' pragmatic approach to public and business affairs.
How does a liberal and progressive man enter and survive politics and public life in a conservative country, especially when that man had ties with the Greek Communist Party earlier in his life? It takes strong character and adherence to a basic rule of political navigation:
"Never tell lies," Boutaris said. "Always tell the truth, even if it hurts. Have confidence in your beliefs and message. Ask the voters 'Do you want me or not?'"
One factor in his successful leadership of Thessaloniki despite cultural and political headwinds was support for him from the national government and bureaucracy, under prime ministers Antonis Samaras and Alexis Tsipras. Boutaris could advocate positions and take actions that were too progressive for national politicians. "I was saying things they wanted to say, but didn't dare say."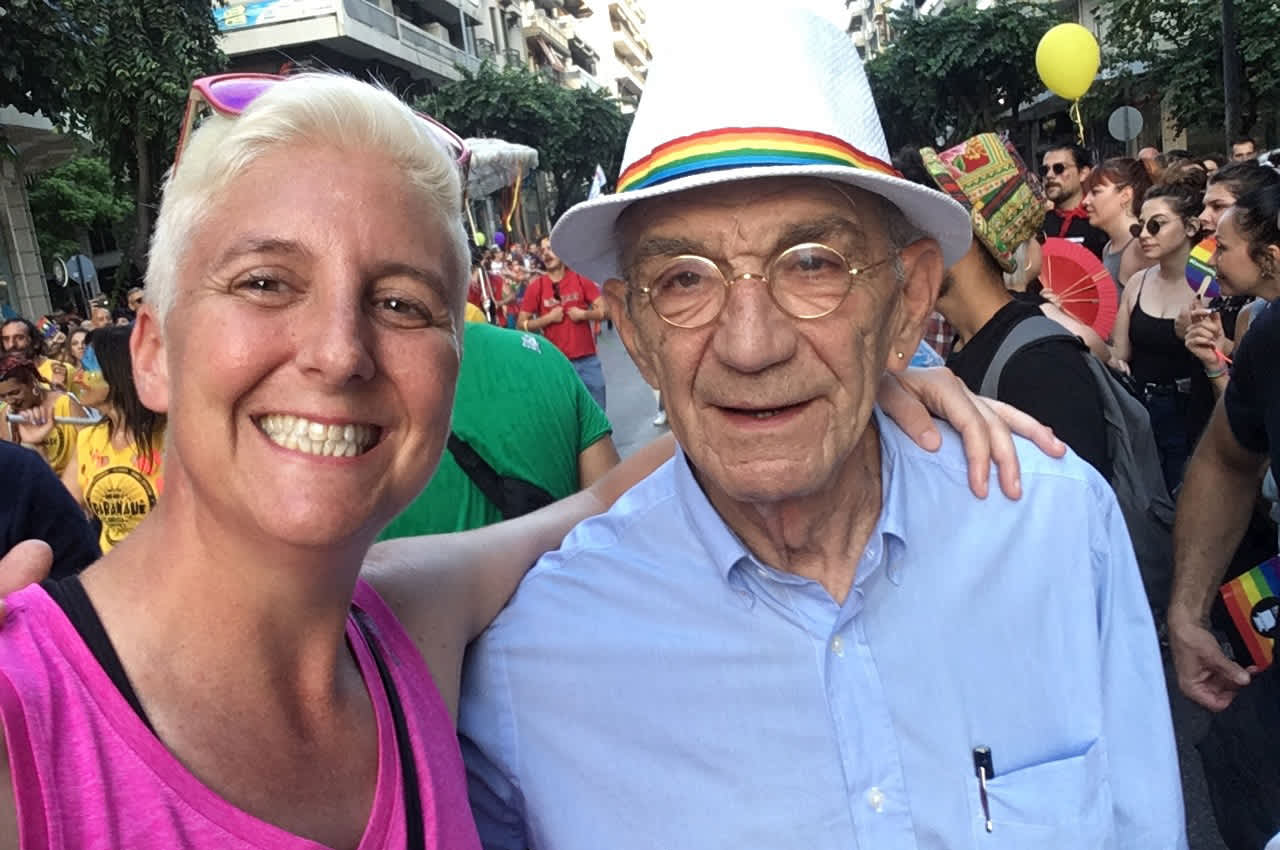 Giannis Boutaris with Leighanne Regan, 1st DA chapter VC, at Thessaloniki PRIDE
The 2011 Gay Pride Parade in Thessaloniki was an example of Boutaris' ability to make bold moves and deftly handle conservative opponents. Once the plans for the parade had been announced, Boutaris said, he got a call from the local bishop. "What are you doing?" the angry bishop asked. Boutaris replied, "I gave permission for these people to demonstrate their existence." He then asked the bishop, "What is bothering you, the demonstration or their existence?" The two men agreed to route the parade away from churches, and it went ahead.
Boutaris had some idea of the Jewish presence in Thessaloniki as he was growing up. When he was young, he met one of his father's friends, a Greek Jewish man with a number tattooed on his forearm. The man explained the story of what happened to him during World War II. Later, in 1974, Boutaris visited Haifa, Israel, and found "Saloniki Street" in the port city developed in part by Jewish port workers from Thessaloniki, who had plied their trade in Ottoman Salonika for several centuries.
This basic knowledge of local Jewish history developed into a more provocative and political question when Boutaris attended a book presentation by the British scholar Mark Mazower. Mazower's excellent book, Salonica: City of Ghosts, provided Boutaris with a more detailed history of Turkish, Christian and Jewish communities in Ottoman Thessaloniki. At the same time, Boutaris had seen a booklet on 2300 years of Thessaloniki history released by the municipality, and, he said, it contained no mention of Jews. "They're trying to change history," he said to himself at the time.
"Why was Thessaloniki known as 'La Madre de Israel' (Mother of Israel) or the 'Jerusalem of the Balkans' for four hundred years?" Boutaris asked. It was the center of the Balkans during Ottoman times, he said, and the Jews were the ones who developed its economic strength and influence. 
With the collapse of the Ottoman Empire, the independence of new Balkan states and the destruction of the Thessaloniki Jews in WWII, the city lost its status and power. Greece did not make efforts to maintain influence in the Balkans, and Boutaris pointed to a practical example. Until very recently, international students could not come to Greece and study in Greek universities in English. These money-making programs have existed elsewhere in the Balkans, and for years Greek students have gone to Bulgaria or Romania to do university studies in English.

Pedestrian plaza next to Turkish consulate, Thessaloniki
Boutaris credits his promoting awareness of Thessaloniki Jewish history with a boost in tourism to the city among Jews and Israelis. The most visible results of his efforts are the Holocaust Memorial in Plateia Eleutherias (Freedom Square), where Jews were first rounded up by German authorities in 1941, and the Jewish cemetery memorial on the campus of Aristotle University. The site of the campus was the ancient Jewish cemetery, with some 400,000 Jewish graves, which the German and Greek authorities destroyed in 1943. The university was built on the site after the war.
The largest effort to promote Thessaloniki history that Boutaris has been involved in is the project to build a Holocaust museum on the site of the old railroad yard by the port. This is site where in 1943, some 55,000 Thessaloniki Jews were put on trains to the Auschwitz death camp. Boutaris said the permissions process was largely complete and construction could begin in 2022 or 2023. 
In a land that witnessed the birth and development of Christianity and Jew-hatred, and where church officials sometimes publicly rail against the Jews, how much change can one expect in Greek attitudes towards Jews? The elderly clerics are the problem, Boutaris said and explained that the younger generation of priests are more modern in their thinking, and things will change little by little.
There are also changes in school curriculum to discuss more of the history of the Jews and Muslims in Greece will also help. But will these changes make a difference? "I am optimistic," Boutaris said. "I am not very optimistic, but I'm optimistic." 
Promoting Thessaloniki's cosmopolitan history has been a way for Boutaris to attract more tourists to the city from nearby Turkey and Israel. He put a series of metal plaques around the city containing text, photos and maps of historical sites. He also renovated or developed pedestrian walkways and plazas in the city center and along the sea.
One incomplete project that still haunts him is the pedestrian plaza next to the Turkish consulate in the city. Adjacent to the consulate is an Ottoman-era mansion where Kemal Ataturk, founder of modern Turkey, once lived, and which the Turkish government would like to convert to a museum. Boutaris closed the pedestrian plaza to auto traffic, and proposed renaming that plaza "Ataturk Street" as a way to attract Turkish tourism and improve Greek-Turkish relations.
This project was roundly attacked by right-wing figures, who claimed that Boutaris wanted to change the name of the nearby main boulevard, Agiou Dimitriou, to Ataturk Street. Saint Dimitri is the patron saint of the Thessaloniki, and the ancient Agios Dimitrios church is the pride of the city. Boutaris says he only wanted to change the name of the block-long pedestrian plaza next to the Ataturk house, not any other thoroughfare. Nevertheless, he said, he has not been able to live down that insult from the right-wing.
In the weeks since our interview, the news headlines from the USA have been depressingly consistent, with mass shootings and more overt white supremacist messages from the right wing. Is there something Democrats in the USA can learn from Boutaris? I'm of two minds.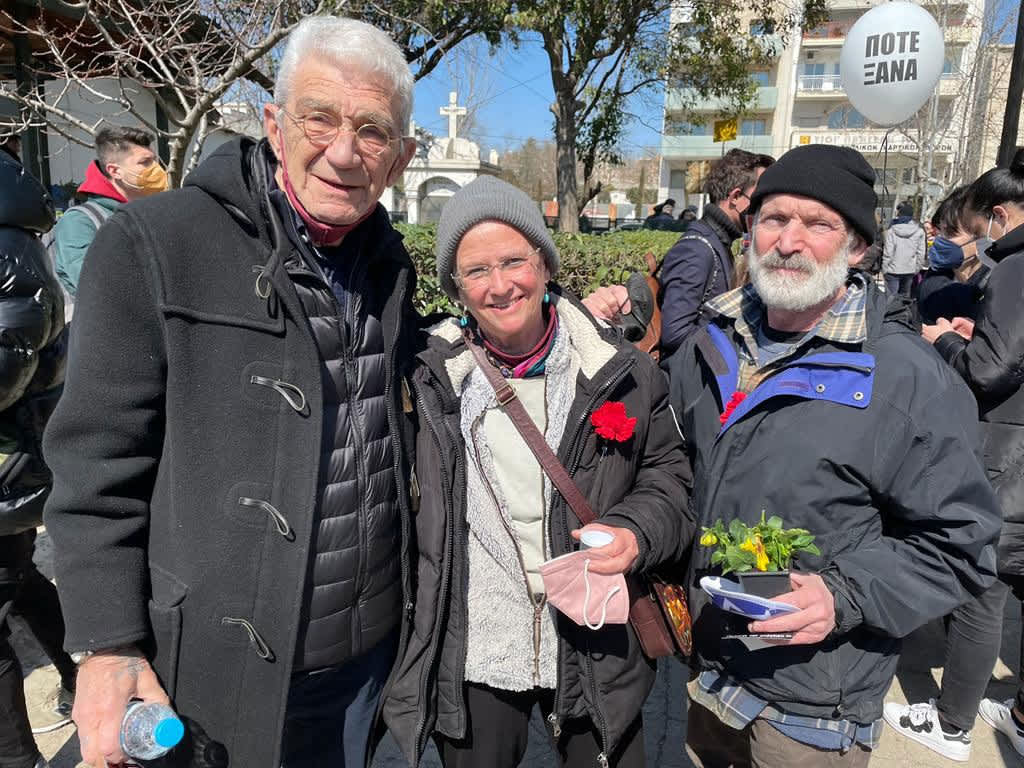 Giannis Boutaris with Christine Willis and Barry Feldman at the Holocaust "Never Again" memorial action, 2018
Boutaris operated in a smaller, more ethnically uniform, unarmed society with longer history and a higher level of civilization. Greece has seen much more of human history than the USA has, and it has a cynicism, humanity and flexibility that the USA hasn't yet developed. The USA may have to wait many more years or centuries to shed its barbarian and puritanical tendencies before it can accept someone like Boutaris in the political arena. I wonder whether US society can hold together for that long.
On the other hand, in Boutaris we see an intelligent, liberal and progressive man who is not so different from some figures in the US Democrat party. He became active in municipal politics and made some changes in Thessaloniki that are likely to stick. The US Democratic Party could follow his example and significantly increase its grassroots campaign initiatives and thus, grow and develop a power-base for the next decade. The Republican Party has been using this strategy since the 1980s, and much to our misfortune it has worked too well.
If there is one thing US citizens should pay attention to in this brief conversation with Giannis Boutaris, it is the change in his thinking about his city's past. He came to understand the role of a minority group, the Jews, in the development and prosperity of Thessaloniki. He then worked to achieve acknowledgement and acceptance of this fact within his community. Furthermore, his new knowledge prompted Boutaris to attempt to push the city in a more cosmopolitan direction in order to boost its economy and prestige. How many US-Americans could change their thinking about US history — instead of trying to "change" or re-write history itself? How many are willing to better understand and embrace the roles and contributions of minority groups in the USA, in particular, that of African-Americans, who comprise 12.4% of the US population? Such a shift in thinking would reduce racial hatred, help stop the paranoid frenzy of so many to arm themselves, and free-up and promote the human potential of minority (and majority) groups. 
In closing, let me share that when I was a little over a year old, growing up in Alabama, our governor, George Wallace stood in the doorway of the University of Alabama to prevent entry of African-American students. President Kennedy federalized the Alabama national guard and sent in Department of Justice officials to enforce the desegregation laws. Wallace stood aside. To paraphrase Boutaris, I am optimistic, but not very optimistic, that a US president will find the backbone to do the same thing now regarding voting rights and election procedures. In the face of hundreds of thousands of armed thugs, I am afraid it will require police and military force.
Kevin Berkowitz is a founding member of DAGR Thessaloniki Chapter and served as its first chair. He is a returned Peace Corps volunteer (North Macedonia), a US-certified high school teacher of English and social studies, and an Alabama native. Having lived 17 years in Greece, he is a life-long bicyclist.
[1] From: Anti-Semitism in Greece Today (Second Edition), 2019, Heinrich Böll Foundation Greece,  https://gr.boell.org/en/2020/01/16/anti-semitism-greece-today-second-edition accessed on May 31, 2022).
Do you like this post?