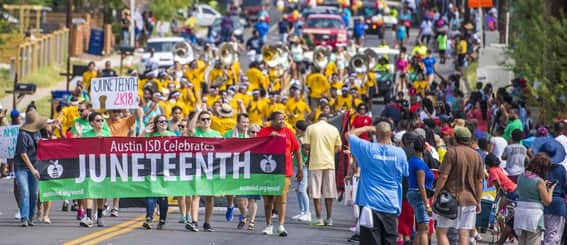 Juneteenth parade in Austin, 2020 courtesy TheBlackDetour
- by Robin H. Rafaelidys, Mytilini
I learned about Juneteenth in 1989, the year we bought our first house. I was a teaching assistant at the school my son attended, Garfield Avenue; a magnet school back before George W Bush tore into the Department of Education with a bulldozer. Garfield, a K-5, which earned a National School of Excellence in 1987, was one block west of Dr. Martin Luther King Jr Drive – 3rd Street renamed by the Milwaukee Common Council in 1984. Our house was three blocks to the east.
One early summer day, my son came back from playing outside and told me, "We're missing everything!" There were people, music, balloons, activities and food all up and down King Dr. We absolutely had to go find out what was up. Some grilled corn, ribs and face tattoos later, I was happy but puzzled. My history, due to a poor memory, is usually fuzzy but I was sure the emancipation of the slaves had happened by a proclamation and I thought it had started at the beginning of some year.
Why were we having all this fun on June 19th?
This was before the Internet. Can we remember before the Internet? A trip to the library – Milwaukee being governed by a socialist mayor (Frank Zeidler) from 1948 to 1960 has libraries liberally distributed – and the Dr Martin Luther King Jr branch, 5 blocks north on King Dr, yielded the astounding and horrifying and unforgivable information about Juneteenth.
For two years, five months and nineteen days, slaves in the state of Texas had been in bondage when they were legally free.  For 29 months and 19 days, men, women and children who had a right to their freedom had been kept enslaved. Sure, there was no Internet then either, but there sure as hell was some "willful ignorance" happening.
This is probably going to sound stupid. But, I believe in past lives. I believe I was once a young black man, sometime in the 19th century. I believe I was hanged. I know for SURE if I'd been in Galvaston, Texas, that June morning in 1865, when General Gordon Granger brought the news exposing the lie that I'd been unlawfully enslaved for 29 months and 19 days, I'd have killed someone.
It's a state holiday in Texas now, since 1980. Great. Ribs, grilled corn and ice cream for all, who can afford it. Garfield Avenue School in Milwaukee is closed. Magnet money has mostly turned to voucher money, which can go to private, religious schools. I'm sorry. I have no answers here. Just a weight in the pit of my stomach. Twenty-nine months and nineteen days of stolen freedom from an estimated quarter of a million humans.
VOTE
RUN FOR OFFICE
Change only happens when people change.

Find out more about Juneteenth
https://juneteenth.com/
Do you like this post?