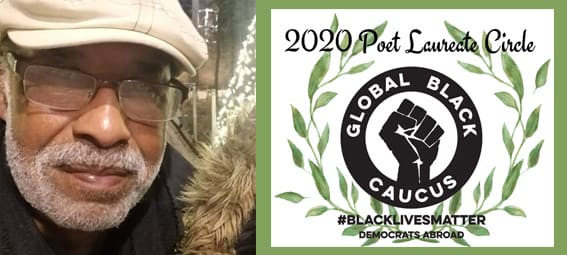 by Robin Rafaelidys, Mytilini
In a marvelous turning of the tables, the former president's ill-fated rally in Tulsa, Oklahoma, in June   2020, woke a great many Americans up to historical events they had never heard of.  Originally slated for Juneteenth, (June 19) in an arena near the Greenwood District of Tulsa, it inspired an immediate out-pouring of dissent.
One person who did not need educating about the inappropriateness of the event was Paul Hickman.
Hickman, a Democrats Abroad member who resides in Greece is also a Poet Laureate for the DA Global Black Caucus.  
Hickman, a Democrats Abroad member who resides in Greece is also a Poet Laureate for the DA Global Black Caucus.  His poem, "The Silence for 100 Years," is featured on the website of Democrats Abroad. Fortuitously, he is in Oklahoma on personal business and able to participate in events there. This poem can also be found on You Tube being read by his daughter, Irene Melina Hickman.
Born in Tullahassee, a small African-American township in Oklahoma, Hickman learned long ago about the horrific burning and deaths of hundreds in the African-American section of Tulsa known as, "Black Wall Street." He also knew that Juneteenth commemorates the end of slavery, not because all slaves were freed that day but that, almost 2 and ½ years after the Emancipation Proclamation became law, the slaves of Texas (approximately 250,000 people) were finally freed on June 19, 1865.
Hickman served in the American Military for 26 years, during which time he earned four degrees; a bachelor's in Human Development and Counseling-Executive Management-Public Administration & Economics, MPA and EMAM graduate degrees from Claremont University and Golden Gate, and a Human Development and Counseling post-graduate degree from Vanderbilt. While serving he also chaired two Black History Month Celebrations with a scholar from Oxford University for American Embassy staff in UK and Greece.
Since retiring, Hickman has lived in Kifisia and has worked for the Southeastern College there. He was inducted into the American Hellenic Progressive Association (AHEPA) for his commitment to bridging social gaps.
On June 5th the Global Black Caucus in conjunction with the Global Veterans and Military Families Caucus  will be presenting a program on Zoom: 100 YEARS AFTER: Remembering the Tulsa Massacre, by Robert Scott, Co-Chair DA Germany Veterans and Military Families Caucus.
Paul Hickman will be live in Tulsa as a part of this presentation. And thanks to the obtuseness of the former president and his lack of understanding of Juneteenth or the Tulsa Massacre, many more people will be watching!
You can sign up here for the June 5 Tulsa event. Or read Paul Hickman's full bio on the GBC page.
Do you like this post?