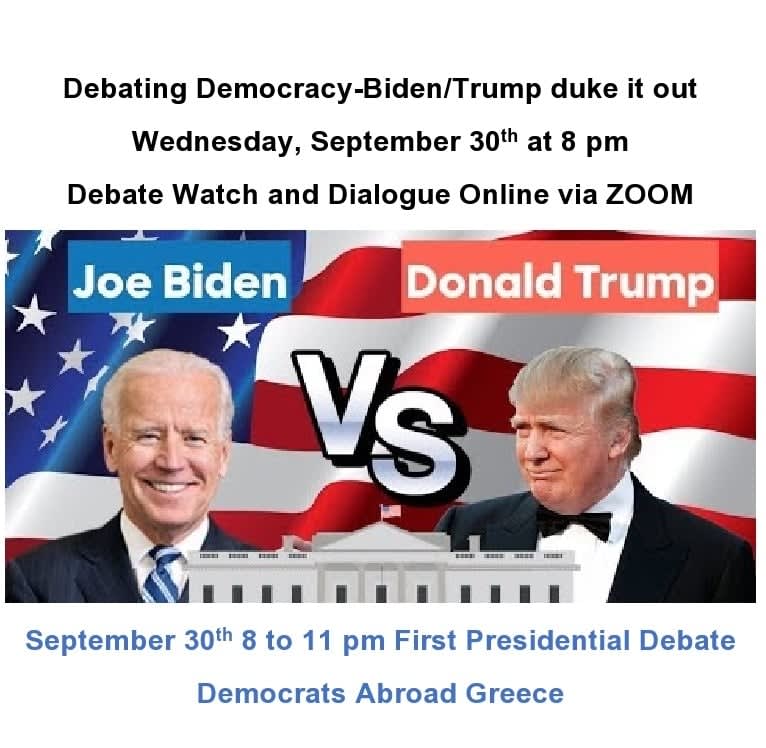 Debating Democracy
Biden/Trump duke it out!
Wednesday - September 30 - 8 pm
Zoom online
We may not be able to come together in person, in order to remain safe and healthy, thanks to Covid, but we can certainly gather online!
Please join us on September 30th, beginning at 8 pm via a ZOOM Meeting, to watch the first presidential debate between Joe Biden and Donald Trump.
It will air live in the US at 3 am Greek time (that's Tuesday night, wee hours). We will stream it on Wednesday evening, during our ZOOM meeting, beginning at 8 pm. Once completed, we'll follow up with dialogue about the issues addressed.
You can also submit general questions or concerns about absentee voting. We will address those items following the Debate watch.
Please fill in the RSVP for the DAGR First Presidential Debate-Dialogue via Zoom a
You will receive a link by email on Wednesday afternoon, to join the DAGR Debate Watch and Dialogue.
Do you like this post?