INVITED:  All American citizens in Greece, family and friends of any nationality
DATE:     Wednesday, July 4, 2018
TIME:      8:00 to 11:00 pm (20:00 to 23:00)
PLACE:  Nautical Club of Egyptian Greeks (ENOA), Ellinikon
See directions, map link below
RSVP by noon, Monday, July 2! 
Gate opens at 8 - Food service begins at 8 - Fireworks at 10:00 - Dancing till drop or 11-ish
Early swimming option and beach volley
Voter Registration and Ballot Request Assistance!!
Pinata and face painting for the young (at heart)
Table competition - Snarky State-by-State Challenge
Straw Poll - Top 2018 Issues
Young Dems meet-up for tweens to 20s
Silent Auction
Medley of American music throughout
Fireworks!
Donation:
Meal ticket €15 – Choice of hotdog, hamburger, or vegetarian falafel plate
(Split a plate for two medium-hungry kids or feed toddlers from yours)
Includes:
First beverage - your choice!
Corn-on-the-cob
Greek-style potato salad, coleslaw and tossed green salad
Watermelon
Extras: 2nd-3rd-nth drink: beer, wine, €2; our famous lemonade, mountain tea, soft drinks, €1
NB: Donations may only be received from US citizens. Please bring your US passport!
For general information:
Email us at [email protected]/gr
Join us for a wonderful Fourth of July!
Democrats Abroad Greece, Athens Chapter  
…………………………………………………………….
How to Get There: (look for the over-road footbridge!)
By Car – Seawards off Leoforos Poseidonos at 2nd Agh. Kosmas tram stop (left between 2nd and 1st Agh. Kosmas bus stops to loop back, if coming from Sounion).
Follow the winding road almost to the end (Akrotiri). Parking!
And let us know if you need or are willing to form a carpool!
By Bus – 2nd Agh. Kosmas bus stop. Walk down the winding road toward the sea.
By Tram –2nd Agh Kosmas tram stop. Metro connects with tram near Syntagma and at several other stations along the route.

Map on ENOA Facebook page at https://www.facebook.com/pages/ENOA/201331406586376
DA Greece
http://www.democratsabroad.org/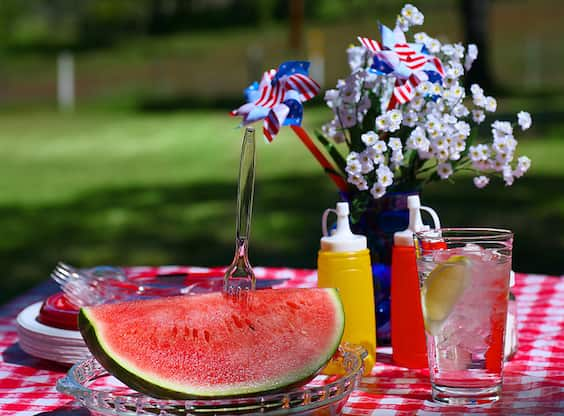 Thessaloniki:
Wednesday, July 4, 2018
8-11 p.m. 
BBQ in Peter's garden
Casual -- read, political -- chat around the grill. Peter gets the dogs. A Vergina friend sends the suds. And potluck salads and desserts seem unstoppable. Watch for the invitation with details, next week in the inbox!
Do you like this post?