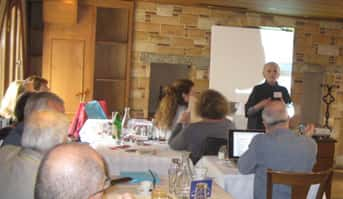 The luncheon meeting, held at Hermeion restaurant in Athens and online via WebEx, was quorate plus six guests. Three amendments to the DAGR Bylaws were approved by members voting at the 2018 Annual General Meeting (AGM), March 4.
  Bylaws amendments
The more controversial amendment set in place a mechanism for dealing with 'sexual harassment,' including verbal bullying, among members. That is, it specifically disallows harassment based on gender among board (ExCom), volunteers and general membership and requires ExCom to deal with any complaints received. This amendment was encouraged by global DA, after passage of a similar amendment to the DA Code of Conduct. This amendment was passed with two dissenting votes.
Two other short amendments concerned dates. One tweaked the days ballots are sent in advance of an AGM/election of officers, when mail or electronic vote is used. This brings our date in line with global DA guidance. The other specified that the DAGR AGM in local election years is to be held by 31 January, starting in 2019. This is two months earlier than the previous date, March 31, which may still be observed in even-numbered years. It was proposed in order to minimize the period the bank account is 'frozen' at year's end, until newly elected 'responsible persons' are documented to the bank. These amendments were approved unanimously.
  Two guest speakers
On the program, Leonidas Gontzes, Associate Dean and instructor of History, Government & Politics, and International Relations, Empire State College, SUNY, led a lively discussion on "Who Americans Vote For Affects the Whole World!" Gontzes brought four of his students – one Greek, two other Europeans, one African – who expressed their positive impression of our transparency and member engagement.
An unexpected bonus was a visit by Rhode Island State Senator Leonidas P. Raptakis, on his way back from the Delphi Economic Forum. After brief remarks on state politics and Dem prospects November, he fielded questions and comments. Raptakis sits on the Rhode Island Senate Judiciary Committee and is vice chair of the Rhode Island Senate Committee on Special Legislation & Veterans' Affairs.
  Notes for next year
Overall, this was a warm, lively – and tasty – Sunday luncheon. Is Sunday preferable to a weeknight? Feedback is needed. Our WebEx connection was slightly better than last year's, but still had audio problems. These arise from connecting our limited equipment into (random) venues' systems, distance to WIFI hubs, as well as possible interference from nearby WIFI. Dedicated equipment may be a solution. The goal is to make the AGM available and convenient, so as many members as possible can participate!
Do you like this post?