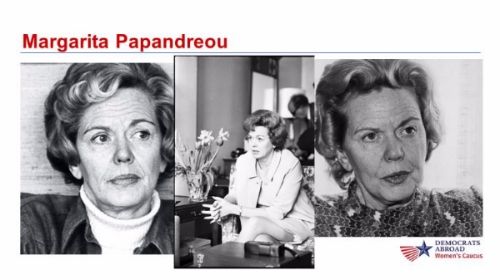 Happy Birthday, Margarita!
DAGR extends warm wishes to Margarita Papandreou on the occasion of her 93rd birthday, today!
Just one year ago, Ms Papandreou consented to serve as Honorary Chair of the just-forming-up DAGR Women's Caucus. It was a role waiting for her to fill.
As wife of the Prime Minister, she lent her drive and public profile to the effort of modern Greek women to gain equal rights. The controversial six-year effort culminated in Law 1329/1983, passed in the Greek Parliament on December 31, 1982.
"The Greek Family Law of 1982" brought sweeping changes to a society in which patriarchy and gender inequality had been codified in law. Among its key provisions were the introduction of civil marriage, joint decision-making by spouses, a woman's right to use her maiden name after marriage, the abolition of the institution of dowry, equal parental status between spouses and no-fault divorce by mutual consent. It also reduced the age of majority to 18 and equalized rights of children born in and out of wedlock.
In its time, the Law was forward looking, even for Europe. For rigidly conservative families it spelled wrenching changes. For others, it would long be associated with party politics. But for women it meant choice in education, profession and marital status, control of property, legal redress in the courts. For their children, and the men in their lives, it unlocked the future.
So, it is fitting, as we, Democrats Abroad Greece, anticipate the election of our first woman US President, that we celebrate the long struggle for full emancipation, worldwide and here in our host country.
Our 'card' – covering a flash drive of DAGR photos and videos – was constructed by DAGR-WC Working Chair, Sarajane Leone. Marion Kavallieros, Athens Chapter Chair, is handling the transfer to Ms Papandreou's son Nick for delivery. In between, our man at the computer, Nick Loisos, recorded the last segment for the flash drive: attendees at the first Debate Watch this past Tuesday singing an impromptu, possibly off-key, but rousing rendition of the Birthday Song to one of our own!
Happy Birthday, Margarita!
Do you like this post?