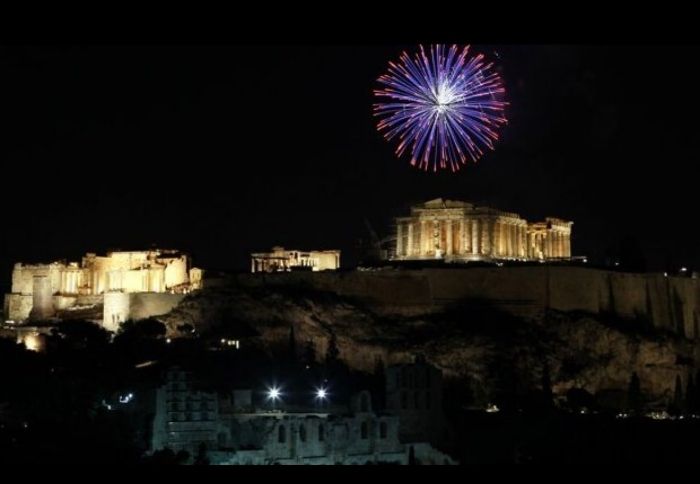 Thanks to The Athens Centre for this photo
Looking back and looking forward -  January, the month named for the two-faced god who looked both back and ahead. 
2016: Stress Not! Only Do!
For many DAGR members, 2015 has been difficult year though it promised much. For others, it has been worrisome, depressing. For our host country, Greece, the year that's just ended has given rise to great efforts as well as deep disappointment when results were less than hoped for.
And yet, faced with the massive influx of conflict and economic refugees -- the greatest humanitarian crisis in recent decades – Greeks rose to the challenge with compassion and determination that has impressed the world. Many of our Democrats Abroad members have been directly involved in this rescue effort.
Today, we begin a new year and we return some of our attention to the crucial US elections ahead. The Republican candidates, so far, have been farcical at best. The Democrat race, the pundits have assured us, is no race. It's a done deal. Stay home; don't bother!
But here, on the frontlines of human misery, we know better. We know that the presidential candidate and his or her policies will impact lives and fortunes all over the world. We know that control of Congress is crucial to carrying on a sane, restorative platform. We know that winning races at the state level can mean the difference between enfranchised voters or a new Jim Crow.
DAGR has been preparing for the struggle ahead. Our monthly Newsletter goes scrolling – easier now for mobile devices -- on the new DA website at www.democratsabroad.org. Articles linking local concerns to stateside and global issues will be posted as they break and linked to our Facebook and Twitter activity.
Throughout January, our phone volunteers will be calling every DAGR member. We'll remind you that Americans abroad now have to register to vote every year. Do it now!
The call verifies our members as eligible to vote in the Global Presidential Primary (on March 6 here in Greece). The membership count also determines DA strength at the Democratic National Convention in July and amplifies our voice with elected officials.
After March, we march on … to November. There is much to do and we urge you to get involved. Volunteer or contribute to support the effort. Get back in touch with like-minded friends and help make 2016 a year that changes the course of history. For the better!
With warmest wishes for the New Year,
Karen Lee and Steve Medeiros
DAGR Chair and Vice Chair, 2015-17
Do you like this post?