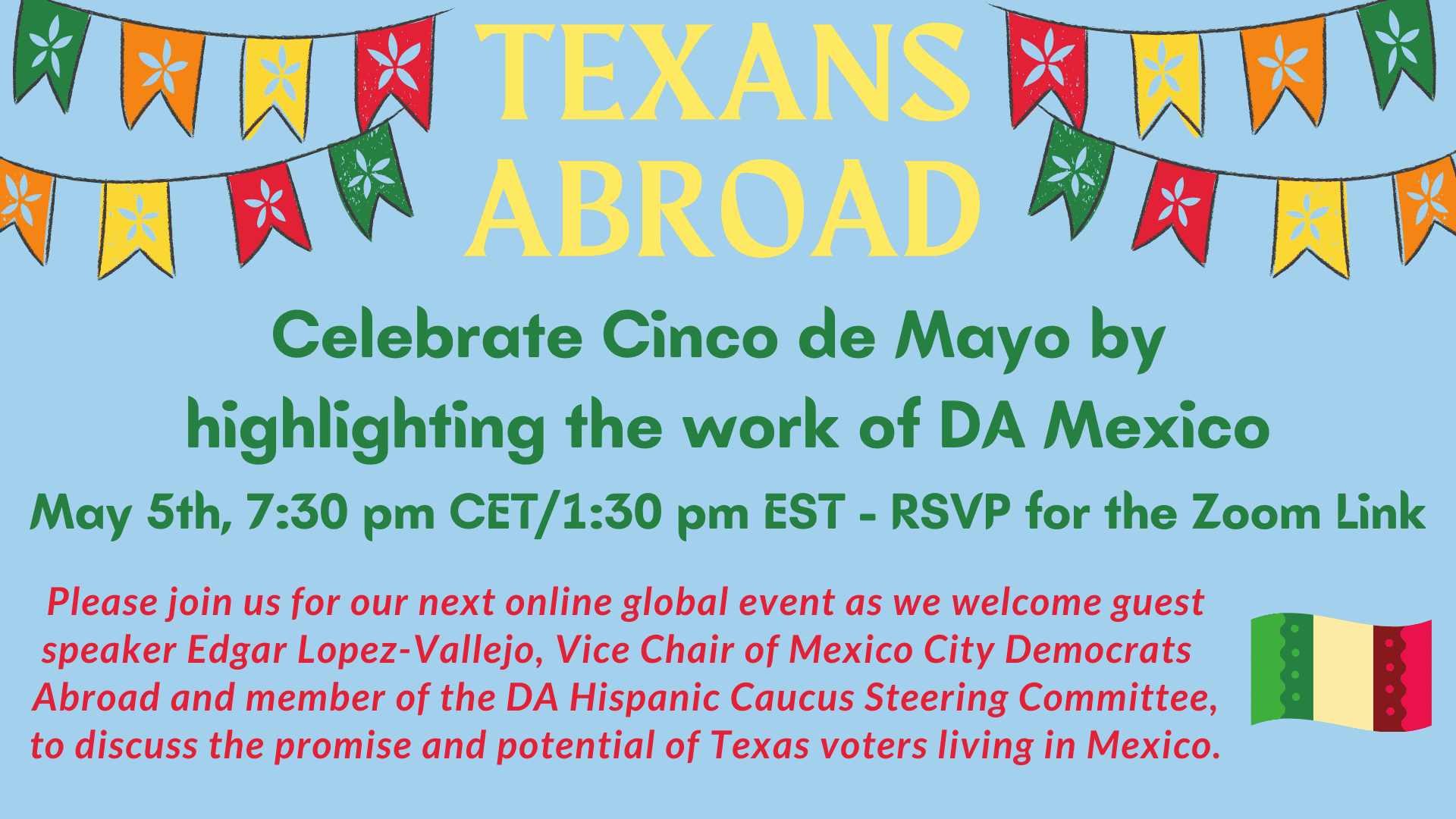 BREAKING! Special guest Jana Lynne Sanchez, Democratic primary front runner in the recent TX-06 Congressional special election (and DA Netherlands alumnus!), will make a surprise appearance tomorrow at the event to speak with us about the challenges Texas Dems face in 2022!!
For Cinco de Mayo, Texans Abroad will be turning our focus to the work of Democrats Abroad Mexico.
Please join us for our next online global event as we welcome guest speaker Edgar Lopez-Vallejo, Vice Chair of Mexico City Democrats Abroad and member of the DA Hispanic Caucus Steering Committee. We will be discussing the promise and potential of Texas voters living in Mexico. There are over a million U.S. citizens living in Mexico, and fewer than 3% of eligible voters returned a ballot in 2016. We can help turn the tide in Texas by reaching these critical voters. Come and see how you can get involved!
We will also be discussing the 87th Session of the Texas Legislature and giving you information about key bills to support or oppose and how you can best do that. Our voices matter!
See you on May 5th at 7:30 PM CET/1:30 PM Eastern on Zoom. Be sure to RSVP so we can send you the link!
If you have any questions, please write to us at: [email protected]
You can also follow us on Twitter: @TXabroad
WHEN
May 05, 2021 at 7:30pm - 9:30pm Berlin Time
CONTACT
Jennifer von Estorff ·
Who's RSVPing
Do you like this post?