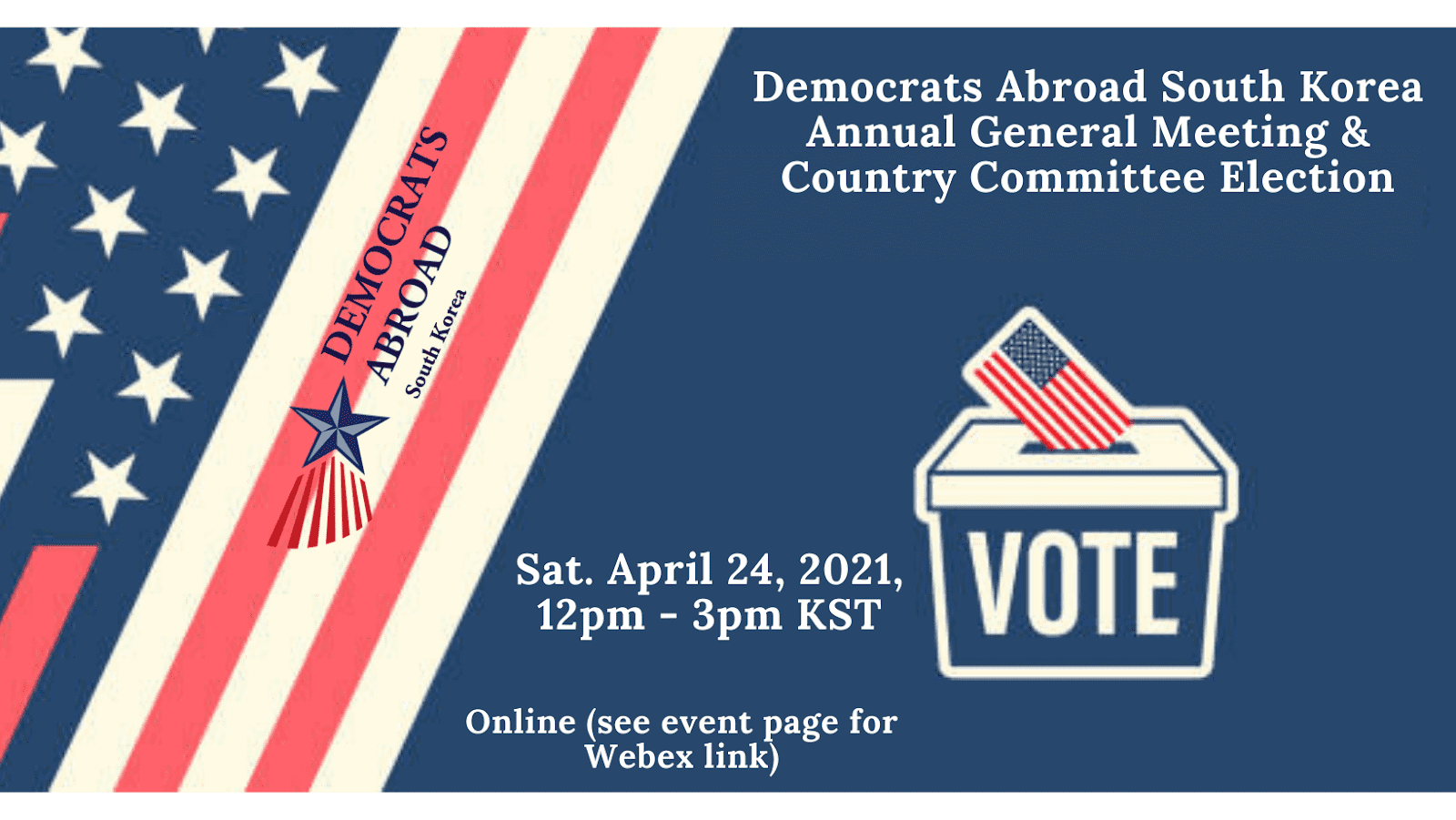 JOIN US AT: https://democratsabroad.webex.com/democratsabroad/e.php?MTID=mfee1dc96df51d2d8210c498f168c5882
Meeting number: 1576612367
Meeting password: dems


Join us online at the Annual General Meeting to elect our local leaders who will lead Democrats Abroad Republic Of Korea for the next two years! We urgently need at least 25 members to attend or DAROK will cease to exist. We register Americans to vote, advocate for Americans living in Korea, work on legislation, and run special interest caucuses in Korea.
WHEN
April 24, 2021 at 12pm - 3pm
WHERE
WebEx
South Korea
With the 2020 elections being entirely too close for comfort, Democrats Abroad helped make the difference by a margin. DAROK provides voter registration and organizes support for Democratic candidates in the USA. We also vote as a body of delegates alongside other country chapters representing DA worldwide in the Democratic primary.
The impact of the 2016 presidential election has shown us the urgent need for Americans abroad to be plugged in and engaged with politics that affect our friends, families, and communities back in the USA.
What are the issues you're personally connected to and concerned about? Police brutality? LGBTQ+ rights? Increasing violence towards Asian Americans? Veteran support services? Healthcare access? International relations? Taxation? Issues that affect Americans abroad?
Whatever issue(s) you feel personally impacted by, Democrats Abroad, the Republic of Korea is dedicated to making sure you have a viable way to express your voice on issues that matter to you and it all starts with voting. Additionally, we want to be a platform for like-minded progressive individuals to discuss, organize, and act around issues that we are affected by as Americans abroad. We would love to hear, build, and work together with you!
Information on Voting
You must be an American citizen living abroad in Korea and a member of DAROK to vote.
We encourage you to register with Democrats Abroad ahead of time although you may do so the day of the AGM if necessary. You can do so here:
You may assign a proxy to another DAROK member to vote, but proxies don't count towards the 25 member quorum.
Current Executive Board
https://www.democratsabroad.org/kr
DAROK ByLaws
https://docs.google.com/document/d/1oBlnEOpMZJtbSr78nz_ZjVMc88jCWd55-UceeG_fLP4/edit
Fancy taking a leadership role with DAROK? If you would like to nominate yourself or another member for a leadership position, please complete this form by April 10: https://docs.google.com/forms/d/e/1FAIpQLSd848siYTa8WM1BKmRKi1pxodJKNBZBo7i8q23ftgE2_MlgBA/viewform
Position descriptions are here: http://bit.ly/2NB4Um4
How You Can Help
*Attend the Annual General Meeting, vote, and bring your friends! The more people we can bring together, the more prepared we will be to Get Out The (Blue) Vote and address the issues that affect us. We need at least 25 members to attend.
* SHARE the event and links via social media with your friends and groups. We need all the help we can get.
* DONATE: DAROK is made up of local volunteers and most of our funds come out of pocket. Any money donated will be used for helping with getting out the vote for future events and funding other DAROK related programming.
We look forward to meeting you and seeing all of your tremendous excitement and motivation as we look to paint 2020 blue!
A huge thank you to all of our volunteers who have made all our work possible!
WHEN
April 24, 2021 at 12pm - 3pm Seoul Time
Who's RSVPing
Do you like this post?